A&E > Food
'Foodie Bartender' whips up drinks and tasty treats
Grant's childhood roots, adult experiences collide for spicy foods, imaginative drinks
Wed., June 24, 2015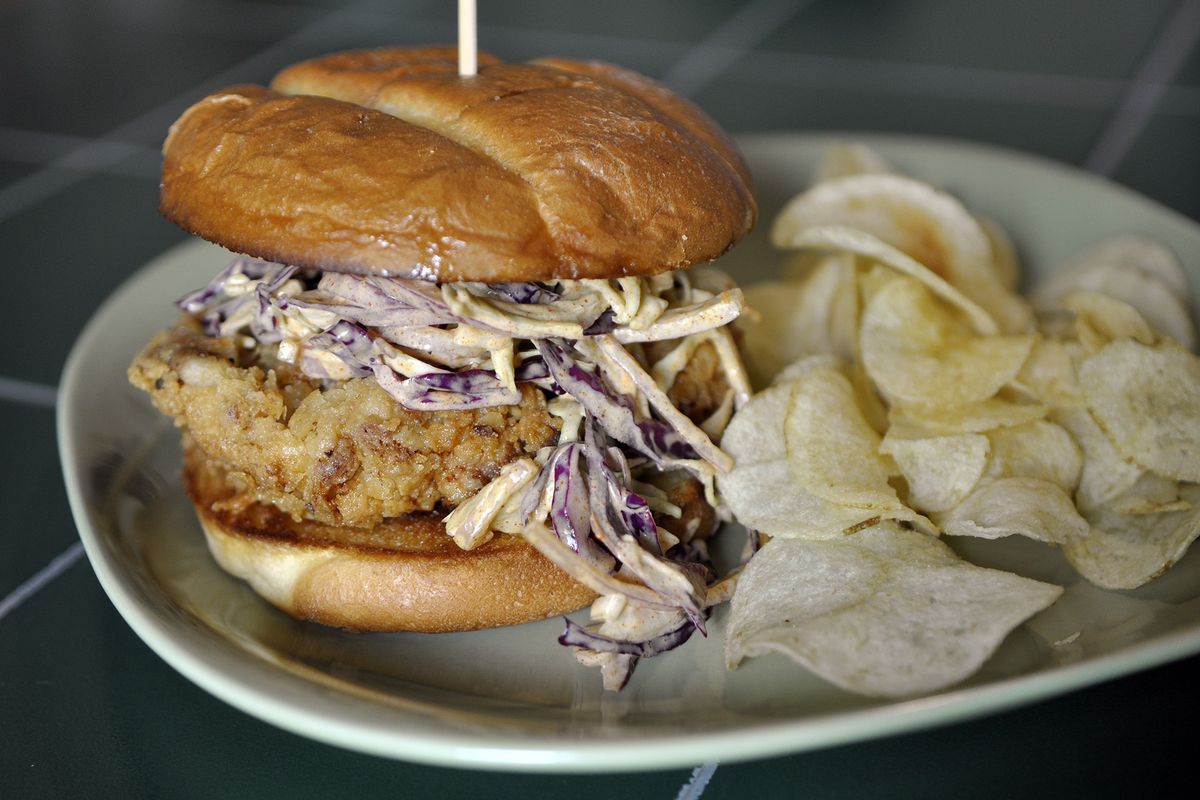 When he's not tending bar, Avont Grant III, known as Foodie Bartender on Twitter and Instagram, can be found in his kitchen on Spokane's South Hill, making meals like this spicy chicken sandwich with spicy slaw. (Adriana Janovich)
Chicken sizzles in a skillet on the stovetop in Avont Grant III's South Hill home.
"I love the sound," he said.
He also loves the spice.
Marinated in buttermilk and Franks' RedHot Sauce – a favorite since his Chicago childhood – the chicken definitely has a kick. Grant stacks it atop a brioche bun with his spicy slaw and chipotle mayonnaise.
For balance, he sometimes serves the sandwich with a refreshing summer sip, a concoction he calls Earl's Lemonade. Gin infused with Earl Grey tea adds depth and flavor to fresh squeezed citrus sweetened with simple syrup.
Then it's time for a picnic on the front porch.
Grant has about an hour to enjoy the sandwich and sunshine before reporting for work. He's been a bartender for 14 years, slinging drinks at a variety of restaurants and bars in downtown Spokane and Browne's Addition.
"I love craft cocktails. I love craft beer. And, I love cooking," he said.
Grant's recognized not only behind the bar but on social media, where he goes by Foodie Bartender and has more than 1,400 followers on Instagram.
"It's really weird to share things with strangers," he said. But, "As I get older, I have to brand myself. Most of my clients from when I was younger are married and have kids."
That's code for: They don't go out as much anymore. When they do, Grant wants to be sure they know where to find him. He wants to connect with newer, younger clientele, too.
@foodie_bartender
Grant, 38, started in the food service industry as a prep cook in 2001 at Red Robin in downtown Spokane, eventually working his way to line cook, bartender and corporate trainer. He helped open restaurants in Wenatchee as well as Bend, Oregon, and Prescott, Arizona.
"In one year, I basically had done all the positions except hostess and dishwasher," said Grant, who worked at Red Robin about three years in all. Now, he said, "I bounce around a lot. I can't stay in one spot."
Grant's longest stint was at the now-defunct Blue Spark, where he worked on and off for eight or nine years. He's also worked at The Elk, Pacific Ave. Pizza, Jones Radiator and Volstead Act. These days, customers can regularly find him at the Satellite Diner and Lounge and Knockaderry Bar and Grill. He also picks up shifts at places such as Baby Bar and The Riff.
"I like the daily contact with new people," said Grant, who recognizes many regular customers by their faces and beverages.
"You get some real characters," he said. "The one rude guy in the bar, I try to think someone loves him and it's my job to find out why. On the happy side, I've had people tell me, 'You made me and my lady a drink when we got together. Now we've been married 10 years.' "
To amp up for the day, he sends himself messages on his cellphone, such as, "Smile. You're on stage."
The notification "helps me do better on my shift," he said. "It brings a smile to my face."
Most of the time, he doesn't need much extra motivation. "I like making drinks," Grant said. "I like making people happy. The look in their eye, you can tell it's a good drink."
Meaty Instagram
Bartending wasn't always the plan. Grant studied health education at Eastern Washington University, where he played football. He wanted to be a teacher and football coach but wasn't sure he could handle the routine year after year. Cooking was something he had always enjoyed.
Raised by a single mom, he started cooking when he was about 9 years old. "If you wanted to eat, you had to cook," he said.
The family – Grant, his mother, older sister and younger brother – moved to Spokane from Chicago's South Side when he was 12. His older brother had recently died in a shooting. Spokane seemed safer. Plus, he had an uncle here.
When he started at Sacajawea Middle School, "I could count the black kids on one or two hands," Grant said. "It was a culture shock."
Blacks remain an ethnic minority in Spokane. U.S. Census data estimates just over 2 percent of the city's nearly 211,000 people are black; whites account for almost 87 percent of the population. Grant said he's gotten used to the demographics.
"Spokane grows on you. It really does," he said. "It's a small big city." Or, a big small city. Either way, he said, he likes living here.
For cocktails when he's not working, Grant goes to Baby Bar or Mootsie's or the Monterey Café for karaoke. Lately, he's been ordering Negronis and Old Fashioneds. "You can't go wrong with an Old Fashioned," Grant said.
When he's not working or visiting his favorite local watering holes, Grant can be found in his kitchen, making – and then posting – overstuffed burgers and sandwiches. His is a meaty Instagram feed.
He's a bit of an eyeballer when he cooks, and he loves spicy foods, especially this chicken sandwich with spicy slaw.
Spicy Chicken Sandwich
From Avont Grant III
4 pieces boneless chicken thighs
2 cups buttermilk
2 or 3 generous dashes of hot sauce
1/2 sleeve of saltines, plus 5 or 6 more
1 cup flour
1/4 cup cornstarch
Oil for frying
4 brioche buns
1/2 cup mayonnaise
2 canned chipotle peppers in adobo sauce, finely chopped
Spicy slaw (see recipe below)
Marinate chicken in mixture of buttermilk and hot sauce for at least 3 hours or overnight in the refrigerator.
In a food processor, process half of a sleeve of saltines until they reach a medium crumb. Hand-crush the remaining 5 or 6 saltines for rougher pieces. Combine ground and crushed saltines with flour and cornstarch in a medium mixing bowl.
Heat to 350 degrees in a heavy-bottom skillet. Fry crumb-covered chicken pieces, one at a time, until inner temperature reaches 165 degrees, flipping once. Meanwhile, toast brioche buns.
Mix mayonnaise and chipotle peppers in a small mixing bowl. Spread on toasted brioche buns. Add chicken and spicy slaw.
Spicy Slaw
From Avont Grant III
1 cup shredded green cabbage
1 cup shredded red cabbage
1/2 red onion, chopped
1 jalapeno, thinly sliced
1 tablespoon salt
1 tablespoon cayenne
1 tablespoon garlic powder
2 tablespoons paprika
1 cup mayonnaise
1/4 cup mustard
2 or 3 generous splashes of red wine vinegar
Place cabbage, onion and jalapeno in a large mixing bowl.
In a small mixing bowl, add salt, cayenne, garlic powder and paprika.
In a medium mixing bowl, combine mayonnaise and mustard, then fold in the spice mixture and stir in red wine vinegar. Add mayonnaise mixture to the cabbage mixture and stir well to combine.
Note: "I love red onions," Grant said. "They add a little more color. If you use white onions, they kind of get lost with the cabbage."
Earl's Lemonade
From Avont Grant
Earl Grey-infused gin adds depth and flavor to this twist on sweet tea or lemonade.
2 ounces gin infused with Earl Grey tea
Juice of 1/4 to 1/2 lemon
1 ounce simple syrup
Splash of water or soda water to cut the tartness, if desired
Combine gin, lemon juice and simple syrup in a shaker with ice. Shake and pour into glass. Taste for tartness and add water or soda water and more ice, as desired.
Local journalism is essential.
Give directly to The Spokesman-Review's Northwest Passages community forums series -- which helps to offset the costs of several reporter and editor positions at the newspaper -- by using the easy options below. Gifts processed in this system are not tax deductible, but are predominately used to help meet the local financial requirements needed to receive national matching-grant funds.
Subscribe to the Spokane7 email newsletter
Get the day's top entertainment headlines delivered to your inbox every morning.
---