A&E > Food
Winterwoods Tea Co. finds success in local blends
Wed., Oct. 7, 2015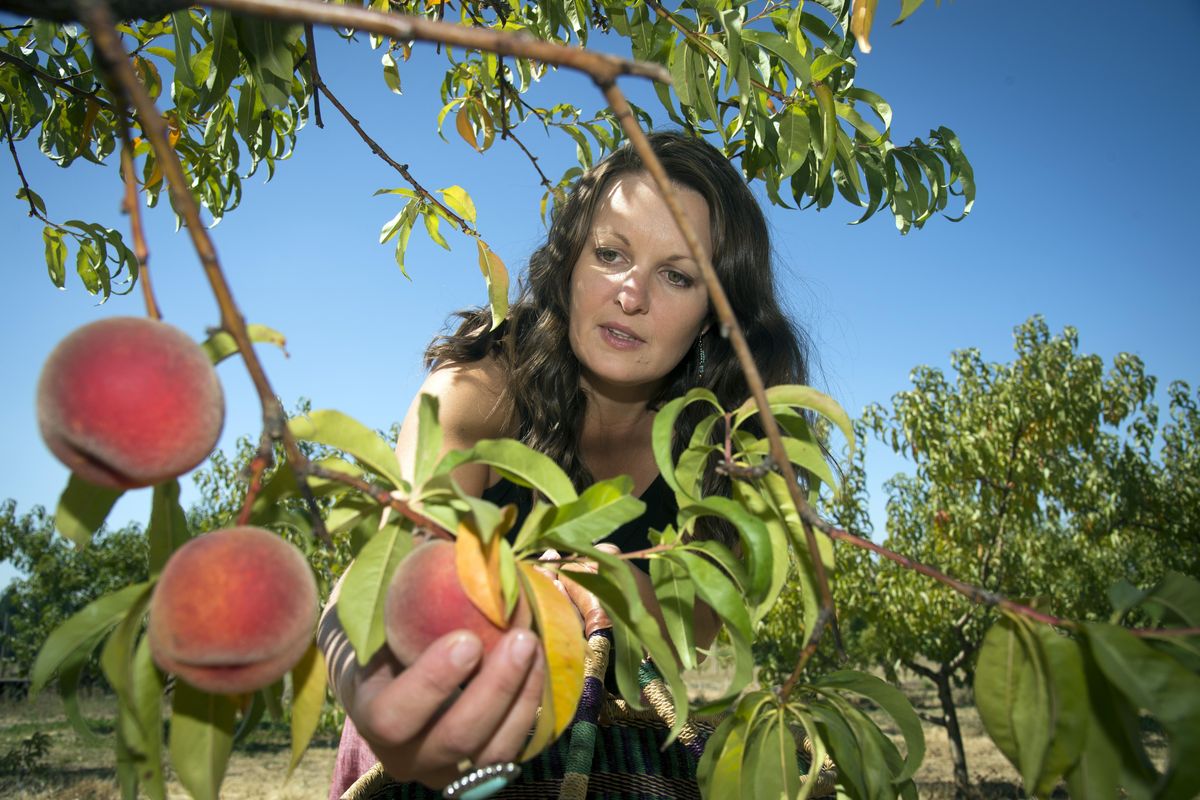 Tirza Wibel picks peaches at High Country Orchards in Greenbluff that she will use in of her Homestead Peach Tea, one of 15 blends she makes. (COLIN MULVANY colinm@spokesman.com)
It's slim pickings at the end of peach season, but Tirza Wibel wants to harvest as much of the crop as she can.
So she's reaching through leaves at the end of a row at High Country Orchard in Green Bluff in mid-August, when only three or four trees still have some fruit.
"I've been picking like crazy," she said. "Last year, we ran out of peach tea, I think, in November. We didn't have any again until, I think, July. I would like to make it through next July, but we'll see."
Wibel founded Winterwoods Tea Co. two years ago come January and began selling her small-batch, organic, loose-leaf tea eight months later, in August 2014, on the local farmers market circuit.
She didn't expect it to be quite so successful.
"I thought it would be a small, family business," she said. But, "we're doing 10 times the amount of business as last year."
A successful summer Kickstarter campaign is helping to pay for her own licensed kitchen, slated to be completed by Christmas.
Meantime, Wibel has been making her hand-mixed tea blends in rented kitchen space in the basement of the Green Bluff Grange, not far from her Colbert home, and trying to keep up with demand.
"I sell out of tea at a lot of big events," she said. "It's beyond my expectations."
Good Housekeeping called in August. The magazine was interested in spotlighting Winterwoods teas in its upcoming holiday issue. Wibel overnighted samples, which were set to arrive in New York City on the same day she went end-of-season peach-picking.
"It's funny because I when I used to do (public relations) I used to send off all the samples for gift guides," she said.
The former public relations specialist moved to the Spokane area from Oregon's Willamette Valley in summer 2013 for her husband's job. Shane Wibel is an assistant athletic trainer and assistant professor of athletic training at Whitworth University.
"When we moved up here, I found myself in this new place where I didn't know anyone, and I felt a little out of touch," Wibel said. "At the same time, I'd been mulling over different business ideas. I always knew I wouldn't go back to PR. It was really lucrative, but it wasn't my passion."
Hot drinks are among her favorite things.
"I've always been a tea drinker. I love coffee, too," Wibel said, noting that, in the Spokane area, "I'm really the only person making local teas with local ingredients."
Wibel, 38, grew up in Denmark, moved to the United States when she was 10 and graduated from high school in Sisters, Oregon. She earned a degree in communication from Oregon State University in 2000 and did PR for a Seattle firm for a couple of years before starting her own agency and a family. She and her husband have five children between the ages of 3 and 13.
In the Willamette Valley, Wibel got involved in the local farmers market and slow-food scene, and became "super-passionate about natural health and healing."
She said, "I went from being a business person who didn't cook at all to someone who didn't work and made everything from scratch. It was like a 360."
It also somehow made sense. "As a publicist, I always wanted to be my clients," Wibel said. "I wanted to be doing hands-on, creative stuff."
She spent the first seven or eight months after starting her company in research and development, creating recipes for her 15 original tea blends and figuring out where to source her organic ingredients.
She gets her peaches, apples, calendula and mint from Green Bluff. Her huckleberries come from Mount Spokane. She also uses lavender from Sequim on Washington state's Olympic Peninsula and Pacific Northwest nettles, hawthorn berries and rose hips.
She doesn't use preservatives.
"Ours is so much fresher than the grocery store stuff," Wibel said. "We make it in small batches, and it's usually gone within a month."
But the majority of her customers aren't who she thought they would be. "I thought most of my customers would be middle-age moms," Wibel said.
Instead, her teas have been most popular with young people, college students and 20-somethings, particularly young men between the ages of 18 and 30.
Top-sellers include Pacific Coast Lavender, a blend of lavender, peppermint, rose hips and chamomile, and High Desert Sunrise, with red rooibos, orange peel, lemon grass, hibiscus, rose hips and calendula. Other favorites are Harvest Apple, Trailhead Huckleberry and, of course, Homestead Peach.
Wibel makes it like she makes all of her teas: in batches of 50 or 100 bags, which each yield 25 to 30 cups of tea. She sells the bags for $10, which breaks down to about 33 cents per cup – if you get a full 30 cups. (A sampler jar with eight to 10 servings sells for $4.99.)
Wibel uses different bases – strawberry leaf, blackberry leaf, peppermint, red rooibos – then adds ingredients "to complement the flavor I'm trying to get. If I need extract, I'll add that."
Wibel uses pure, organic extracts to enhance certain flavors, including peach.
"It helps kind of infuse that peach flavor because dried peaches alone don't give it that instant peach flavor that people want," she said.
Wibel cuts the peaches into chunky pieces which she dehydrates for about 24 hours before mixing them with lemon and orange peel, hibiscus, rose hips and strawberry leaf. She usually blends and bags about once a month.
After her late August peach-picking trip, she mixed two 50-bag batches of her peach and huckleberry teas before leaving them to cure for two weeks. The time before that, she made and packaged 1,000 bags of tea.
This is particularly impressive because everything, even the weighing, is done by hand, and Winterwoods Tea Co. is nearly a one-woman show. Eventually, Wibel would like to be able to hire more employees to blend and bag, keeping her work largely creative and administrative. For now, she has hired one part-timer. In summer, her husband helps, too, as does their 13-year-old daughter.
She's still waiting for confirmation from Good Housekeeping as well as Taproot magazine. But she's already made plans for next summer, when she plans to add an offering of freshly brewed iced tea at the farmers market.
And, "I'd love to do a tea bar where people make their own blends," she said.
Much like her business expectations, Wibel's recent Kickstarter campaign also exceeded its goal. She had hoped to reach $14,000 in donations to finish and license her home's downstairs kitchen. It has a separate entrance, making it convenient for housing a home business. In the end, 811 people donated more than $30,000.
Now, Wibel's hoping there's enough money to buy a higher-end weigh-and-fill machine that wasn't in her original plans. Such machines cost around $10,000.
But, if there isn't, that's OK, too.
"We will continue to hand-weigh every batch," Wibel said. "We're always going to be small batches. I want it to be fresh."
Winterwoods Tea Co. can be reached at (509) 828-5817 or tirza@winterwoods teacompany.com. On the Web: wwww.winterwoods teacompany.com.
Cold Brew Peach Tea
From Tirza Wibel of Winterwoods Tea Co.
For the cold-brew tea
2 to 3 tablespoons loose leaf Northern Twilight or other organic black tea. (If using bagged tea, use 8 bags.)
8 cups filtered water
For the simple syrup
1 cup organic cane sugar
1 cup water
3 ripe peaches, or 2 teaspoons pure peach extract (Wibel buys it online from Silver Crest Estates)
Make the cold-brew tea: The night before: cold brew the tea by putting lose tea into a large 1/2-gallon pitcher or glass jar. Cover with cold water and place in fridge overnight or at least eight hours. The next morning strain out the tea leaves through a kitchen mesh strainer. Set tea aside.
Make the simple syrup: Bring sugar, water and peaches or extract to a boil in a small saucepan. Turn down heat and simmer. Mash peaches. Once sugar is dissolved turn off heat and let sit for 30 minutes until cool. Strain out peaches, if using fresh, through a fine mesh kitchen strainer.
To Serve: Combine simple syrup and cold brew tea. Mix well. Serve over ice.
Makes: 8 to 10 servings.
Harvest Spice Tea
From Tirza Wibel of Winterwoods Tea Co.
2 tablespoons organic loose leaf red rooibos tea (herbal) or black tea. (If using bagged tea, use 8 teabags.)
8 cups water
2 apples sliced thinly
2 tablespoons cinnamon chips or 2 cinnamon stick
1 teaspoon whole cloves
1 teaspoon ground cinnamon
2 teaspoons ground ginger
2 teaspoons ground allspice
2 teaspoons ground nutmeg
Juice of 1 lemon
Combine all in saucepan and heat until just before boiling. Turn down heat and let simmer for 5 to 10 minutes, until apples are soft. Strain through a mesh strainer and enjoy.
Makes: 8 servings
Local journalism is essential.
Give directly to The Spokesman-Review's Northwest Passages community forums series -- which helps to offset the costs of several reporter and editor positions at the newspaper -- by using the easy options below. Gifts processed in this system are not tax deductible, but are predominately used to help meet the local financial requirements needed to receive national matching-grant funds.
Subscribe to the Spokane7 email newsletter
Get the day's top entertainment headlines delivered to your inbox every morning.
---