Longtime friends open Lost Boys' Garage Bar & Grill in north Spokane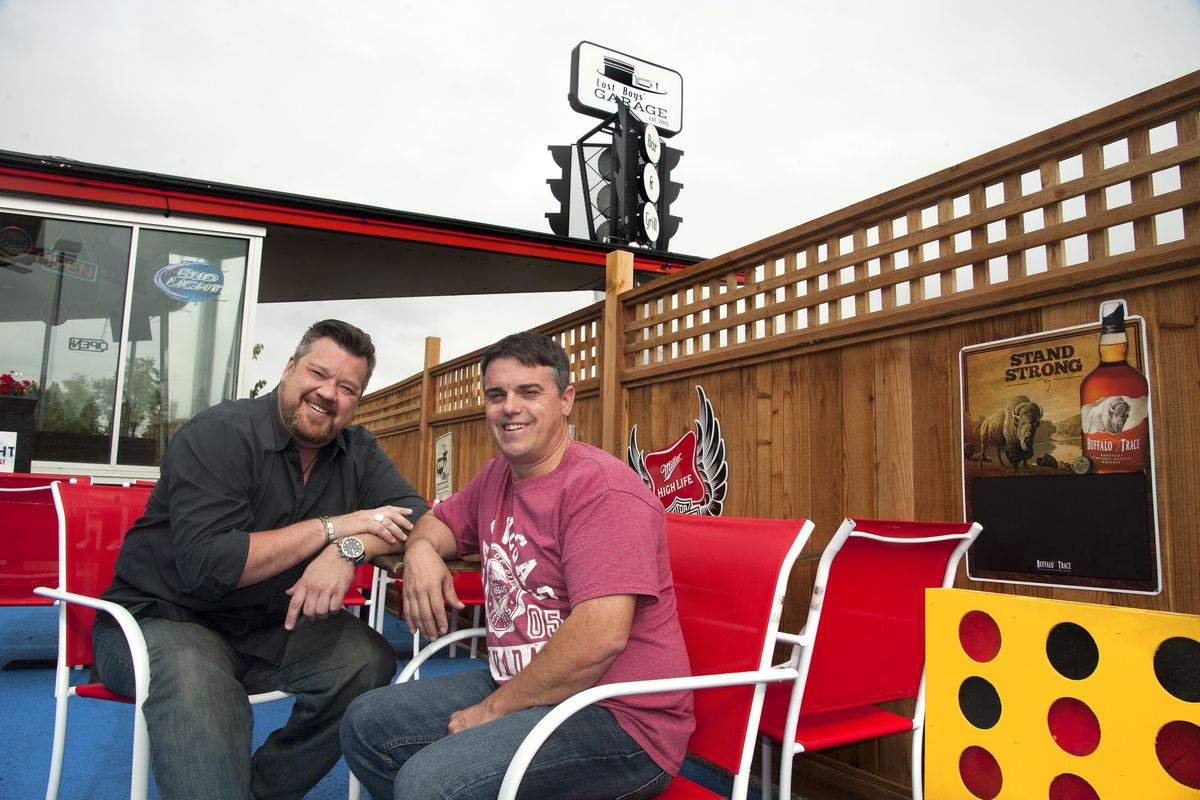 It's not inspired by the 1980s movie as much as it comes from the supporting characters in "Peter Pan" – and Jhon Goodwin and Kevin Pereira and their group of guy friends.
While the pair are fans of the 1987 California vampire flick starring the two Coreys – Haim and Feldman – their clan takes after the kids in the 1904 Neverland play. Except that they did grow up – and open a restaurant.
Goodwin and Pereira's new Lost Boys' Garage Bar & Grill in north Spokane pays homage to friends who play together no matter how old they are and whose relationships have stood the test of time. They want it to be a neighborhood watering hole, a comfortable and inviting gathering place where guests are greeted as they step through the front door. The joint opened at the end of July, and the decor honors the place's past.
The space used to house a transmission shop, and old oil filters double as light fixtures. Garage doors open onto an enclosed patio, where oversized wooden games – e.g., Jenga and Connect Four – are there for the playing.
The restaurant and bar area are done in a sort of auto-shop-meets-1950s-drive-in style. Red, white and black prevail.
"But we wanted to make sure it wasn't too much man-centric," Goodwin said. "It's for everyone."
There's seating for 55 inside, plus another 25 on the patio. Goodwin often goes table to table, checking on customers.
"I want to have a very Disneyland-like level of service," he said. "There, you're a guest. They treat you like gold. We're not trying to do anything too fancy – just good food, good cocktails and, I hope, some of the best service in town."
The garage theme is carried through the menu, which features fluids (soda, iced tea, coffee) as well as compact (fries, wings), mid-size (grilled cheese, Monte Cristo, seven-cheese BLT) and full-size (patty melt, fish and chips, cheddar bacon burger) entrées.
Prices range from $5.95 for fries to $12.95 for bigger burgers and sandwiches. There's an array of gourmet-style but hearty melts.
Noah Leffel, a friend of Goodwin and the executive chef at the Globe Bar & Kitchen, designed the menu. Bread and buns come from Spokane's Alpine Bakery. Gluten-free goods are available.
Happy hour runs from 3 to 6 p.m. and 11 p.m. to close with $5 mojitos and mint juleps and $1 off house wines, draft beer and well drinks.
There's local and regional craft beer on a dozen taps as well as signature cocktails such as the Grey Ghost, an old-fashioned named for Goodwin's grandfather's 1957 Cadillac, and the Chrysler Building, a Manhattan. Both are $9.50.
Other cocktails include the $6.50 Oil Change, or toasted caramel whiskey with cola and cream; the $8 Rusty Chassis with Crown Royal, orange juice and blood orange puree; and the Tune Up, scotch, lemon, clover honey and ginger beer.
Goodwin, who's been a bartender "on and off for 20 years," and bar manager John Jingling, who previously managed the Wandermere location of Twigs Bistro & Martini Bar, created the cocktails.
Jingling, 27, is a Spokane native who attended culinary school in Portland.
Pereira and Goodwin, both 45, met in 1985 when they were sophomores in choir at Ferris High School. They've been friends ever since – "back then we were both tenors," Goodwin said.
He's a baritone now. He's also an actor and director (he was Rodney in the 2005 Spokane-filmed "Mozart and the Whale"). Pereira drives truck.
Their new eatery remained in the works for about three months after the friends found the location. But the plan goes back further.
"Kevin and I have always talked about the idea of having a place," Goodwin said. "About two years ago he got really serious about it."
During their 20s and 30s, they had added to their core group of friends. Today, Pereira and Goodwin's tribe of "Lost Boys" are men of the Inland Northwest with families, jobs and varied backgrounds. They range in age from 40 to 53 and include – among others – a firefighter, graphic artist, mechanic and salesman.
"We have a couple of honorary guys, too, that don't come around as much," Goodwin said. When the eight or 10 of them get together, the longtime buddies become "boys" again – for a night out of karaoke at Charley's or a weekend at the cabin – it doesn't matter whose or at which lake.
There will be shots of whiskey, general rowdiness and "a lot of stupidness," said Goodwin, who typically cooks for the clan at the cabin. "I usually cut myself or hurt myself in some way; it's not a weekend unless I do."
The rest of the time, Goodwin said, "We laugh. We cry. We're very different in our political opinions and everything else, but we have a kind of connection that most guys don't have. We're friends on a level that's very grown up, that's very deep."
The times run together, but at some point, Goodwin said, "It occurred to me we're never going to grow up. We're the 'Lost Boys' inside."
He and Pereira are leasing the garage-turned-eatery from Phil Costello, who operated a burger joint for about two years at the location.
Pereira isn't new to the restaurant business. His parents, John and Sue Pereira, formerly owned and operated the White Horse Saloon in Spirit Lake, as well as Elliot's Tavern in Spokane's Garland District and Derringer's in Spokane Valley.
"Growing up in the business with my parents, it's always been something I wanted to do myself," said Pereira, whose favorite sandwich on the menu is the Monte Cristo.
"I just happened to be at a time in my life where I was able to do it, personally and financially. It's a now-or-never type of thing."
Pereira manages the day-to-day accounting and business side of the restaurant while Goodwin is in charge of advertising and marketing.
Business has been "really good," Pereira said. "We've been busier than we projected. I think we're becoming a really good neighborhood spot. It's a pretty small place overall, so there are limits in terms of what we do do. But we've got some ideas. Our ultimate hopes are to open more (Lost Boys' restaurants) over the next five years or so."
---