Sports
WSU position preview: Speed defines Cougars' linebacker corps
Tue., Aug. 23, 2016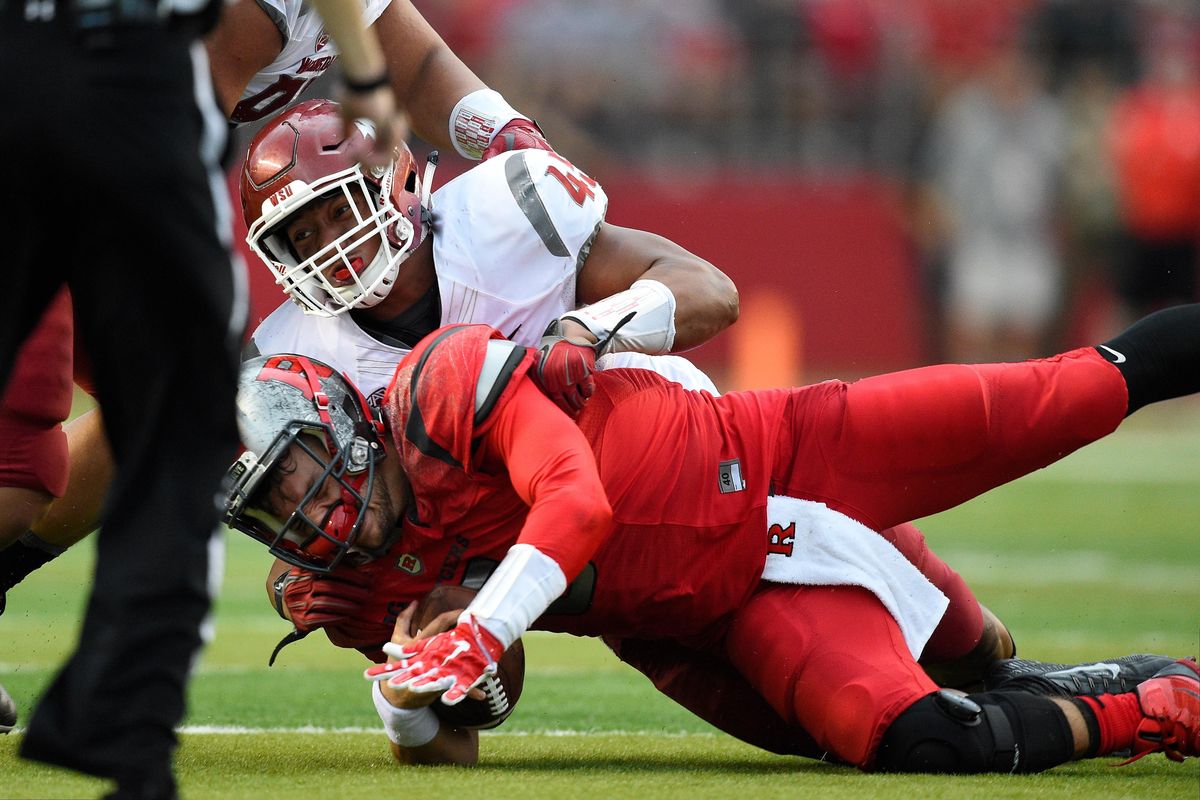 Rutgers quarterback Chris Laviano is greeted by Washington State linebacker Logan Tago during the Cougars 37-34 win last September. (Rich Kane / Associated Press)
This is the sixth of eight WSU Cougars football position previews. Today: Linebackers. Next: Secondary
PULLMAN – During the one-and-a-half seasons Peyton Pelluer has started in the middle of Washington State's defense, the middle linebacker has seen plenty of new faces line up alongside him.
Lately, the mugs have been pretty similar to the guys who used to line up about seven yards behind him.
Washington State defensive coordinator Alex Grinch values speed on defense. So much so, that he is willing to try smaller players at positions typically reserved for brawny guys who are not so fleet of foot.
The player backing Pelluer up is Paris Taylor, a former safety. The guy starting next to him at Will linebacker is Isaac Dotson, who technically came to WSU as a quarterback but has spent most of his career in the WSU secondary.
"He brings some athleticism," Grinch said of Dotson. "He's played football for us, which gives him a bump from a mental standpoint, although he's played in a number of spots along the way. At that Will linebacker spot, there's still a lot they do in space, especially against spread offenses."
Obviously it's not a move everybody can make, particularly since in WSU's defense both Mike and Will are inside linebacker spots. The Cougars defense is set up to funnel all outside runs, passes or screen back inside to the inside linebackers, who have to be able to fight off offensive linemen and make the tackle before a runner gets to the next level.
Both Dotson and Taylor are just a tick under 225 pounds, which makes them a little light for the position. But they have shown coaches they have the strength to handle the inherent physicality.
"(Taylor is) just a specimen in general," Pelluer said. "Just because he's a little taller doesn't mean he doesn't fit the mold. He's arguably the strongest guy in our group. He's a freak of nature."
At an outside linebacker spot, the Cougars are looking for duality that will allow them to change the look of the defense. Parker Henry is the team's best nickel, and he will likely get the majority of the reps regardless of who the opponent is.
But Kirkland Parker has had a productive camp, so much so that he is bound to be used. And he is useful. While Henry is a traditional linebacker playing a spot most often associated with defensive backs, Parker is a former defensive back playing in a role the Cougars consider a linebacker.
That gives Grinch a lot of options for when the Cougars play a pass-heavy team (say, California) or a team that relies on power (Stanford, obviously). Having the two styles in the same meeting room forces both players to work on their own weaknesses, as well.
"I think we both help each other out a lot," Henry said. "When it comes to taking on blocks and run fits, I can help him out a little more. He played DB his whole life – in terms of pass coverage he helps me out. I think we both force each other to get better."
At the Rush linebacker position, the Cougars appear poised for another year of tandem starting. Last year both Kache Palacio and Ivan McLennan started multiple games for the Cougars, and both regularly saw the field when the other started.
The duo are now in NFL camps, so Logan Tago and Dylan Hanser appear poised to continue the tradition. Tago is a freaky athlete, who Mike Leach once claimed could play as many as seven positions for the Cougars. A hybrid between linebacker and defensive lineman will have to do for now.
Hanser is a former track star who has some of the best straight-line speed on the team, meaning he's got the one trait that Grinch seems to value the most in his defenders.
Local journalism is essential.
Give directly to The Spokesman-Review's Northwest Passages community forums series -- which helps to offset the costs of several reporter and editor positions at the newspaper -- by using the easy options below. Gifts processed in this system are not tax deductible, but are predominately used to help meet the local financial requirements needed to receive national matching-grant funds.
Subscribe to the sports newsletter
Get the day's top sports headlines and breaking news delivered to your inbox by subscribing here.
---