Sports
EWU notes: Calculated risk pays off for Eastern Washington in playoff opener
Sat., Dec. 3, 2016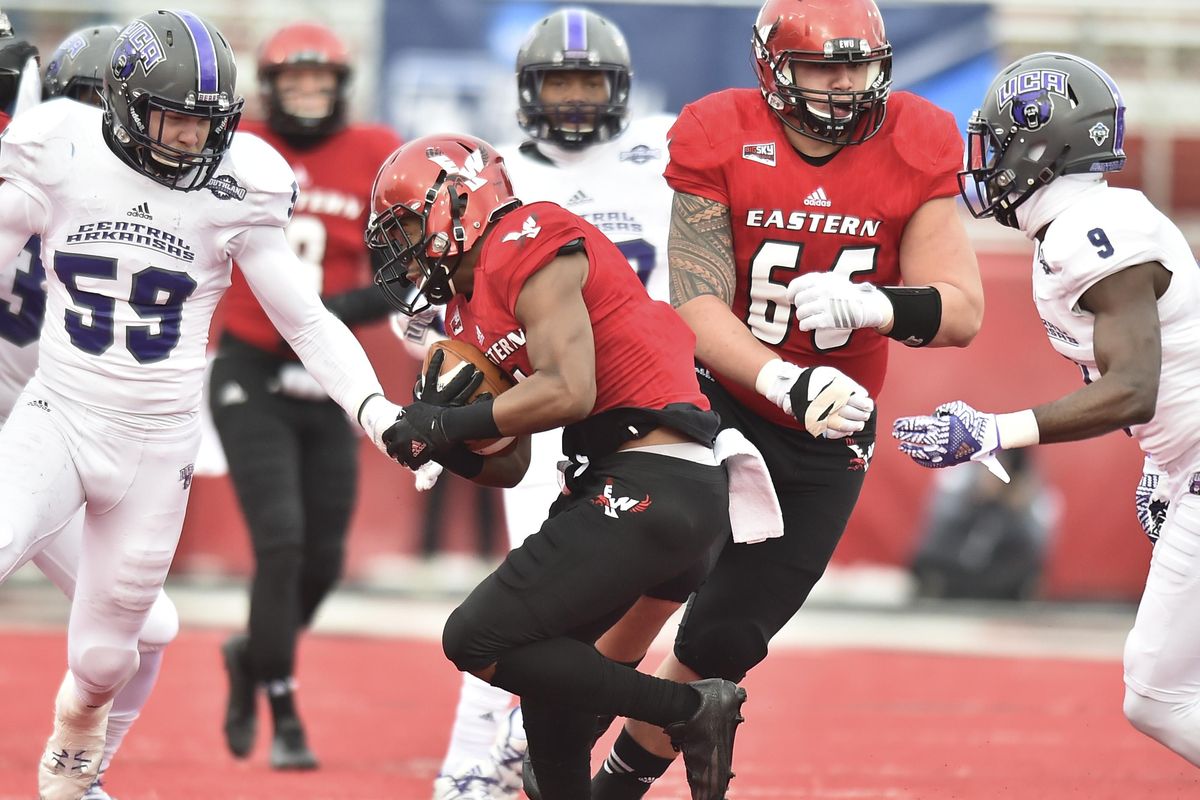 Eastern Washington Eagles wide receiver Shaq Hill (1) runs the ball against Central Arkansas during the first half of an FCS football game on Saturday, Dec 3, 2016, at Roos Field in Cheney, Wash. (Tyler Tjomsland / The Spokesman-Review)
The risk-and-reward aspect of football was on full display late in the first half of Saturday's FCS playoff game at Roos Field.
As it turned out, Eastern Washington was rewarded beyond coach Beau Baldwin's expectations.
His Eagles had just come back to tie Central Arkansas 14-all and were looking for more points when the Eagles faced fourth-and-4 at the Bears' 24-yard line with 47 seconds left.
But how many more points? And how much do you want to risk to get them? As Baldwin pointed out after the game, you don't just "take" a field goal at the end of a stalled drive.
"They don't just give them to you," Baldwin said.
He added that that a blocked field goal wasn't an option.
Armed with that wisdom, Baldwin called out the field-goal unit, then called for holder Reilly Hennessey to throw a sideline pass to tight end Zach Wimberly.
It shouldn't have worked, but it did: Wimberly made the catch on the sideline but appeared to be wrapped up by Dawson Hadnot short of the first-down marker.
"He had me, but I felt like he let me go," said Wimberly, who wriggled free for the first down.
"Just another great play and another great week," Wimberly said.
Four plays later, quarterback Gage Gubrud hit Cooper Kupp for a 6-yard touchdown to give Eastern the lead for good at 21-14.
For Baldwin, risk is part of the game.
"Even if we didn't get it I was OK with it, but they were pretty good at blocking field goals and kicks. But he (Wimberly) went and made a play," Baldwin said.
Eagles overcome fourth-down miscues
EWU got off to a slow start partly because of two failed fourth-down plays in the first quarter.
Both chances came deep in Bears territory.
On their opening drive, the Eagles had second-and-1 at the Bears' 29. Gubrud threw incomplete to Hill and Antoine Custer Jr. was stuffed on third down.
That brought up fourth-and-1, and the Eagles gave back to Custer up the middle against a defense that gives up just 72 yards a game on the ground.
Custer was met at the line of scrimmage and stretched for the first down, but fell inches short.
Later in the first quarter, the culprit was a second-down trick play at the Central Arkansas 30 that was blown up for a 16-yard loss.
Eastern got half of it back on the next play, but that left Baldwin facing fourth-and-9 from the 29. Baldwin disdained the 46-yard field-goal try against the wind, but Gubrud was incomplete on a pass to Hill.
Local journalism is essential.
Give directly to The Spokesman-Review's Northwest Passages community forums series -- which helps to offset the costs of several reporter and editor positions at the newspaper -- by using the easy options below. Gifts processed in this system are not tax deductible, but are predominately used to help meet the local financial requirements needed to receive national matching-grant funds.
Subscribe to the sports newsletter
Get the day's top sports headlines and breaking news delivered to your inbox by subscribing here.
---