Sports
Eastern Washington stops Central Arkansas to advance in FCS playoffs
Sat., Dec. 3, 2016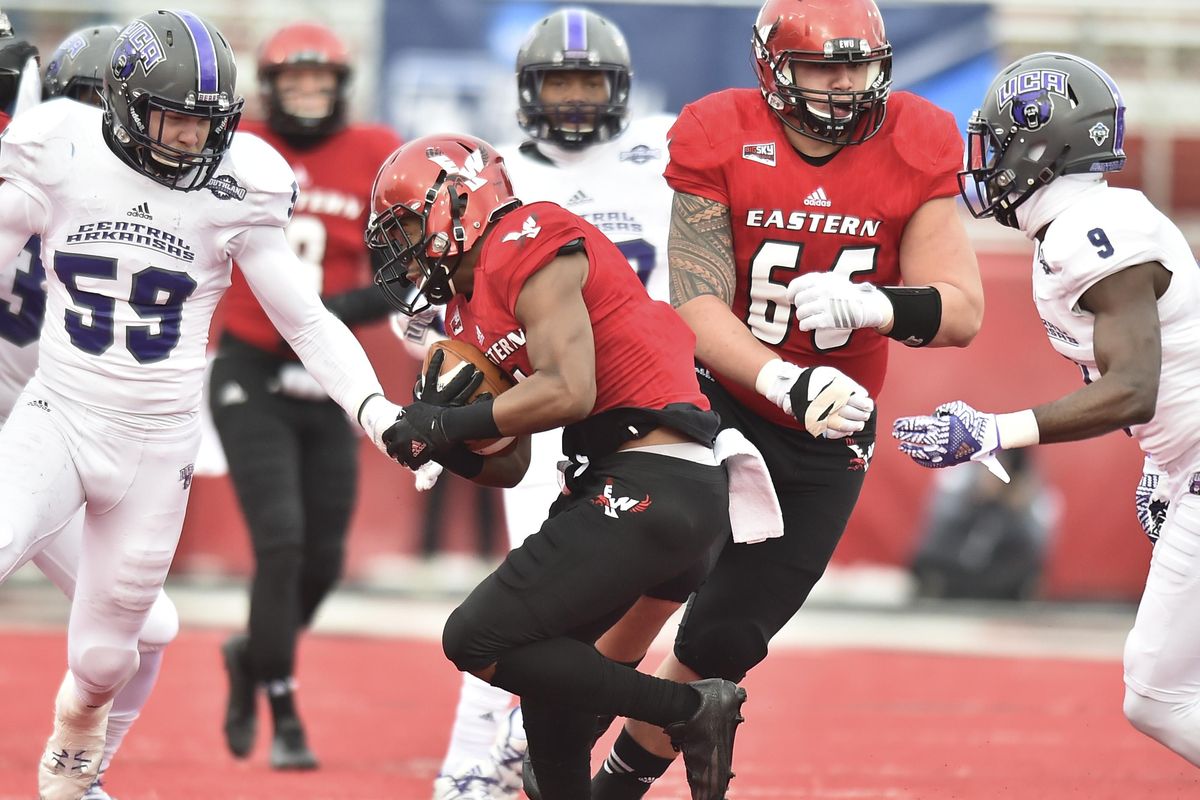 Eastern Washington Eagles wide receiver Shaq Hill (1) runs the ball against Central Arkansas during the first half of an FCS football game on Saturday, Dec 3, 2016, at Roos Field in Cheney, Wash. (Tyler Tjomsland / The Spokesman-Review)
After Eastern Washington nose tackle Jay Tee-Tiuli walked off the field on a chilly Saturday evening, he took off his helmet and let the steam rise from his head.
Then he showed off his helmet – or what's left of it. Much of the red paint was shredded after three hours of combat.
"Yeah, I got a lot of battle scars," Tiuli said with a smile after the Eagles took a 31-14 second-round FCS playoff win at Roos Field.
Eagle fans were grinning too after another game that included the usual eye-popping stats.
Except that most of them came courtesy of the Eagle defense, which put a number on Central Arkansas in the second half.
Actually, a lot of numbers from a dominant second half that's become the norm in Cheney the Bears managed just four first downs and 75 yards of total offense in barely nine minutes of possession time.
Those are championship numbers, if you let your imagination go that far.
And why not? The Eagles are 11-1 and another step closer to next month's FCS title game. Next up is Saturday's quarterfinal game against Richmond, whose coaches will take pause when they watch the game film.
It will show an Eastern defense spotting Central Arkansas two touchdowns, then tightening up against the run before taking away taking away everything else.
By game's end, the Bears managed just 244 yards of total offense, a season-low for an Eastern defense that's getting better every week.
"I'm so proud of how our defense stepped up – we've grown as the year has gone along," coach Beau Baldwin said.
"I don't think people were believing me four or five weeks ago when they were talking about our shootouts with other teams. That wasn't really the reality. Our defense keeps playing great football," Baldwin said.
They had to. After a scoreless first quarter, Central Arkansas (10-3) went up 14-0 while the Eagle offense was still finding its rhythm against a scheme that took away the run and the deep pass.
That left the underneath routes, which were open all night as quarterback Gage Gubrud threw a career-high 47 completions. He also had 517 yards of total offense, fourth-most in school history.
" I don't think I've ever thrown that many passes," said Gubrud, who put up 68.
Finally, the Eagles took advantage, capping a 12-play, 95-yard drive with a 1-yard keeper by Gubrud.
On the ensuing kickoff, Eastern's Sam Inos forced a fumble and Tysen Prunty recovered giving Eastern a short field. Three plays later – and just 59 seconds after his TD run – Gubrud found Cooper Kupp for a 19-yard score.
"Sometimes you can circle one or two plays, so definitely circle that one," Baldwin said.
Leading 21-14 at halftime, the Eagles moved haltingly on offense – which wasn't tragic, since UCA couldn't move at all.
The Bears' running game, which had 105 yards in the first half, produced just 24 in the second half.
After the game, Central Arkansas coach Steve Campbell was perplexed.
"I don't understand it and I'm sure they wish they knew why people can run the football on them early and they rev it up a couple of notches and are able tighten the hatches as the game went on," Campbell said.
According to linebacker Ketner Kupp, that's because "every guys was fitting up his run gaps the way he needs to."
But it's more than that, Kupp added.
"What we did in the offeason, we set ourselves apart, knowing that the guy next to me is going to do his job and I'm going to do mine."
The offense got going again late in the third quarter, capping a 73-yard drive with Roldan Alcobendas' 20-yard field goal. That gave Eastern a little breathing room at 24-14 and took the Bears out of their running game.
UCA never got within 40 yards of the Eastern end zone in the second half.
Local journalism is essential.
Give directly to The Spokesman-Review's Northwest Passages community forums series -- which helps to offset the costs of several reporter and editor positions at the newspaper -- by using the easy options below. Gifts processed in this system are not tax deductible, but are predominately used to help meet the local financial requirements needed to receive national matching-grant funds.
Subscribe to the sports newsletter
Get the day's top sports headlines and breaking news delivered to your inbox by subscribing here.
---