News > Idaho
From babies to boomers, CdA hospital grasps health trends with expansion
Mon., Feb. 29, 2016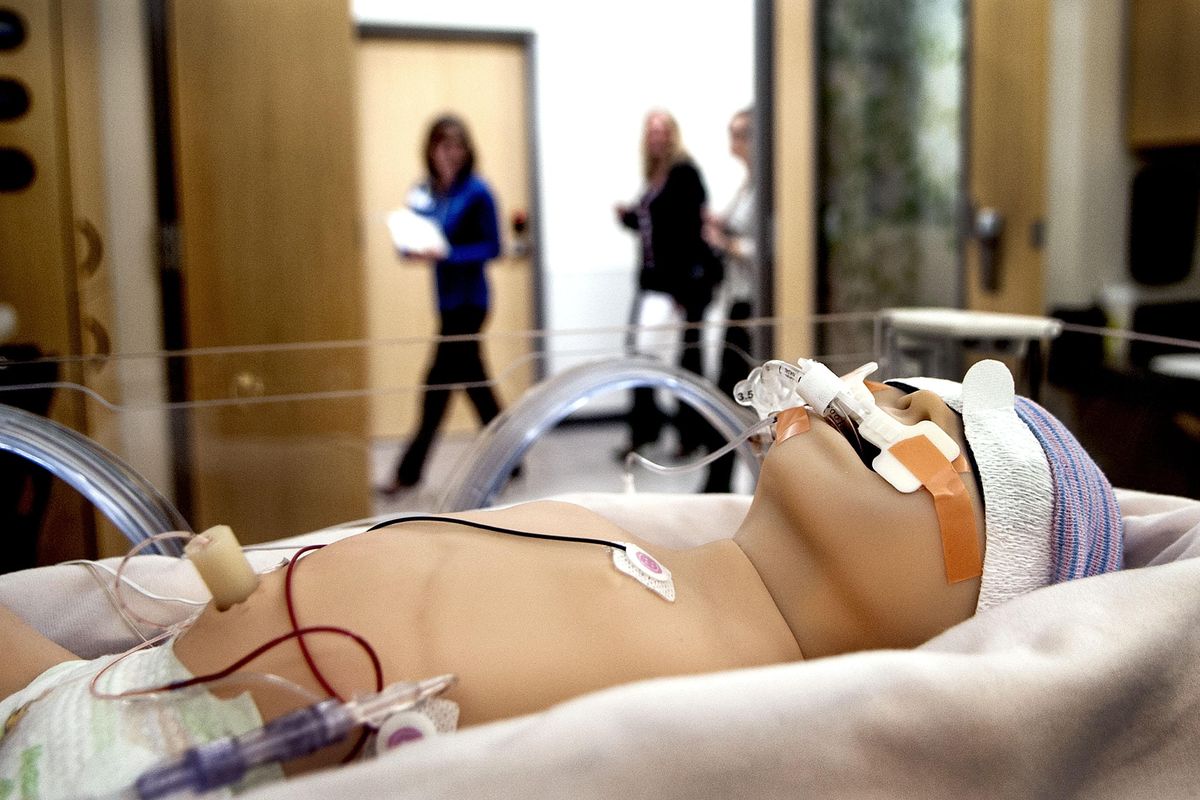 A tour guide leads a group past the expanded neonatal intensive care unit in Kootenai Health's $57 million east addition in Coeur d'Alene on Thursday. Dolls were used to show how the equipment would be used when the new family birth center opens this month. (Kathy Plonka / The Spokesman-Review)
A major new addition to Coeur d'Alene's hospital will open within weeks, catering to patient needs and expectations from births through procedures for an aging population.
"We have the babies coming in and then the baby boomers going out, if you will, that all require the additional services," said Liese Razzeto, chair of the Kootenai Hospital District Board of Trustees.
Kootenai Health has added 100,000 square feet of space with the $57 million project and anticipates adding 100 to 150 staff positions by 2018. The expansion includes a spacious family birth center and a second floor for orthopedics, neurosurgery and neurology.
"We just have an enormous sense of pride about the project and what it's going to do for our patients," CEO Jon Ness said.
"It really was designed as a healing environment for our patients," added Jeremy Evans, executive vice president for operations at Kootenai Health. "A lot of the light, the finishes, the aesthetics, features to minimize disruptions to our patients – all those were designed around putting the patient first."
Community leaders, donors and other invited guests toured the new wing on the east side of the hospital last week.
"It was inspiring to walk through it," said Charlie Nipp, a founding member of the hospital foundation and an owner of Parkwood Business Properties.
Nipp said the expansion gives a boost to the quality and capacity of health care in the area, and also strengthens the local economy.
"Those family-supporting jobs allow our community to grow (and) support other efforts like education," said Nipp, who also is chairman of the board of Mountain West Bank.
Employees guided visitors down corridors and through patient rooms, all of which are private and include big-screen TVs for watching health care tutorials or entertainment, contacting nurses, monitoring treatment schedules and ordering meals.
"It's a wonderful tool for our patients to access a ton of information," Evans said. "They can get online and research a whole host of different things."
The first floor includes 10 labor and delivery rooms, two cesarean section suites and 18 postpartum suites. Kootenai says it can handle about 3,000 births a year in the new unit, including an expected 530 C-sections this year.
The birth center also has 12 private rooms for intensive care of infants, including two equipped to handle twins. They are designed to permit at least one parent to stay with the baby in the room.
"There's nothing like it. There aren't other neonatal facilities where the mother can stay in the room with the baby," Razzeto said.
And when the parents are away, they can monitor their baby on a live video stream on their mobile device.
Kootenai Health soon will be designated a Level 3 Neonatal Intensive Care Unit, allowing the staff to care for newborns as early as 28 weeks – three months premature – and weighing about 2 pounds. Previously the hospital had to transfer many of the critically ill and premature newborns to Providence Sacred Heart Medical Center and Deaconess Hospital in Spokane for treatment.
"It's kind of an emotional, stirring moment to see now Kootenai Health can care for young babies in such a quality way," Nipp said.
The new post-delivery rooms are nearly twice the size as before and include large windows, a sleeper sofa and a refrigerator. "It's just a much more comfortable setting for not only the mom but the family," Ness said.
The second floor, with 32 patient rooms and a rehabilitation gym, was designed largely with seniors in mind.
"The fastest-growing age segment in all of North Idaho is individuals 65 and older," Ness said. "And the No. 1 fastest-growing procedure in the entire health care industry is knee replacements."
Both knee and hip replacements are on the rise, and Kootenai Health is prepared to absorb the demand for those procedures. "So it fits perfectly into the population demographics of North Idaho," Ness said.
The north end of the addition includes a grand new entrance with a covered canopy, valet parking and heated concrete to melt snow and ice.
Inside are a light and airy lobby, private registration bays and two interior courtyards, one for the public and one for hospital staff.
A third floor remains unfinished, available for future growth.
In April, Kootenai Health will release more details on a second phase of expansion, including a larger emergency department and operating rooms.
Hospital leaders also anticipate providing private patient rooms throughout the building. "We think that's a patient expectation," Ness said.
Razzeto added, "I think consumers have gotten more savvy. You don't just have to go to the hospital, you sometimes get to go to the hospital. And they want it to be more of a hotel-type experience – room service, the valet parking. Because there are choices, and so consumers will make better educated choices."
Kootenai's biggest building project in 30 years came in under budget and on time after 19 months of construction. NAC Architecture did the design, and Bouten Construction built it.
"There's a really good vibe with our staff. They just feel real proud of the facility and they see what it's going to do for our patients," Ness said.
Local journalism is essential.
Give directly to The Spokesman-Review's Northwest Passages community forums series -- which helps to offset the costs of several reporter and editor positions at the newspaper -- by using the easy options below. Gifts processed in this system are not tax deductible, but are predominately used to help meet the local financial requirements needed to receive national matching-grant funds.
Subscribe now to get breaking news alerts in your email inbox
Get breaking news delivered to your inbox as it happens.
---