Sports
On the Fringe: The forgotten art of the victory speech in golf
Tue., July 12, 2016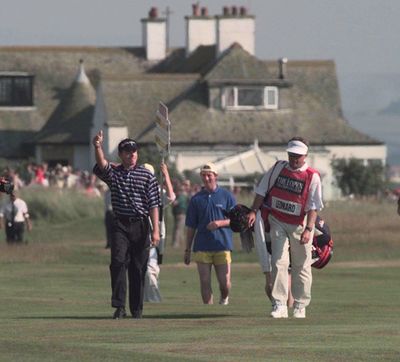 SCOTLAND – Nearly 20 years later, Justin Leonard still gets compliments for his British Open victory at Royal Troon.
They don't remember any of the shots he played, only the words he said.
"I get more comments about my speech than any shot I hit that week," Leonard said. "I was so into the round I was playing that I never gave it a thought until we got done. We were about to walk out there and the press secretary handed me a couple of cards with names and stuff. Then it was 'Thank you this' and 'Thank you that,' I talked about my parents for a second and then it came over me.
"The next thing I remember I'm sitting on 17 green and I've had about seven pints. It was all just a blur."
Leonard shot a 65 that sunny afternoon in 1997 at Troon, taking command on the closing holes for a three-stroke victory. On the 18th green, Sir Michael Bonallack presented him the claret jug. Leonard looked out at dignitaries in blue blazers, rows of photographers and some 20,000 fans crammed into the bleachers.
"It hasn't hit me yet," Leonard said. "So if it hits me during this speech, I'll go ahead and apologize."
What made his speech so memorable was not about style or substance, rather humility and heart. The champion golfer of the year is not expected to transform into Churchill or Kennedy.
Leonard congratulated the superintendent. He paid tribute to the low amateur, Barclay Howard. And then he thought of his parents, who did not accompany him from Dallas. He mentioned he was alone that week with his caddie when his voice cracked and he stepped away from the microphone to compose himself.
"Just a moment, please," he said. "I think it just hit me."
More than part of a stuffy golf tradition, the speech is part of every big tournament, whether for major champions or juniors. They are skilled with a wedge and a putter, not necessarily the art of speaking. USGA President Diana Murphy showed that Sunday at the U.S. Women's Open when she kept referring to the new champion as "Bethany" instead of Brittany Lang.
"The speech is the hardest part for me because you're trying to make everybody happy," two-time Masters champion Bubba Watson said.
Padraig Harrington, who won his first major at Carnoustie in 2007, believes the speech has kept some players from winning. Though the story has been embellished, for years it was said Annika Sorenstam purposely finished second as a teenager in Sweden because she was too shy about speaking.
"If you want to become a winner, you have to get used to making speeches," Harrington said. "Some people hate making speeches so much, they end up not winning. The intimidation of making a speech gets to them."
The organizers help by slipping the winner notes to remind them whom to thank. That doesn't always make it easier.
Mark Calcavecchia wound up in a three-man playoff at Royal Troon in 1989, and he was tied with Greg Norman going to the final hole when the Shark found a fairway bunker and never finished the hole. Calcavecchia raised both arms in triumph, smiled and exhaled.
Moments later, he was standing before thousands of people waiting to hear him.
"It's not easy to come up with something that sounds good, with the emotion of the whole thing," he said.
That was rarely a problem for Nick Faldo, though he was an emotional wreck when he won his third Open title at Muirfield in 1992. He had been at odds with the press over a recent drought. Faldo said he was in "semi-shock" from the nerves of the final round when it was time to speak.
"What can I say about the press?" Faldo said. "I thank them from the bottom of my … from the heart of my bottom, maybe."
Phil Mickelson, a five-time major champion, is rarely at a loss for words. He said at the 2004 Masters after winning his first major, "Get used to me, because I'm going to be back every year." More poignant was in 2006, when he asked the crowd at the ceremony to take a moment of silence for the father of Tiger Woods, who could not travel to Augusta National for the first time because of cancer. Earl Woods died a month later.
"You never think about it before you're finished because that would be … yeah," Mickelson said, a silent reference to the majors where he had the lead on the back nine and didn't win. "So you really have to come up with something to say on the spur of the moment. It's actually a difficult thing to get right.
"And," he added, "a good problem to have."
Local journalism is essential.
Give directly to The Spokesman-Review's Northwest Passages community forums series -- which helps to offset the costs of several reporter and editor positions at the newspaper -- by using the easy options below. Gifts processed in this system are not tax deductible, but are predominately used to help meet the local financial requirements needed to receive national matching-grant funds.
Subscribe to the sports newsletter
Get the day's top sports headlines and breaking news delivered to your inbox by subscribing here.
---