News > Nation/World
Gun control effort survives in Senate
Fri., June 24, 2016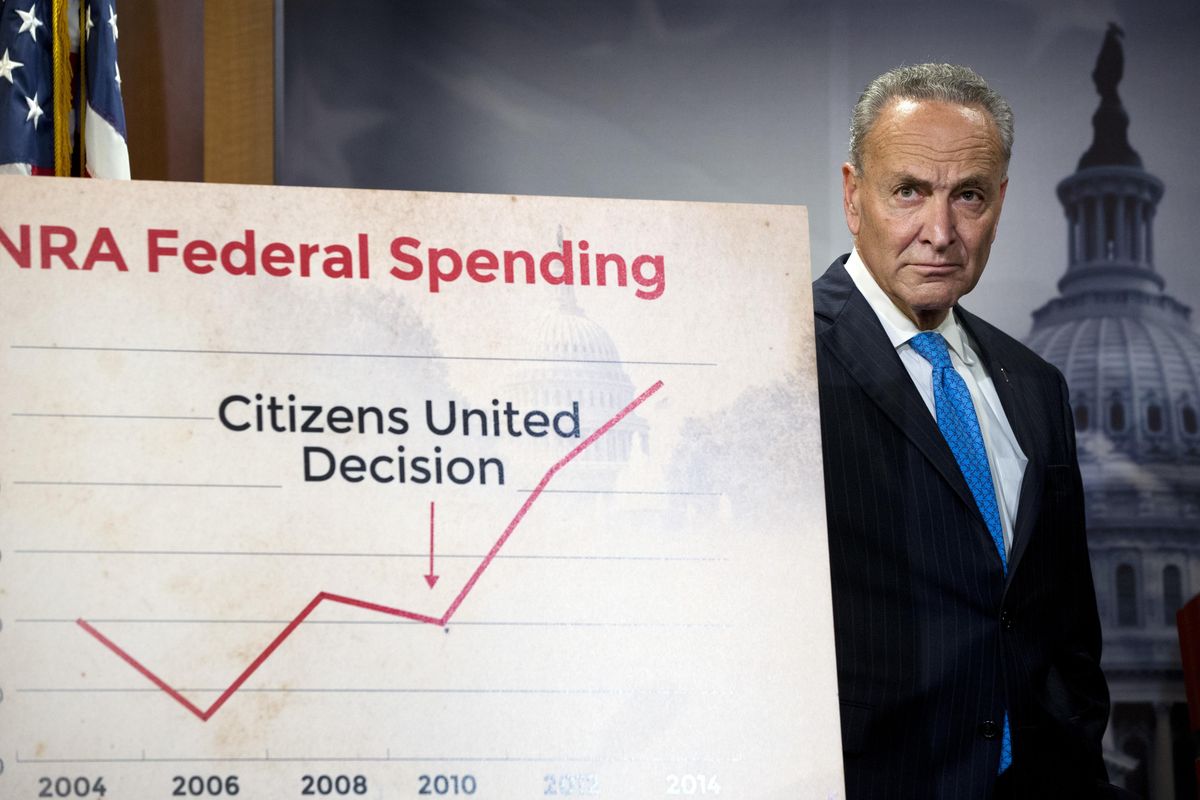 Sen. Charles Schumer, D-N.Y. stands by a board illustrating the National Rifle Association spending during a news conference about gun control legislation, Thursday, June 23, 2016, on Capitol Hill in Washington. (Alex Brandon / Associated Press)
WASHINGTON – House Republicans steamrolled efforts by their Democratic colleagues to secure a vote on gun control legislation Thursday, but a bipartisan proposal in the Senate narrowly survived to fight another day.
The Senate bill is co-sponsored by a group of four Republicans, three Democrats and an independent. It would prohibit gun sales to individuals on the federal No-Fly and Selectee lists, which are subsets of the broader terrorist watch list.
A motion to table the measure failed on a 52-46 vote Thursday afternoon. Idaho Sens. Mike Crapo and Jim Risch joined 44 Republicans in trying to kill the bill; eight Republicans and one independent joined 43 Democrats in keeping it alive.
Sen. Chuck Schumer, D-N.Y., said the motion to table was really a "fake vote" set up by Republican leaders in hopes that the bill would die.
"They're afraid of giving us a real vote, because they know it has a chance of passing," he said. "That's how tight a grip the (National Rifle Association) has on them."
Republicans cited concerns about due process, saying the proposal could strip Second Amendment rights from Americans who are on the No-Fly and Selectee list by mistake.
Sen. Susan Collins, R-Maine, the primary sponsor of the proposal, noted the bill has a robust appeals process. If someone challenges the decision to block their gun purchase, the burden of proof would be on the government, she said, and if they win their appeal, the government would have to pay their attorney fees.
"Let's not miss this opportunity to make a difference," Collins said. "Let's get something done. This is a common-sense proposal. It doesn't infringe on Second Amendment rights; all it says is if you're too dangerous to fly, you're too dangerous to be buying guns."
Schumer called on Republicans to hold a "real" vote on the bill next week. However, given Senate rules that require 60 votes for the measure to advance, its fate is uncertain even if a vote does get scheduled.
Meanwhile, weary but jubilant House Democrats exited their chamber following a 25-hour sit-in in which they demanded a vote on two similar gun control measures.
"We're going to win this struggle," said Rep. John Lewis, D-Ga., the civil rights icon who helped lead the protest.
Victory will have to wait at least another week, though. House Republicans packed the chamber in the wee hours of the morning, passed a handful of bills over the objection of Democrats and then abruptly adjourned for their Fourth of July recess.
"We're not going to allow stunts like this stop us from carrying out the people's business," said House Speaker Paul Ryan, R-Wis.
Holding up copies of Democratic fundraising appeals based on the sit-in, Ryan described the protest as a "publicity stunt."
At one point before they adjourned, the two sides nearly came to blows when Rep. Louie Gohmert, R-Texas, approached the Democrats and yelled "Radical Islam." Rep. Corrine Brown, D-Fla., started yelling back. The two came within inches of each other, both screaming, only to be separated by colleagues.
Pressure has built on lawmakers to take steps to curb gun violence following the June 12 shooting at a nightclub in Orlando, Fla., that killed 49 people and injured 53 others. The mass attack followed several similar incidents in recent years, including the Sandy Hook Elementary School shooting in Newtown, Conn.
The Associated Press contributed to this story.
Local journalism is essential.
Give directly to The Spokesman-Review's Northwest Passages community forums series -- which helps to offset the costs of several reporter and editor positions at the newspaper -- by using the easy options below. Gifts processed in this system are not tax deductible, but are predominately used to help meet the local financial requirements needed to receive national matching-grant funds.
Subscribe now to get breaking news alerts in your email inbox
Get breaking news delivered to your inbox as it happens.
---