Sports
John Blanchette: Cougars respond to dramatic events with calm, assured win
Sat., Nov. 5, 2016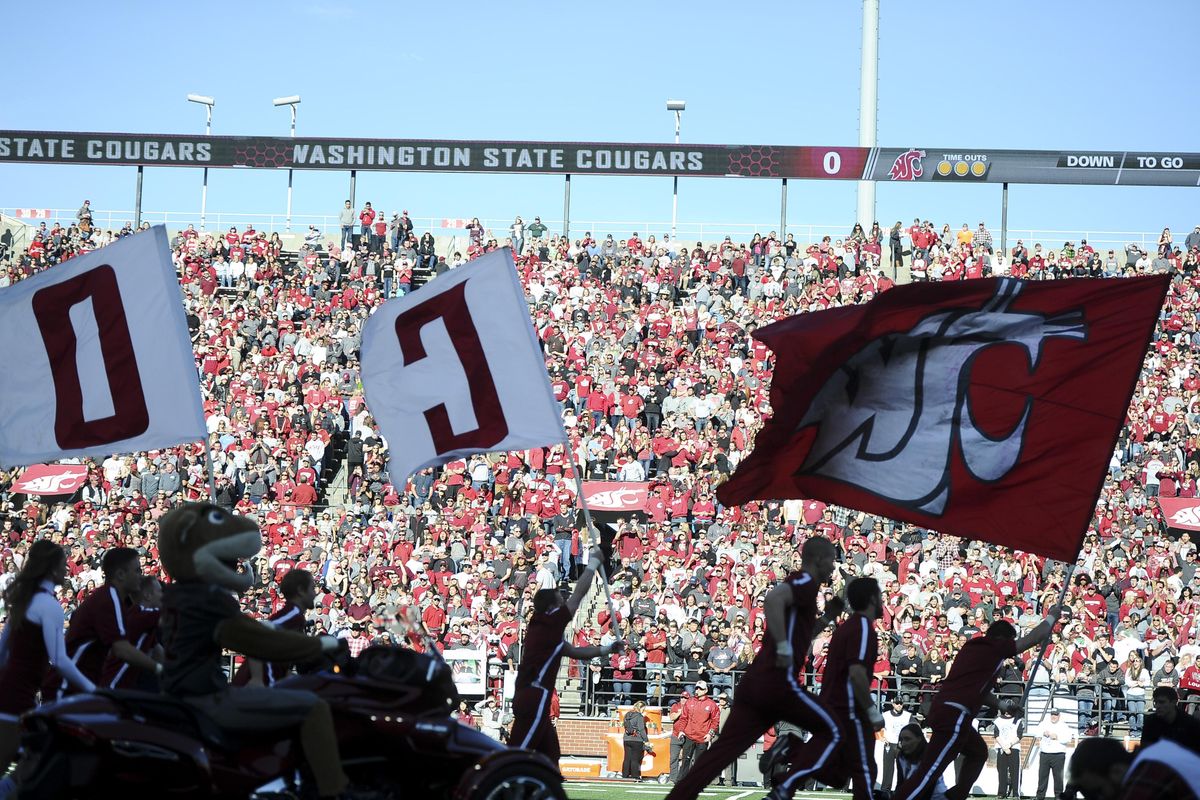 WSU takes the field to face Arizona during the first half of a college football game on Saturday, Oct 15, 2016, at Martin Stadium in Pullman, Wash. (Tyler Tjomsland / The Spokesman-Review)
PULLMAN – Near the end of Friday's ambush of the Board of Regents here on the Washington State campus, one of the exasperated revolutionaries demanded immediate action in the Robert Barber affair with the plea, "We don't need any more drama."
The regents were not persuaded.
The football team? Now those guys took it to heart. In fact, "no drama" might as well have served as the pregame pep talk.
In that respect, the Cougars' 69-7 body slam of Arizona on Saturday at Martin Stadium was the right medicine at the right time for nearly everyone involved – not including, of course, the woeful Wildcats, who are spiraling toward a winless Pac-12 season unless Oregon State or Arizona State can out-inept them.
(Surely somewhere in Arizona, there's a state senator screeching at UA's Board of Regents, "If you don't fix this, I goddamn will.")
It speaks to the disturbing headlines and roiling discord beyond the stadium walls this season that Cougar game day can now be anticipated for its normalcy and comforting properties. When has that ever been the case?
Heck, this one was so calming to the nerves that coaches Mike Leach and Rich Rodriguez even exchanged a warm handshake and mutual shoulder claps at midfield afterward – a departure from the testy last couple of weeks when ASU's Todd Graham offered a scolding curse and Oregon State's Gary Andersen interpreted Leach's compliment about the Beavers' talent as a veiled boast of being the better coach.
If RichRod can gracefully swallow a 60-point habanero, surely we can all get along.
Ah, peace.
Now, this was not the case two months ago, when the scoreboard offered a puzzling narrative and Leach's message to his team – remember the JC softball business? – was as harsh as his assessment of Pullman law enforcement. But the pivot the Cougars have pulled off is nothing short of remarkable – seven straight wins now.
You'd think even the demanding Leach would be impressed – and he is.
"For another 12 hours," he growled. "By tomorrow at this time, I'll be meaner than hell again."
But he did acknowledge that the Cougars had responded to the staff's urgings to put together their most complete game – 60 minutes, all three phases. Not that it needed affirmation beyond the scoresheet, which revealed the offense reeling off 9 yards every snap, the defense with three takeaways and five sacks and the special teams turning every pathetic Arizona punt into a field position bonanza.
And the Wildcats? Well, they topped the Cougs in legible uniform numbers.
"We're not that good," Leach demurred, "and they're not that bad."
But nearly.
No one was better than quarterback Luke Falk, who in 35 attempts had more touchdowns (four) than incompletions (three), though he could have been throwing from a rec room recliner with the protection his line provided. The completion percentage – 91.4 – was a school record. The quarterback rating approached Dow Jones levels. Fourteen targets caught balls from Falk and backup Tyler Hilinski in Wazzu's most lopsided victory over a Pac-12 opponent.
"Losing like that," safety Isaiah Hayes said, "is embarrassing."
And winning like that?
Cathartic.
The suspension of Barber, their giant defensive fulcrum, for his part in last summer's party melee that left two students seriously injured has invested this winning streak with an odd vibe. The emotions that spilled over at Friday's regents meeting when his supporters made their case were raw and angry; the leftover energy, Leach contended, was uplifting.
"All our team feels like Robert belongs here with us," he said. "Another thing that was inspiring to everybody was the way so many different aspects of Cougars and the Coug family rallied behind Robert. That's one thing about Cougars – they're very loyal, very supportive. If they feel somebody has a just cause, they'll truly rally around them. I think that's kind of been inspiring to our whole team."
Whatever the merits of their case – which leans toward the tunnel-visioned rather than the nuanced – the passion on display in that ballroom filled was bound to have an impact on young players who live to latch on to missions.
"I definitely think we have him in our minds and I think guys rallied around that," said Falk. "You want to play for one of your teammates. I think with that incredible energy we went out there and really had him in our mind today. I'm glad we got the win and just let him know we're thinking about him."
It seems unlikely that passion will be rewarded, though a court may disagree. That doesn't mean the Cougars can't keep drawing from it – indeed, there's probably been some us-against-the-world undercurrent to this season all along.
But the Cougs won't have to survive on that. They're atop the Pac-12 on their own merits. Drama or no drama.
Local journalism is essential.
Give directly to The Spokesman-Review's Northwest Passages community forums series -- which helps to offset the costs of several reporter and editor positions at the newspaper -- by using the easy options below. Gifts processed in this system are not tax deductible, but are predominately used to help meet the local financial requirements needed to receive national matching-grant funds.
Subscribe to the sports newsletter
Get the day's top sports headlines and breaking news delivered to your inbox by subscribing here.
---