News > Idaho
Idaho treasurer Crane mum on oversight panel that doesn't meet
Mon., Nov. 28, 2016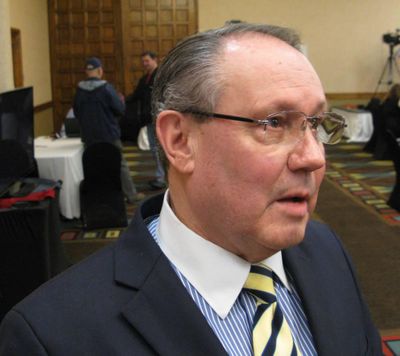 BOISE – Idaho state Treasurer Ron Crane isn't saying why a credit-rating committee he chairs hasn't met in six years, or why his office delayed posting information about a Securities and Exchange Commission violation mentioned in passing in the committee's annual report.
The SEC infraction involved a series of reporting violations by the Idaho Housing and Finance Association; the agency self-reported them and the SEC on Aug. 24 agreed to a settlement that called for disclosures and changes in practices but no financial penalties.
"They made us sign a cease-and-desist order," said John Sager, executive vice president and chief financial officer for IHFA. "We have to put a paragraph in our official statements that says that we've agreed to do this … and we'll go forward and sin no more."
But when the first draft of the state Credit Rating Enhancement Committee's annual report went out to committee members by email in July, there was no mention of a cease-and-desist order, just a cryptic reference to a proceeding involving the SEC.
Sen. Chuck Winder, R-Boise, who serves on the credit-rating committee, said he worried that including the matter in the annual report might magnify it unfairly, but concluded that it should be fully disclosed.
"When something like that happens, I think government needs to be transparent," Winder said.
Rep. Rick Youngblood, R-Nampa, another member of the committee, was puzzled by the SEC reference and started asking questions.
"I've been on the committee for four years – we've never met," said Youngblood, a banker. The reference in the report "caught my attention," he said.
Youngblood contacted the treasurer's office, which referred him to Sager, at the housing and finance association.
"John was very open, explained everything to me," Youngblood said. "I asked John, 'Do you think this is worthy to have a meeting of the committee?' He said, 'Rick, I do.' "
But the committee still didn't meet. Instead, a lengthy paragraph was added to the report detailing the SEC action, and noting that it still was in progress.
"I paid special attention to the words 'cease and desist,' " Youngblood said. "In the banking world, that's a very significant notice."
With the addition of the explanation, "We all agreed to sign off on it, and I thought that was the end of it," Youngblood said, "until about a month later I got on the website, and the report was not on the website." The state representative kept checking; it finally showed up Nov. 15.
Jace Perry, an investment accountant in the state treasurer's office and secretary of the Credit Rating Enhancement Committee, said the office posted this year's July 31 report on Nov. 15 after receiving an inquiry about it from a legislative budget analyst.
"It was overlooked," Perry said. "It was an oversight that it hadn't been put on the website yet."
Crane declined to comment on the matter.
Youngblood said he was unsure why it wasn't made public.
"I don't know why it wasn't posted and made public. Were we trying to hide something? I don't know. Ron's chairman of the committee," Youngblood said. "It's certainly questionable to me as a legislator as to why this seemed to be some kept secret."
Crane has run into trouble before trying to shine the most positive light on the state's credit ratings. In 2009, after two rating agencies threatened to downgrade the credit rating for a local government investment pool that Crane manages because it contained risky investments, Crane transferred those securities to an unrated state fund, shifting the risk to the state. In 2015, the state booked a $9 million investment loss as a result.
Crane also has been targeted in a whistleblower complaint from a former employee who charged that Crane wasted taxpayer money for his own political gain and fired the worker when he complained about it.
The Credit Rating Enhancement Committee was created by legislation carried by current Lt. Gov. Brad Little in 2005. It was created, in part, to respond to concerns from national credit rating agencies that Idaho didn't have a formal, statewide debt management policy. Little said he thought there should be a central way to track activities by all the various agencies that issue bonds for the state.
"We're always ranked by Moody's and Fitch's as one of the most solvent states," Little said.
Yet, Idaho lawmakers long have been averse to taking on debt. The state doesn't issue any general obligation bonds; they're prohibited by the state Constitution.
Winder said he asked the national credit reporting agencies how Idaho could enhance its already-high credit ratings.
"They said Idaho doesn't borrow enough money, Idaho doesn't bond enough, and Idaho's per-capita income is too low to get the AAA rating – we're at AA-1."
The fifth-term state senator said he doesn't expect Idaho lawmakers to step up the state's borrowing.
"We've got to get better jobs, we've got to get higher incomes," he said.
As for the Credit Rating Enhancement Committee, Winder said the committee shouldn't exist if it doesn't meet.
"It would be beneficial to either disband the committee or have it meet once a year, even if it's just to give a final blessing to the report."
Local journalism is essential.
Give directly to The Spokesman-Review's Northwest Passages community forums series -- which helps to offset the costs of several reporter and editor positions at the newspaper -- by using the easy options below. Gifts processed in this system are not tax deductible, but are predominately used to help meet the local financial requirements needed to receive national matching-grant funds.
Subscribe to the Coronavirus newsletter
Get the day's latest Coronavirus news delivered to your inbox by subscribing to our newsletter.
---
Subscribe and log in to the Spokesman-Review to read and comment on this story