Sports
WSU defensive lineman Robert Barber expelled
Thu., Sept. 15, 2016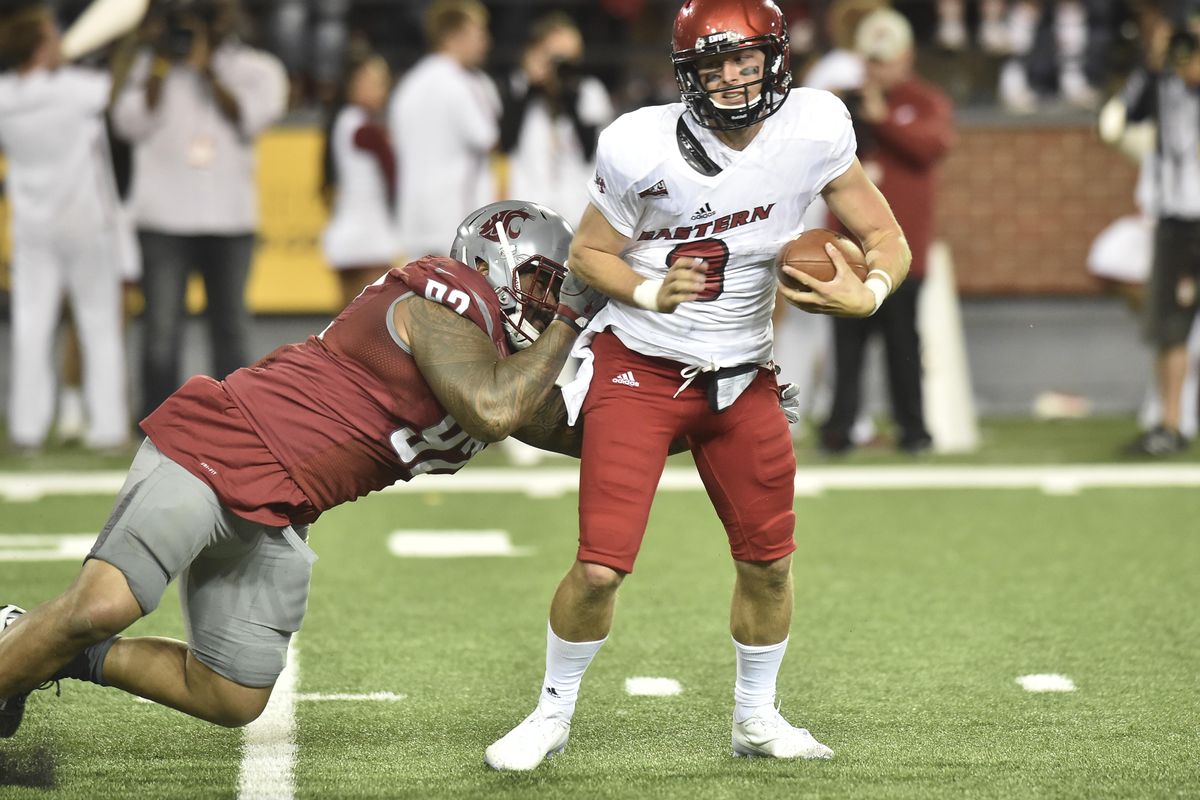 Robert Barber (92) sacks Eastern Washington quarterback Gage Gubrud (8) during both team's 2016 season-opener. (Tyler Tjomsland / The Spokesman-Review)
PULLMAN – Robert Barber, a starting nose tackle and lynchpin of the Washington State football team's defense, has been expelled from the school following a University Conduct Board investigation into a fight over the summer that left one student unconscious and another hospitalized with a fractured jaw. Barber will continue to practice while appealing the expulsion.
The office of student conduct does have a limited appeals process, in which the student has 21 days to submit an appeal in writing that contests the decision on the grounds the initial hearing was unfair, was based on insubstantial information, that the resulting sanctions were inappropriate, or if new information becomes available.
Athletic director Bill Moos confirmed that Barber will appeal, saying "I think they are in the process."
Moos has a policy of not allowing players to participate in athletics once they have been charged with a felony. However, Barber has not been arrested or charged. In situations of student conduct discipline, Moos leaves it up to the coaches whether or not the athletes will continue participating.
"That has to be within (coach Mike Leach's) shop. I think he was fed up with the crap on the Shalom deal, because it was the second one," Moos said, referring to the arrest of safety Shalom Luani, who was suspended against Eastern Washington but has not been charged with a felony.
"Everybody had to run and do up-downs and all the things, so you think the point had been made," Moos said. "(Leach) even said, 'If I had to do it over again I would not have suspended Shalom.' I let my coaches make those decisions. When it gets to a felony charge, it's on my desk."
Barber, a redshirt senior, is one of just two nose tackles listed on the WSU roster. Defensive line depth has been a key concern for WSU (0–2), which is giving up 115 rushing yards per game at a rate of 4.5 yards per rush. The Cougars have just two sacks so far this season, one of them a 13-yarder by Barber.
As the man at the center of the defensive line in WSU's base 3-4 nickel defense, the 305-pound Barber is relied upon to occupy multiple blockers, thereby freeing up the linebackers to make plays. For that reason, nose tackles are prized for their size and strength.
The only other WSU defensive lineman weighing over 300 pounds is backup nose tackle Ngalu Tapa, who played sparingly in each of WSU's first two games but has yet to record a tackle. Defensive ends Hercules Mata'afa and Daniel Ekuale do each have experience sliding inside from their outside positions at times.
Student conduct hearings differ from criminal trial proceedings in that the conduct board need determine only that a "preponderance of evidence" standard has been met to assume guilt, rather than a "beyond reasonable doubt" standard.
Barber came to WSU from Tula, American Samoa and majored in social sciences.
Staff writer Chad Sokol contributed to this report.
Local journalism is essential.
Give directly to The Spokesman-Review's Northwest Passages community forums series -- which helps to offset the costs of several reporter and editor positions at the newspaper -- by using the easy options below. Gifts processed in this system are not tax deductible, but are predominately used to help meet the local financial requirements needed to receive national matching-grant funds.
Subscribe to the sports newsletter
Get the day's top sports headlines and breaking news delivered to your inbox by subscribing here.
---