A&E > Food
Where to get the best doughnuts in and around Spokane
Tue., Aug. 15, 2017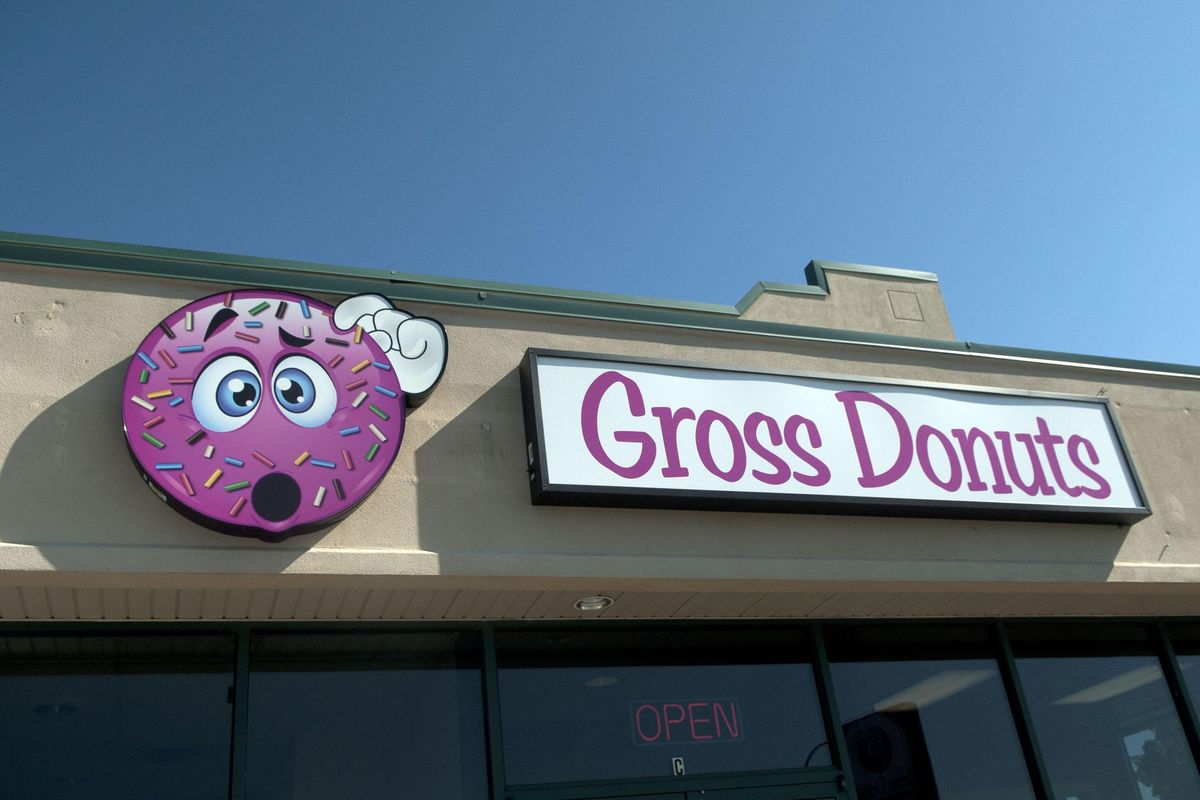 Gross Donuts photographed on Thursday, July 20, 2017 in Post Falls. (Kathy Plonka / The Spokesman-Review)
You know you want one.
Doughnuts are difficult to resist. It really doesn't matter what kind: old-fashioned, fritter, cake, cruller, glazed, cream, jelly.
A doughnut is better than no doughnut, and a dozen is better than one. They're cheaper that way, too.
The deep-fried dough – formed into twists, bars, holes, rounds, minis or other shapes – is dressed up with everything from simple powdered sugar or classic sprinkles to gourmet flavor combinations such as maple and bacon, pineapple and Canadian bacon, blueberry cheesecake, even Fruit Loops and, of course, around these parts, huckleberry.
Take your pick. And consider the crumb. Yeast doughnuts are puffy and light, with a moist and chewy honeycomb texture and gentle flavor of fermentation. Cake doughnuts are more tender, with a crumb more like a muffin or, of course, piece of cake.
Better get there early. The early bird gets the doughnut.
Many doughnut shops around these parts close by noon or 12:30 p.m. – or whenever they run out, which can be even earlier, in some cases as early as 8 or 9 a.m. A couple shops close at 3 p.m. But, if you don't mind driving to Idaho, for late risers and afternoon or night-time cravings, Gross Donuts is open 24 hours.
Here are some of the best doughnut shops – grocery stores not included – in and around Spokane.
Mike's Old Fashioned Donuts
This popular old-fashioned shop is super kid-friendly, supplying dough for little ones to entertain themselves by making their own "doughnuts." But, if you snooze, you lose. There's no sleeping in for folks who want to get their hands on Mike's doughnuts. The shop is open from 6 a.m. to noon. One of the cool things about it is there really is a Mike. And you're likely to see him if you stop by. Mike Britton has been in business since 2000 and at this particular location since 2015. There's a different featured doughnut – or two – daily. The crullers, fritters and maple bars get rave reviews. 9219 E. Sprague Ave., Spokane Valley. (509) 926-7385.
Casual Friday Donuts
Open in 2014, this gourmet doughnut shop sports a modern-vintage look. (Think reclaimed wood and chalkboards.) Doughnuts are kept behind glass on the counter top, and there's plenty from which to choose. Look for MOAD, or the Mother of All Doughnuts, Casual Friday's own version of the famed Cronut, as well as an exceptionally big and fluffy Boston cream doughnut, maple bar, maple-bacon bar, chocolate Butterfinger round, glazed ring, old-fashioned, cruller and more. Counter seating lines the front window overlooking busy North Division Street. There are also a few tables inside as well as on the small patio overlooking the parking lot and North Division. Espresso drinks are also on the menu. Doughnuts that don't sell by closing time get donated. 3402 N. Division St. (509) 328-1764. casualfridaydonuts.com
Retro Donuts
Opened in October in the Pinewater Plaza strip mall in North Spokane, this newer doughnut shop is done in black, white and blue with clean lines, vintage-inspired atomic starburst patterns and charming, white cake plates. It's meant to evoke a sense of nostalgia along with the modern – and, of course, the sweet. There are about 40 flavors of doughnuts here, including seasonal offerings such as huckleberry. Look, also, for a Canadian-Bacon-Pineapple fritter, maple bar with an entire slice of caramelized brown-sugar pepper bacon on top, triple chocolate old-fashioned and more. Retro Donuts makes special-occasion doughnut cakes, too. There's no espresso but the drip bar in a corner of the front counter offers a special house blend from 4 Seasons Coffee Co. Retro Donuts is a nut-free facility. Doughnuts that don't sell by closing time get donated. 10925 N. Newport Highway. (509) 315-9502. rdonuts.com
ScrumDiddilyUmptious Donuts
Get here early. These doughnuts go fast. The shop closes at 12:30 p.m. but it isn't unusual to find it's sold out way before then – like at 11 a.m. The cheery spot, located at the corner of a small strip mall, offers assorted doughnuts for $1.25 to $2.50. There are coffee and espresso drinks, too. 1201 N. Barker Road, Spokane Valley. (509) 924-5129.
Donuts to Go
Get here even earlier. These doughnuts go even faster. This small doughnut shop, located next to a marijuana retailer and discount smoke shop on busy North Division Street, opens at 5 a.m. and is routinely sold out by 9 – sometimes even as early as 8. 7009 N. Division St. (509) 467-6403.
Davis Donuts
"Never make permanent decisions on temporary feelings." Quotes like this one – along with "baker needed" and gems from Albert Einstein, Mark Twain and Tom Brady – grace the reader board in the front of this shop. That's just one of the things it's known for. Davis Donuts makes its own version of the Cronut called the Dav-sant. For Fat Tuesday, it offers paczki, a Polish staple. And, "If you like it when your bacon touches your pancakes then you'll love this donut," manager Heather Young said about the maple bacon bar. 2520 N. Fourth St., Coeur d'Alene. (208) 664-1701.
Krispy Kreme Doughnuts
The Original Glazed Doughnut, which celebrated 80 years this year, enjoys a cult following. But there are more than 50 kinds of doughnuts and doughnut holes at this national chain, which was established in North Carolina in 1937 and has a location in Spokane Valley. It's fun to watch the doughnuts being made in the open kitchen. While standing in line, customers can see doughnuts move past them on the conveyor belt. Look for chocolate glazed, powdered strawberry filled, glazed lemon filled, custard filled, lemon Kreme cake, glazed Kreme filled, chocolate iced Kreme filled and more. 15401 E. Indiana Ave., Spokane Valley. krispykreme.com
Gross Donuts
Don't be scared. Gross just happens to be the owners' surname. And in terms of price – most are 99 cents – and accessibility – it's open 24 hours a day – Gross Donuts wins. There are two locations in Idaho – one in Post Falls and another in Coeur d'Alene – and both are spacious, clean and airy. Doughnuts-for-here are served in black plastic baskets. Look for apple-filled bear claws, oversized triangles filled with apricot, chocolate-frosted doughnut rounds stuffed with chocolate mousse, fritters and more – including some stuffed with peanut butter, chocolate chips and Reese's candies. There's coffee and espresso, too. And a window in the hallway at the Post Falls location lets customers look into the kitchen to see where the magic happens. Post Falls: 1603 E. Seltice Way, Suite C. (208) 777-0900. Coeur d'Alene: 445 W. Cherry Lane. (208) 930-4099.
Hayden Donut House
Custom orders – such as doughnuts for weddings or birthday parties – are welcome at this small, family-run doughnut shop, which was established in Hayden in 2005. Find examples of recent special orders on the shop's Facebook page. Of course, smaller orders are welcome, too. Look for seasonal specials sporting fun, holiday-themed decorations. 8761 N. Government Way, Hayden. (208) 635-5288.
Local journalism is essential.
Give directly to The Spokesman-Review's Northwest Passages community forums series -- which helps to offset the costs of several reporter and editor positions at the newspaper -- by using the easy options below. Gifts processed in this system are not tax deductible, but are predominately used to help meet the local financial requirements needed to receive national matching-grant funds.
Subscribe to the Spokane7 email newsletter
Get the day's top entertainment headlines delivered to your inbox every morning.
---