A&E > Books
Author Nate Blakeslee explores value of one wolf's life
UPDATED: Thu., Dec. 7, 2017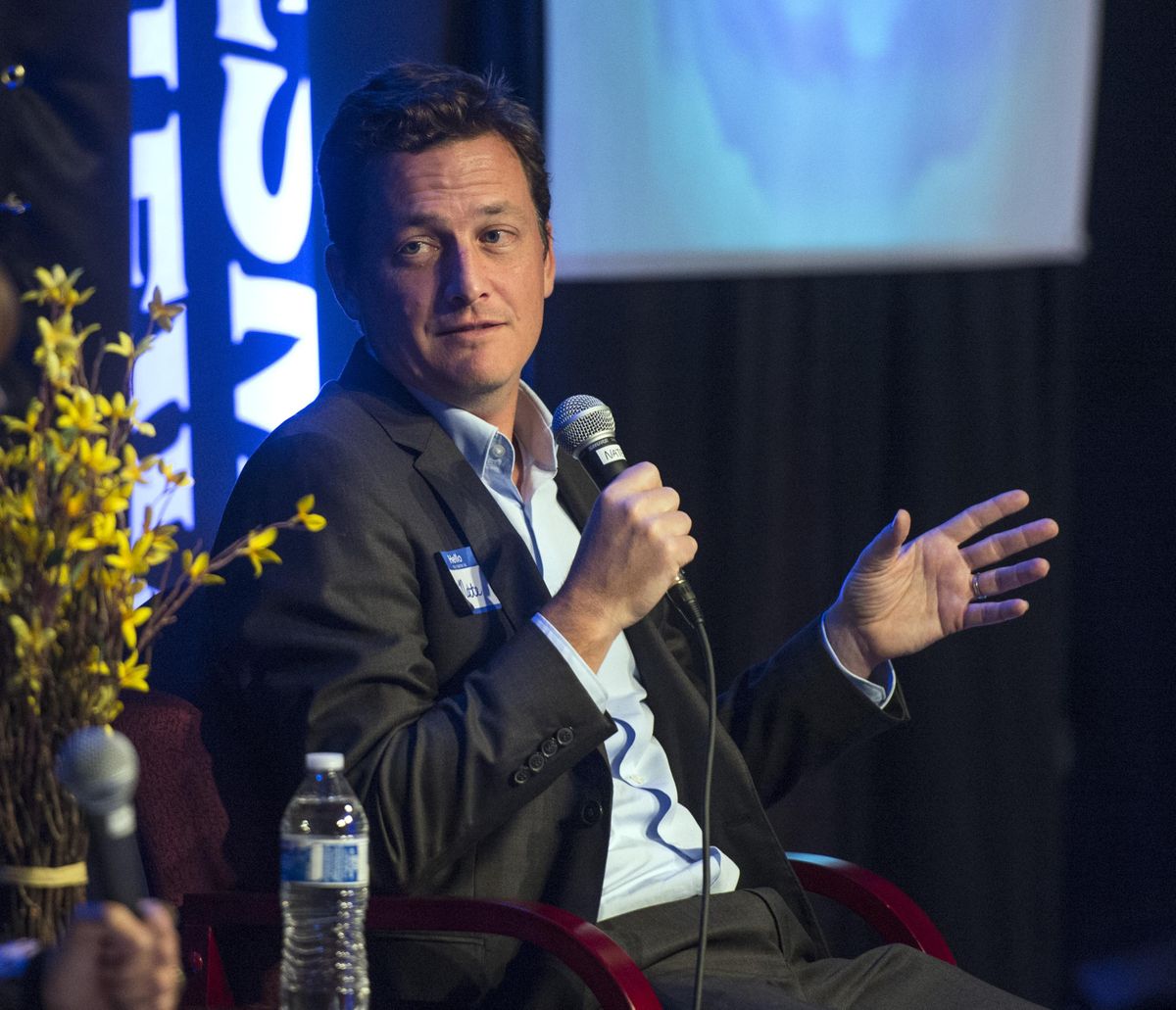 Author Nate Blakeslee talks about his book "American Wolf. A True Story of Survival and Obsession in the West," during The Spokesman-Review Northwest Passages Book Club, Wednesday, Dec. 6, 2017. (Dan Pelle / The Spokesman-Review)
Before he started researching "American Wolf," author Nate Blakeslee didn't know it was possible to understand an animal's character.
But with the help of thousands of pages of field notes gathered by dedicated wolf watchers, he tells the story of O-Six, a scrappy Yellowstone wolf who become the alpha female of a powerful pack.
The book chronicles her precarious life as a lone wolf, her search for a mate and the battle with another alpha female that eventually allows O-Six's Lamar Canyon pack to claim choice territory in Yellowstone National Park.
"Her life was an amazing adventure story," Blakeslee told the crowd Wednesday at The Spokesman-Review's Northwest Passages Book Club.
About 150 people attended the book club's December forum, which features literature of the West. Spurring face-to-face discussion on topics of community interest is a goal of Northwest Passages Book Club.
"Love them or fear them, wolves are always a great story, especially here in Spokane, where the interest is intense," said Donna Wares, the paper's senior editor for community engagement.
Wares said she appreciated Blakeslee's approach to exploring all sides of the controversial reintroduction of wolves to Yellowstone.
"It's also a beautifully written narrative that transports readers to the remote Lamar Valley," Wares said. "We feel like we're right there amid the wolf watchers, biologists, hunters and ranchers who track the wolf pack's every move."
Blakeslee, a writer for Texas Monthly, took a wolf-watching class at Yellowstone in 2007. He was fascinated by the wolf-watching subculture.
The park's Lamar Valley is one of the few places in the world where people can watch wolves from the road. The valley has become an international destination for wolf viewing, complete with traffic jams, overflowing vehicle turnouts and dedicated observers. With the use of powerful spotting scopes, people watch wolf packs up to two miles away.
Named for the year of her birth, O-Six became one of the Lamar Valley's best known wolves. When she was legally shot outside the park during Wyoming's first wolf hunting season, the New York Times ran a story with the headline "Famous Wolf is Killed Outside Yellowstone."
To tell her story, Blakeslee worked with Rick McIntyre, a Yellowstone park ranger, and other wolf watchers who'd meticulously documented packs in the park through daily field notes.
O-Six's story is interwoven with McIntyre's. He's an eccentric who spent 15 years observing and tracking Yellowstone's wolf packs, and who once referred to the bond between O-Six's grandparents as a love story comparable to Johnny Cash and June Carter Cash.
McIntyre knew most of Yellowstone's wolves on sight, along with their lineage. O-Six was "precious" to him, Blakeslee said.
The book also gives a sympathetic portrayal of the hunter who shoots O-Six, though it describes Blakeslee's discomfort when he sees the pelt of the wolf he'd come to know. The hunter, who eats mostly elk meat, is upset that herds have diminished in the area he hunts since wolves were reintroduced.
"It's a story about cultural clash … two different value systems colliding in the same landscape," Blakeslee said.
When state wildlife managers set annual wolf quotas, Blakeslee said, they calculate how many wolves can be hunted, trapped or killed for preying on livestock without affecting overall populations.
"American Wolf" invites readers to ponder "the value of one wolf's life," he said.
Local journalism is essential.
Give directly to The Spokesman-Review's Northwest Passages community forums series -- which helps to offset the costs of several reporter and editor positions at the newspaper -- by using the easy options below. Gifts processed in this system are not tax deductible, but are predominately used to help meet the local financial requirements needed to receive national matching-grant funds.
Subscribe to the Spokane7 email newsletter
Get the day's top entertainment headlines delivered to your inbox every morning.
---