A&E > Books
Spokane Authors and Self-Publishers release first anthology
Thu., Dec. 14, 2017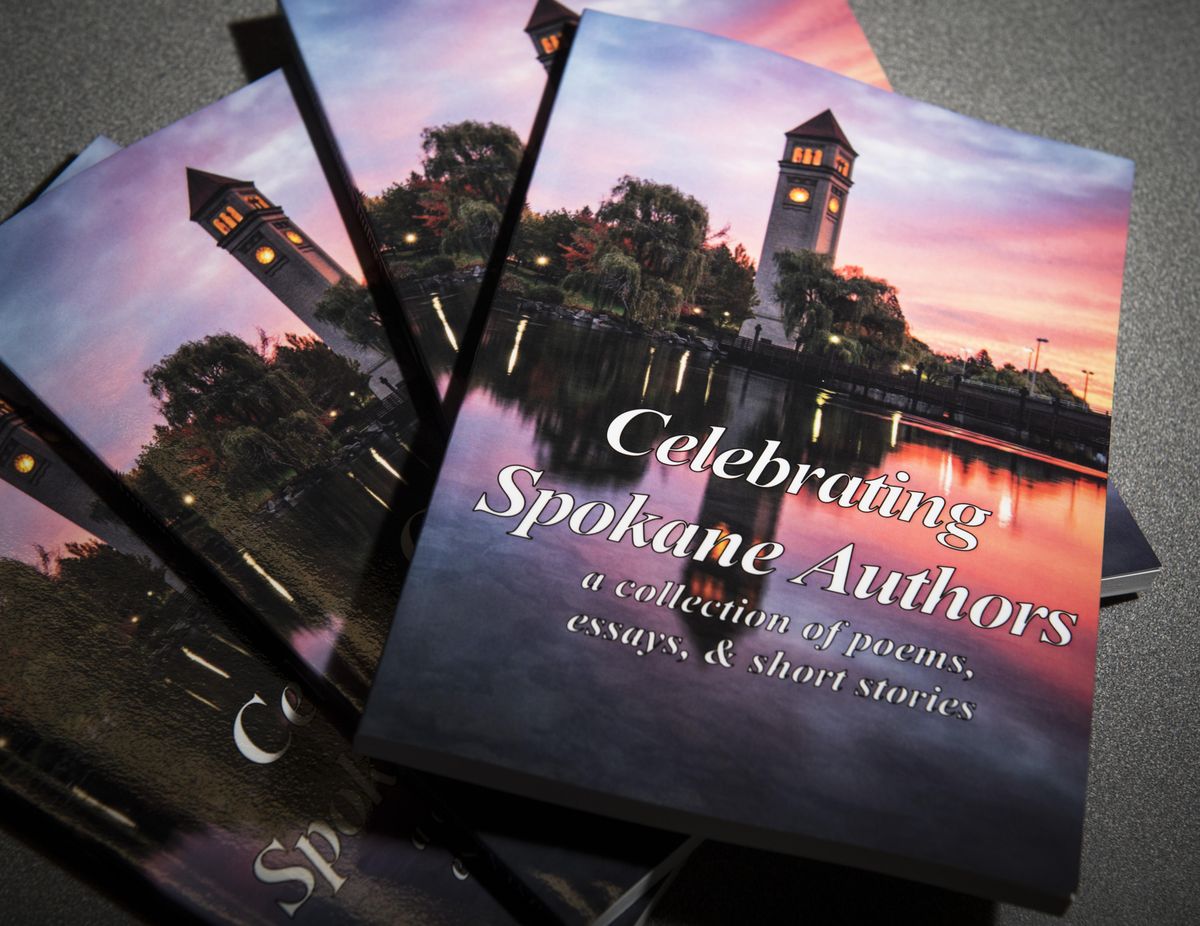 "Celebrating Spokane Authors" features short stories and poetry by local writers. It's available at local bookstores and through Amazon. (Colin Mulvany / The Spokesman-Review)Buy a print of this photo
An excited buzz filled the meeting room at the Shadle Library earlier this month as Spokane Authors and Self-Publishers launched the group's first book, "Celebrating Spokane Authors."
Maxie Ray Mills and Steve Sackett set the mood with music, as guests helped themselves to snacks, bought books, and then settled in to hear local authors read selections from the newly released anthology.
"We've never done anything like this before," said Sue Eller, vice president, Spokane Authors and Self-Publishers. "But we've been talking about an anthology for a while."
Founded in 1998, by Chuck O'Connor, Elmer Freeman, Joe Meiners and Dan Volmer, Spokane Authors and Self-Publishers' goal is for members to share experience, expertise and resources for mutual benefit.
"Our focus is, of course, on developing writing, publishing and marketing skills," Eller said.
Membership is open to anyone, published or unpublished, who is interested in self-publishing and also includes those who publish traditionally. The group meets monthly at Golden Corral restaurant in north Spokane, and meetings often features local authors as guest speakers.
Current members include 50 writers, poets, photographers, artists and illustrators. Nineteen of them have stories, essays or poems featured in "Celebrating Spokane Authors," which was printed locally at Gray Dog Press and released Dec. 2.
"We were very pleased with the diversity of voices who submitted their writing for our anthology," said SASP member Beth Camp, who helped with the creation of the book. "For some writers, this was their first publication, and that's very rewarding, well worth the effort we put into getting the anthology print-ready."
Camp opened the book launch with a reading of her poem "Roughing It," which images the life of fur traders in the Pacific Northwest.
Kathleen Schrum – Spokane Lilac Poet 2014 – read "When the Rains Come," a poem inspired by a drive through the rolling hills of the Palouse.
In addition to poetry, the book features stories about a space expedition that winds up in an unexpected destination (D. Andrew McChesney); a cat, adopted by nurses, who always seems to know when a patient dies (James Parry); a prospector who discovers a mysterious key on a decaying body out in the desert (Bob Weldin); and a Navy transport ship caught in a typhoon outside the Philippines in 1945 (Stan Parks).
Parks, 93, is the oldest contributor featured and Jonah Lincoln Caliri, a 22 year-old airman, stationed at Fairchild, is the youngest.
"All submissions went through a review and editing process by a group of members, who then worked with the authors to produce the final product," Eller said. "Proceeds from the book sales will probably go to hosting a workshop."
"Celebrating Spokane Authors" is available at local bookstores and online at Amazon.
Camp said a tight turnaround between submission deadline and publication meant they weren't able to feature some of their authors, and that's why plans are underway for another anthology.
"We're already looking forward to next year's edition!" she said.
Local journalism is essential.
Give directly to The Spokesman-Review's Northwest Passages community forums series -- which helps to offset the costs of several reporter and editor positions at the newspaper -- by using the easy options below. Gifts processed in this system are not tax deductible, but are predominately used to help meet the local financial requirements needed to receive national matching-grant funds.
Subscribe to the Spokane7 email newsletter
Get the day's top entertainment headlines delivered to your inbox every morning.
---