Sports > Outdoors
Washington wildlife biologists consider using drones after Spokane-area moose test
Dec. 17, 2017 Updated Mon., Dec. 18, 2017 at 1:13 p.m.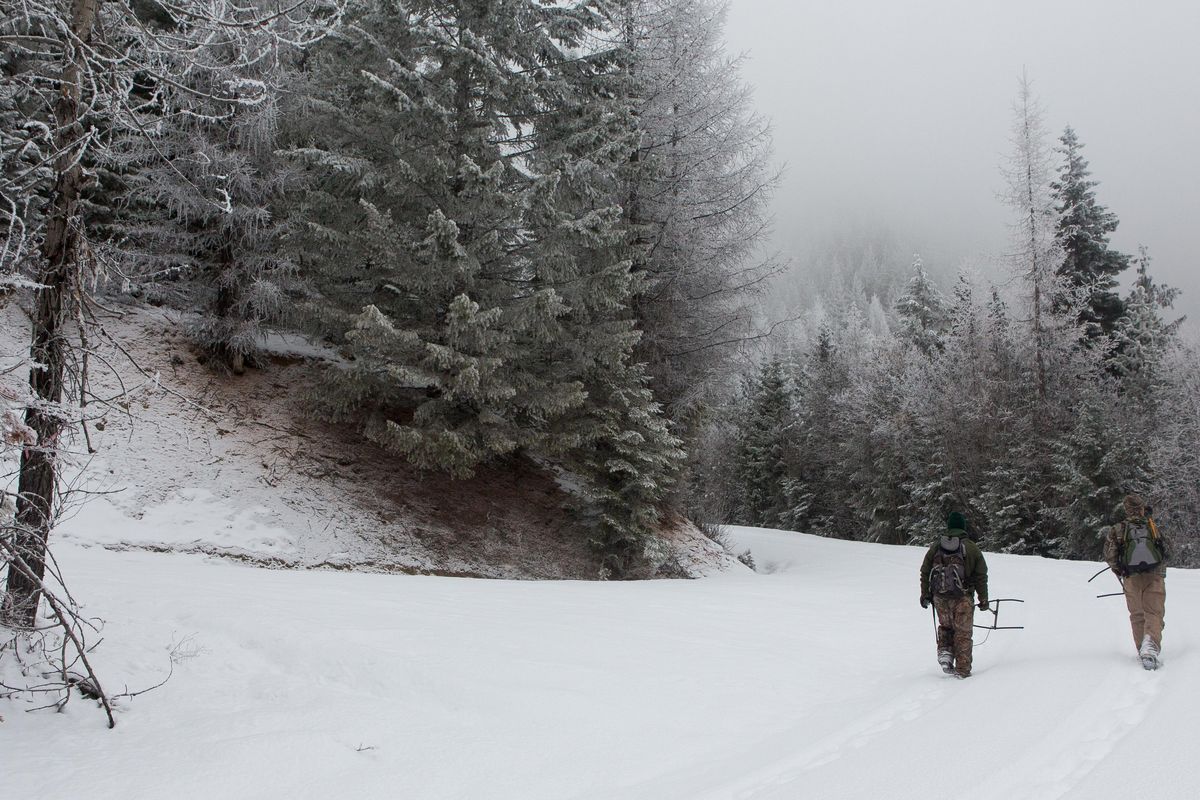 Wildlife biologist Jared Oyster and technician Seth Boogaard trudge through snow near Winchester Peak while searching for a collared moose. Eli Francovich/THE SPOKESMAN REVIEW (Eli Francovich / The Spokesman-Review)
On a snowy logging road near Sacheen Lake, Jason Hanlon stares intently at his iPad.
He's searching for a moose. Roughly 700 feet away, up a rugged wooded hillside, his drone hovers 390 feet off the deck. From that height, the trees and underbrush look like a painting – two-dimensional outlines and colors.
Then he spots her. A moose, bedded down in a patch of trees. Hanlon maneuvers the drone down until it's hovering roughly 50 feet off the ground. The video streaming back to the iPad is crystal clear. The moose occasionally glances up at the buzzing object. As the drone drops closer, she ambles away. Moose, with no natural aerial predators, don't care much about drones.
"OK," Hanlon said. "I'm going to come back. We did what we came to do."
He documented a moose. This week, for the first time, the Washington Department of Fish and Wildlife used a drone to survey moose populations in northeast Washington. The weeklong test will help determine how and if the agency uses drones in the future, a question wildlife biologist across the world are considering.
Based on the wildlife biologists' banter after the drone's successful excursion, the technology is a hit.
"(That was) much quicker than on foot," said Jared Oyster, a WDFW wildlife biologist who coordinates moose survey work in eastern Washington. "We'd still be hiking up there."
Seth Boogaard, a field technician, chimes in: "I betcha if I walked in there she would have bust."
The whole Thursday-morning operation took roughly 30 minutes. Much faster than a normal moose approach.
"We didn't even have to sweat for that one," Boogaard said.
In this video a cow moose and her calf run across the frozen Washington landscape on Monday, Dec. 11, 2017. The drone capturing the video was flown for the Washington Department of Fish and Wildlife and was a test to see if the agency will use drones in the future. The moose and calf were not fleeing the drone, instead running from a nearby human. The drone was piloted by Jason Hanlon, who owns and operates ExploreUAS, a company focusing on drone video, photography and mapping.
Normally, it's not that easy. Since the winter of 2013-14 James Goerz, a University of Montana doctoral student, has been tracking and monitoring radio collared moose as part of a multiyear study. The study was designed to shed some light on how and why Washington's moose population has grown over the past decades. It also anticipates a time when the population declines.
"It seemed clear the moose population was increasing but would not (increase) forever," said Rich Harris, the state's manager for special big-game species.
Harris accompanied Goerz into the field Thursday to observe the drone in action.
Moose first came to Washington from Canada and Idaho six decades ago. The first confirmed moose sighting was made in Pend Oreille County in the early 1950s. Surveys in the early 1970s estimated a population of about 60 moose. The first hunting season was opened in 1977.
Since then, the population has grown. Between 4,000 and 6,000 moose live in Washington, despite the fact that in other parts of the country populations have declined – down as much as 70 percent in Minnesota. A recently study out of Minnesota indicates that parasites carried by deer in Minnesota's North Woods are the leading cause of moose death.
The Washington study is looking at how predation, climate change, ecology and other factors impact the moose population in Washington.
"It's pretty likely that all these factors interact," Harris said.
As part of the study, researchers track the 35 radio-collared moose year-round. They look to see if the cows have calves and how long the animals survive. Per research protocol, the biologists have to lay eyes on the animals three times per year.
The Northeast Washington Moose Demography Project is Goerz's doctoral project. Field work is expected to end in May and Goerz hopes to defend his dissertation in early 2020.
Since the start of the project, Goerz said he and his staff have done more than 1,200 moose approaches, requiring hours of diligent, discrete trekking. Approaches that 60 percent of the time don't end with a moose sighting. Often, Goerz said, he'll be so close to the animals he can hear their breath. But unless he can clearly see them and their calf, it's no good.
"Yeah, you have to be OK with failure when it comes to moose work," Goerz said.
The drone could make this work easier.
"For our purposes, I think it will help," Goerz said.
Drone use only became possible in Washington this year after the state Legislature allowed state agencies to draft drone use policies. Concerns about liability and privacy had prevented that from happening in the past.
Originally, Goerz said he hoped to fly the drone in October, but because he didn't want to disturb hunters they decided to wait a month.
"A lot of these agencies don't even have protocols for these drones," said Jason Hanlon, the drone operator.
Hanlon owns his own company, ExploreUAS, specializing in drone video, photography and mapping. The Montana resident contracted with WDFW to test the drone use for five days, which ended Friday.
"This isn't a toy," he said about drones. "It's a data collecting machine."
Worldwide wildlife biologists are beginning to explore how drones can assists their research and conservation efforts. According to a 2017 article in Popular Science, the leading cause of job-related death for wildlife biologists is in small plane or helicopter crashes, making drones a cheaper and safer alternative.
In Washington, drones could be especially useful for surveying Washington's goat population, a species known for living in hard-to-access locales.
"Everything we do of any effectiveness in this state with goats is done with a helicopter," Harris said.
Drones are generally less stressful to animals than a foot approach or a helicopter fly-by. Moose only appear to notice the machine's presence once it's close to the ground. While they walk away from the buzzing annoyance, they don't bolt.
"It's not accurate to say there is no disturbance at all," Harris said. "But, again, compared to the alternative, it's clearly less disturbance."
Drones do have their weaknesses. After Thursday's first successful flight, the research team drove to a higher elevation searching for another collared moose. It quickly became too cold and foggy for the drone to fly, with its wings icing up in the cold damp air.
Hanlon, fearing a crash, grounded his drone as conditions got colder and foggier. That forced Goerz and his team to strike out on foot again.
The target moose was in thick snow-covered brush between two steep roads near Winchester Creek in the Colville National Forest. Goerz, a pro after thousands of hours of practice, spaced three observers out along the lower road. Boogaard and Oyster hiked uphill and worked their way down trying to flush the moose on to the road.
After an hour or so, the animal popped out of the underbrush and was briefly spotted. She had no calf.
Two moose in one day. That's a good day, Goerz said.
Local journalism is essential.
Give directly to The Spokesman-Review's Northwest Passages community forums series -- which helps to offset the costs of several reporter and editor positions at the newspaper -- by using the easy options below. Gifts processed in this system are not tax deductible, but are predominately used to help meet the local financial requirements needed to receive national matching-grant funds.
Subscribe to the sports newsletter
Get the day's top sports headlines and breaking news delivered to your inbox by subscribing here.
---