A&E
Collecting Christmas: Nuts for nutcrackers and more
Sun., Dec. 24, 2017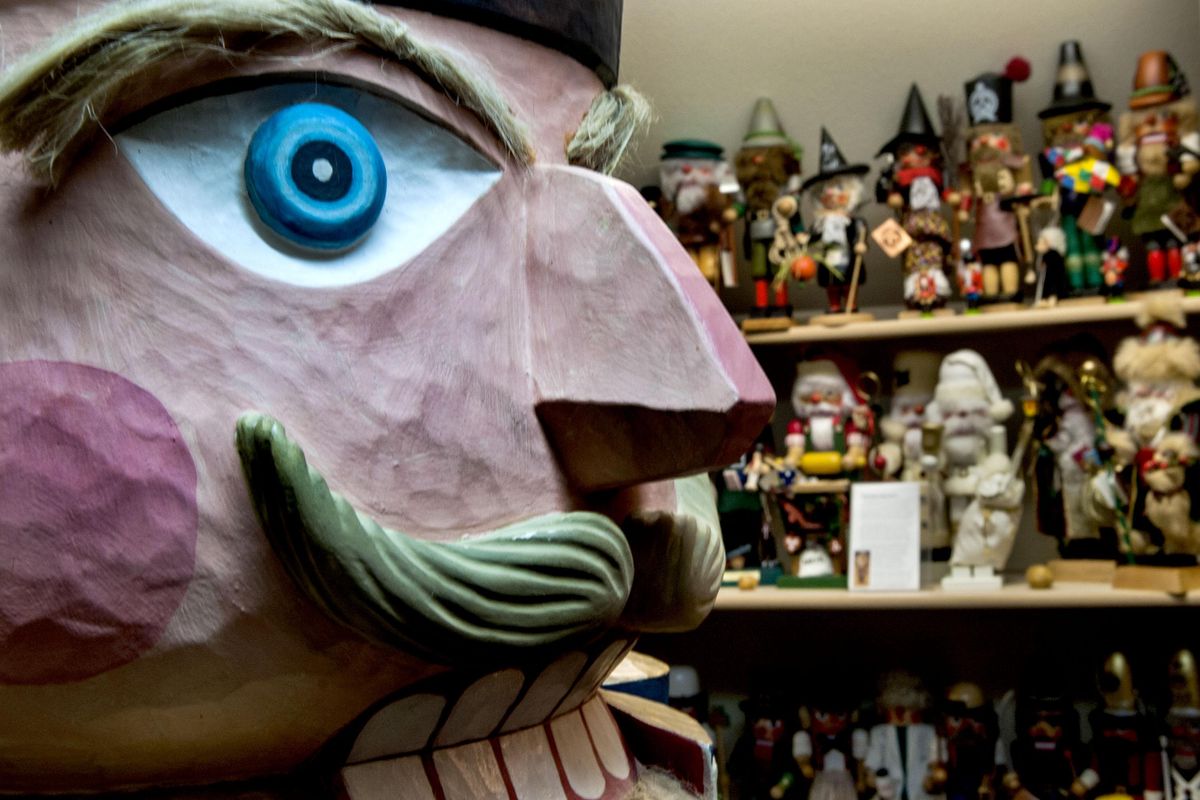 A larger-than-life sized nutcracker is photographed at the home of CJ Davis of Hayden Lake on Wednesday, Dec.13, 2017. She collects nutcrackers and has peices from Germany, Russia, Austria and Italy. (Kathy Plonka / The Spokesman-Review)
From Santas to snowmen, from penguins to polar bears, the holidays offer an opportunity for avid collectors to add to their stash.
Here we feature a few special collections ranging in size from small to record-breaking.
Nutty for nutcrackers
You probably wouldn't guess that two of the largest nutcracker collections in the world are in the Northwest.
C.J. Davis, of Hayden, said the largest collection (about 7,000) is housed at the Nutcracker Museum in Leavenworth, Washington. She's on the board of the museum. She's also the owner of another of the largest collections in the world.
"I have 3,800," she said.
Her father started the ball rolling in 1954 when he purchased a Tyrolean dwarf nutcracker at an antique store.
"My mom was not enthused," Davis recalled.
Perhaps her mother had a premonition, because that small purchase quickly spawned more.
"First one shelf, then two, then a bookcase, then a room," said Davis.
At the time of her father's death in 1989, his collection had taken over his garage, as well.
"Dad asked me to keep the collection going," she said.
And she has. The nutcrackers take up the second floor of her home and are on display throughout the year.
Three of them tower above her. The 6-foot clown and soldier were custom made for her father by Karl Rappl of Oberammergau, Germany. Davis commissioned a Bavarian nutcracker from him when she inherited the others.
Like all of her nutcrackers, the oversize ones really work; however, she doesn't actually use them.
Her favorite nutcracker is Rupert. Clad in a brown fur gown, he rides in Santa's sleigh and puts coal in the stockings of naughty children.
The oldest nutcrackers Davis owns came from an archaeological dig in Arkansas.
"They're called nutting stones and date back to 500 B.C.," she explained.
Ancient peoples placed nuts in the shallow depression of the stones and used another stone as an anvil or hammer, striking the nut until the prize was released.
While practical, nutting stones aren't nearly as whimsical as others in Davis's collection.
She owns multiple series of nutcrackers. Artists have found inspiration just about everywhere from King Arthur's court, to American presidents, to Alice in Wonderland.
"One of the cutest series is the Wizard of Oz," said Davis.
The bulk of them come from Germany, made by well-known artists like Christian Steinbach, who signed many of his creations for Davis before his death.
"He often came here to do U.S. tours," she said. "He was a wonderful man."
Davis said the difference between German-crafted nutcrackers and their American counterparts is the teeth.
"American artists don't show teeth in their nutcrackers, but Germans do," she explained. "According to folklore, their teeth help ward off evil spirits when the nutcrackers come to life at midnight and say 'Hail to thee,' to protect their owners."
She often gives presentations about her collection at schools and retirement centers, and offers this advice to those just starting their collections.
"You need a king to oversee, a guard to protect the king, a chimney sweep for good luck, and a musician to attract attention to the collection."
She admits dusting thousands of nutcrackers gets exhausting, and takes a couple of months to complete. At some point she plans to donate her entire collection to the Nutcracker Museum, but for now they stand sentry in row after row after row.
"I love them," she said. "I love the kind of people they attract – people who are interested in fine things and history."
C.J. Davis gives nutcracker presentations at no charge to various groups. If interested, email her at cjdavis14@gmail.com
A chorus of fun
Fifty-two years ago, shortly after Janie Selley married, she bought a figurine of two chubby children singing Christmas carols. Now her north Spokane home is filled with carolers making a joyful noise.
"I didn't start collecting them seriously until we moved to Spokane in 1974," the retired Superior Court clerk said.
She doesn't collect a certain series; instead, she said, she buys "whatever appeals to me and is cute."
Selley noted that carolers almost always come in groups of two or three – usually families: a mom, dad, and a child or two.
"One thing about most carolers – they're happy," she said. "You don't see unhappy carolers!"
Her favorite is a trio of singing Santas.
"They have such cute mustaches," she said.
Selley has carolers carved from wood or wax, and some made of metal, resin, ceramic and plastic. There are singing angels, snowmen, polar bears, penguins, bunnies and mice. She estimates she has more than 30.
"It takes about three days to set them out," she said.
Then she grinned.
"It didn't used to take me so long."
She pointed out the commonality among them. Most have a church or a lamppost in the background. Some feature songbooks or instruments. Many have a Victorian theme, and several feature dogs.
For example, a Norman Rockwell figurine of a boy and his dog.
Selley laughed.
"The dog isn't really happy though," she said.
Another set consists of a couple earnestly singing while their two dogs have their heads tipped back, caught in mid-howl.
Her favorites are the more unusual groupings, like a trio of singing s'mores. Each ceramic caroler is made of marshmallows and perched on a graham cracker and chocolate platform.
Selley's collection isn't confined to figurines. A throw over her sofa is bordered with carolers with the music and lyrics of "Jingle Bells" in the center. A clock features a family singing in front of a church. It plays "Angels We Have Heard on High" every hour, and so has been sequestered downstairs.
There are snow globes, a table runner, and a dancing and singing snow couple who sing "We Wish You a Merry Christmas."
Selley, a church organist, said her favorite Christmas carol is "What Child is This?" and pointed out the difference between Advent hymns and Christmas carols.
She said Advent songs like "O Come, O Come Emmanuel," should be sung before the birth of Christ is celebrated, while carols like "Joy to the World," should be saved for Christmas.
Each year, Selley adds a new set of carolers to her collection, and gives it the place of honor on her piano.
"To me it's all memories," she said.
A multitude of heavenly hosts
Christy DeViveiros' collection of angels is small, but steeped in history.
In 1910, her grandmother, Maude Marie Christy Smith, traveled from Des Moines, Iowa, to Kansas City, Missouri. A fledgling company was trying to make a name for itself, and offered classes on how to make angels out of cellophane straws.
Smith returned home with eight angels. And that startup company? Well, 107 years later, Hallmark is still thriving.
DeViveiros' mother inherited the 10-inch angels and displayed them at Christmas.
"They were always something to look at, but never touch," DeViveiros said.
The angels are made of 40 small straws and they hold tiny songbooks made of gold parchment paper. Each face is a little bit different – the shape of the eyes or the amount of blush on their cheeks.
"My favorite is the one where the straws have a little spiral of gold filament that sparkles in the light," she said.
Her other group of angels is equally steeped in history – but this time local history.
"My dad was the manager of the Trim the Tree shop at The Crescent," DeViveiros said. "He found a set of 13 angels made of pipe cleaners and netting, and he snagged them. He knew Mom would love them."
And she did. Every Christmas she'd set out the 6-inch angels on a shelf that ran from the living room to the kitchen. When her mother died in 2000, DeViveiros inherited the angelic collection.
Each angel holds something special – a candy cane, a wreath, a flower. Their carefully coiffed wire hair sports individual styles.
While most of the angels wear red or gold gowns, DeViveiros' favorite wears purple and gold.
"Mom was a proud UW graduate," she said.
Her parents started a special Hummel collection for her. It's since grown. Eighteen white porcelain angels surround a Nativity set.
"We're big into heavenly hosts around here," said DeViveiros, laughing.
But the most precious angels to her are those her grandmother made so many years ago. She's given some of them to her daughter, as well as some of her mother's angels from The Crescent. DeViveiros thinks her mom and grandmother would be pleased to know the keepsakes are safe in the hands of yet another generation.
"I feel so very blessed to have them," she said. "They bring back beautiful memories of Christmas past."
Local journalism is essential.
Give directly to The Spokesman-Review's Northwest Passages community forums series -- which helps to offset the costs of several reporter and editor positions at the newspaper -- by using the easy options below. Gifts processed in this system are not tax deductible, but are predominately used to help meet the local financial requirements needed to receive national matching-grant funds.
Subscribe to the Spokane7 email newsletter
Get the day's top entertainment headlines delivered to your inbox every morning.
---