Healed Przemek Karnowski provides Gonzaga's happiest story of 2016-17 season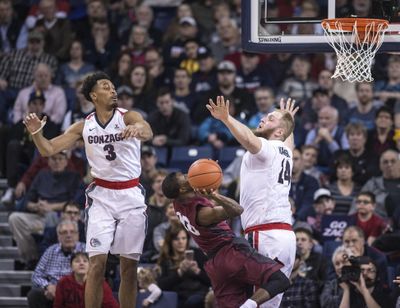 Gonzaga's Przemek Karnowski jumped above a Loyola Marymount defender, twisted backward, took a quick look at the hoop behind him and hooked the ball over his head and up to the glass.
He missed.
But senior guard Jordan Mathews helped the big man out and tipped in the shot.
That was the play that got the McCarthey Athletic Center shaking with cheers and fans asking each other, "Did you just see that?"
GU coach Mark Few described Karnowski's big moments on the court this season with one word.
"Unbelievable," Few said about the star center's performance earlier this month.
Karnowski exceeded any expectations, including those of Few, to be back on the court this year after sitting out for all but five games last season because of a back injury Few described as a bulging disc.
"I couldn't bend, I couldn't lift, I couldn't twist at all," Karnowski said.
Karnowski took a hard fall at practice on Dec. 1, 2015, and the injury continued to get worse. As December rolled on, Karnowski found it difficult to walk, be in class and sit on the sidelines at Gonzaga's games.
By New Year's Eve, Karnowski was in a hospital bed with the thought that his future in basketball could be determined by the following few months recovering from surgery.
This time last year, Karnowski was just leaving St. Luke's hospital after spending several days in rehabilitation using a walker. He lost 57 pounds between December and January.
"I think what we were all rooting for a year ago today was just that he would have a normal life. To be able to get out of bed normal, get in and out of the car normal, which was stuff that he couldn't do," Few said.
His recovery was expected to take up to 9 months, which meant he wouldn't be getting around normally until well into the second half of the year.
"It was a struggle, for sure, when I was getting out of the hospital. The snow was coming down, ice was everywhere, I had to use crutches," Karnowski said. "It wasn't fun at all, but at this point (last year) I already had less pain than I did in December."
Which had been one positive sign for a full recovery, Karnowski said. He was recovering quicker than expected and was able to get some practice time without contact on the court by July.
By the start of this season, Karnowski was in full swing as a redshirt senior. He found himself right back in the leading role he left behind last year, helping the Zags improve to 16-0 after Thursday night's win against Loyola Marymount.
"It's been a year, and I'm feeling really good … I play with no pain," he said.
Karnowski certainly didn't show any lingering effects on Thursday. GU's big man had a team-high 17 points, four assists and four boards for the Bulldogs in the Kennel, leading Gonzaga to a 93-55 rout of the Lions.
Karnowski said he doesn't think much about his injury last year and his struggles to get back on the court with the Zags. But it has made him grateful for his full recovery and his second chance at a basketball career.
On New Year's Eve, Karnowski looked back at 2016 and wrote on his Twitter, "1 year ago at this time, I couldn't walk and was waiting to have my back surgery. I'm just grateful for my second chance, bring it on 2017."
---