Sports
EWU coaches, players cope with uncertainty
Jan. 18, 2017 Updated Wed., Jan. 18, 2017 at 7:51 p.m.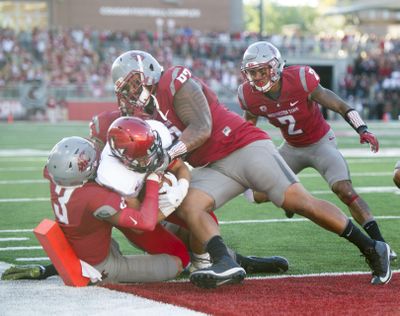 After two days of tumult, it's mostly quiet on the Eastern front.
Day Three of the post-Beau Baldwin era at Eastern Washington passed in relative silence, as the coaches – what's left of them – hit the recruiting trail up and down the West Coast.
Meanwhile, a cone of silence descended Wednesday over the office of Eastern Washington athletic director Bill Chaves, who has promised an "expedited search" for Baldwin's successor as head coach.
It was the same story with the players, who are hitting the books and the weight room but not returning phone calls or texts.
The lone exception was sophomore running back Sam McPherson, who got the news Tuesday that his position coach, Kiel McDonald, was joining former EWU offensive coordinatorTroy Taylor at Utah.
"He told us that he loved us and that he'll miss us," McPherson said of McDonald, who joined Baldwin's staff in the spring of 2012.
McPherson said Wednesday that "the morale in the locker room is not too bad, because we know we're going to hire from within."
That would mean either offensive line coach Aaron Best or defensive coordinator Jeff Schmedding would succeed Baldwin, now the offensive coordinator at California. Best and Schmedding were named interim co-head coaches on Monday by Chaves.
Asked to elaborate, McPherson hedged.
"We don't know for sure, but that's what it sounds like, those are the rumors," McPherson said.
Meanwhile, another rumor was confirmed on Wednesday when Cal hired former EWU All-American Nicholas Edwards as its wide receivers coach. Edwards' Twitter page showed him wearing a Golden Bears sweatshirt.
"We're happy for all of them, getting Pac-12 jobs," McPherson said.
The departure leaves just six coaches on the staff, including Best, Schmedding, Eti Ena and Brian Strandley (defensive line), Josh Fetter (linebackers) and Cherokee Valeria (cornerbacks).
The departures of McDonald and Edwards leave Best as the only coach on the offensive side of the ball. On Wednesday, the EWU football website showed the problem in graphic detail, with the positions of head coach, offensive coordinator, running backs coach, wide receivers coach and tight ends coach all "To Be Determined."
That could give Chaves some food for thought as he weighs the pros and cons of hiring in-house or going outside.
If the goal is to preserve the Eagles' identity as a passing offense, which option is more effective: promoting Best or Schmedding to head coach and have them make four piecemeal hires; or bringing in a new head coach with a ready-made staff?
Neither situation is ideal, since the latter option would alienate Best, a fixture in Cheney since 1996.
Meanwhile, Valeria turned to social media to deliver an upbeat message on recruiting.
"Proud to say we have one amazing recruting class. We currently have no decommits and a 100 Savage Attack towards signing Day," Valeria posted on Twitter.
Local journalism is essential.
Give directly to The Spokesman-Review's Northwest Passages community forums series -- which helps to offset the costs of several reporter and editor positions at the newspaper -- by using the easy options below. Gifts processed in this system are not tax deductible, but are predominately used to help meet the local financial requirements needed to receive national matching-grant funds.
Subscribe to the sports newsletter
Get the day's top sports headlines and breaking news delivered to your inbox by subscribing here.
---