Sports > Spokane Indians
New Indians manager Matt Hagen steps into teaching role
Thu., June 15, 2017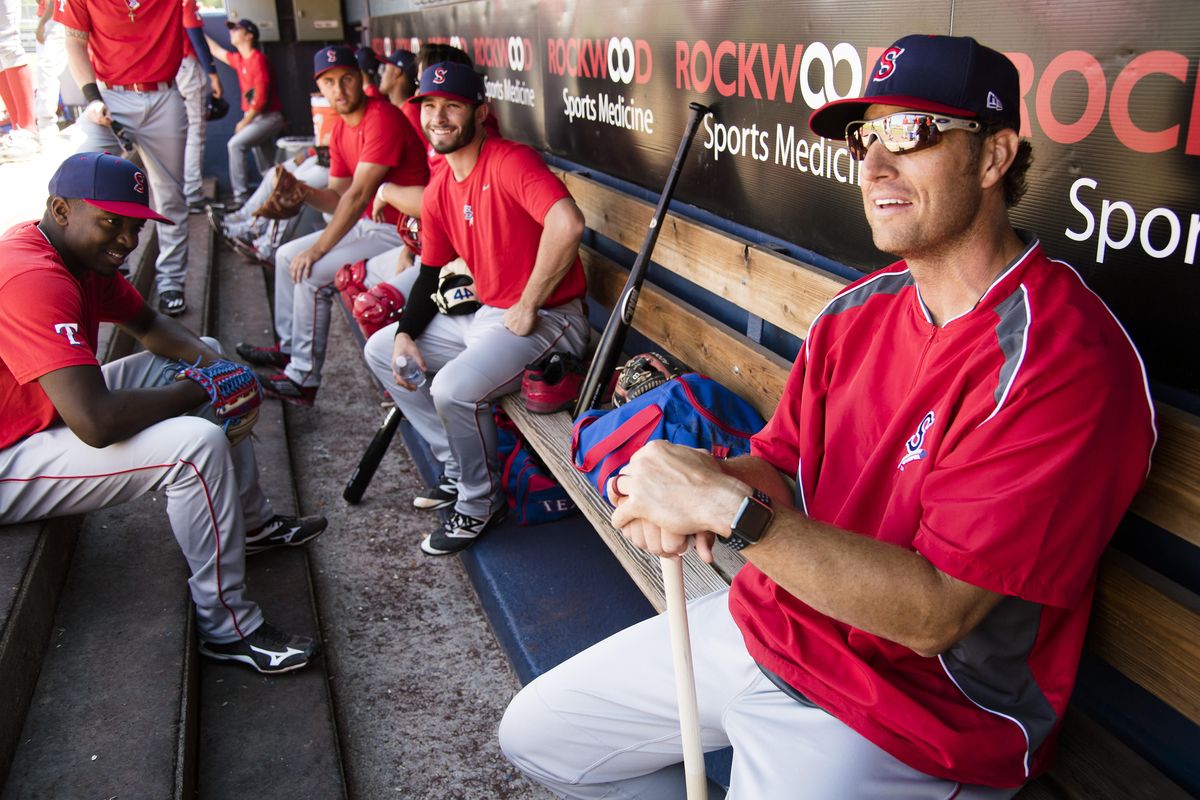 Matt Hagen, on right, joins the Indians 15 seasons after he played against them in the Northwest League. This will be his first season as a manager in pro baseball. (Colin Mulvany / The Spokesman-Review)
It's been 15 years since Matt Hagen has stepped onto the field at Avista Stadium.
The stands are in much better shape than they were in 2002. There are a few more seats in the crowd and maybe some better food coming out of the concessions stand in the front.
Hagen remembers when he occasionally visited Avista Stadium when he was barely 22 years old. Back then, Hagen was in the visitors' dugout wearing an Everett AquaSox jersey. He had just been selected by the Seattle Mariners in the 13th round of the 2002 amateur draft.
Hagen, who was drafted as an infielder but was converted into a catcher, played with the AquaSox for one season before the Mariners moved him to Wisconsin to play for the Class A Timber Rattlers.
Hagen didn't expect to ever make a reappearance in the Northwest League, especially as a manager 15 years later.
"It's kind of full circle. It's pretty neat. It's also really hard to think it was 15 years ago," he said. "Until I get out of bed in the morning and think, 'Man,' " while rubbing his knees, "that was 15 years ago."
This season with the Spokane Indians will be Hagen's first stint as a manager for any professional team. Hagen came to Spokane from Hickory, North Carolina, where he spent last season as an assistant coach for the parent-club Texas Rangers' low-A affiliate, the Hickory Crawdads.
Hagen succeeds Tim Hulett, who managed the Spokane Indians for 10 years and led the team to a NWL championship in 2008.
Now Hagen is looking to bring that success back to Spokane. The 36-year-old said there are plenty of nerves heading into the season, but not because he's concerned about his own future with the team.
Hagen said he's concerned with making a strong impact on his players this year so that they can improve their game and work their way up the minor-league ladder.
"The real pressure is making sure these kids are getting better," Hagen said. "We want to win every night if we can … but even in the losses we have to know that the kids got experience out of (the) game and they improved in some facet."
The players are already familiar with Hagen, some of them coming from the 2016 Crawdads team. For the last four months at Texas Rangers extended spring training, most of the players have had the chance to work with Hagen and get to know his coaching style.
"I'm really excited to play for him," catcher Isaias Quiroz said. "He's been around baseball for a little while, so he knows how it is to be in the grind. He understands how the game is played."
Hagen, who was a standout high school player in the "one stoplight farm town" of Eaton, Colorado, played for Liberty University in Lynchburg, Virginia, before being drafted by the Mariners.
He spent 11 years in the professional baseball world, playing in the minor leagues and for independent baseball teams. He last played professionally in 2012 for the Sugar Land Skeeters in the Atlantic League of Professional Baseball, an independent league not affiliated with MLB.
Hagen said he's excited to have his own team to coach, but it certainly makes it hard to stay in the dugout. If he's being honest, he'd rather grab a helmet and take a few cuts at the plate.
"I think coaches that say they'd rather coach than play are lying," Hagen said. "At times, I'm just like, 'just give me a bat. I can do this.' "
But for the guys who aren't in their 20s anymore, who have bad knees and can't get around the bases quite as easily as they once did, Hagen said coaching is the next best thing.
Coaching still gives him that adrenaline rush he use to feel in the field or while at the plate. And on Opening Day on Thursday when the Indians face the Boise Hawks, he expects the first-day jitters won't feel much different than how they felt 15 years ago.
"The nerves will really hit … an hour before the game," Hagen said. "Opening Day is special, no matter if you're playing or coaching."
Local journalism is essential.
Give directly to The Spokesman-Review's Northwest Passages community forums series -- which helps to offset the costs of several reporter and editor positions at the newspaper -- by using the easy options below. Gifts processed in this system are not tax deductible, but are predominately used to help meet the local financial requirements needed to receive national matching-grant funds.
Subscribe to the sports newsletter
Get the day's top sports headlines and breaking news delivered to your inbox by subscribing here.
---