Sports > Seattle Mariners
Friendly Mariners seating host offers best ways to enjoy yourself at Safeco Field
Fri., June 30, 2017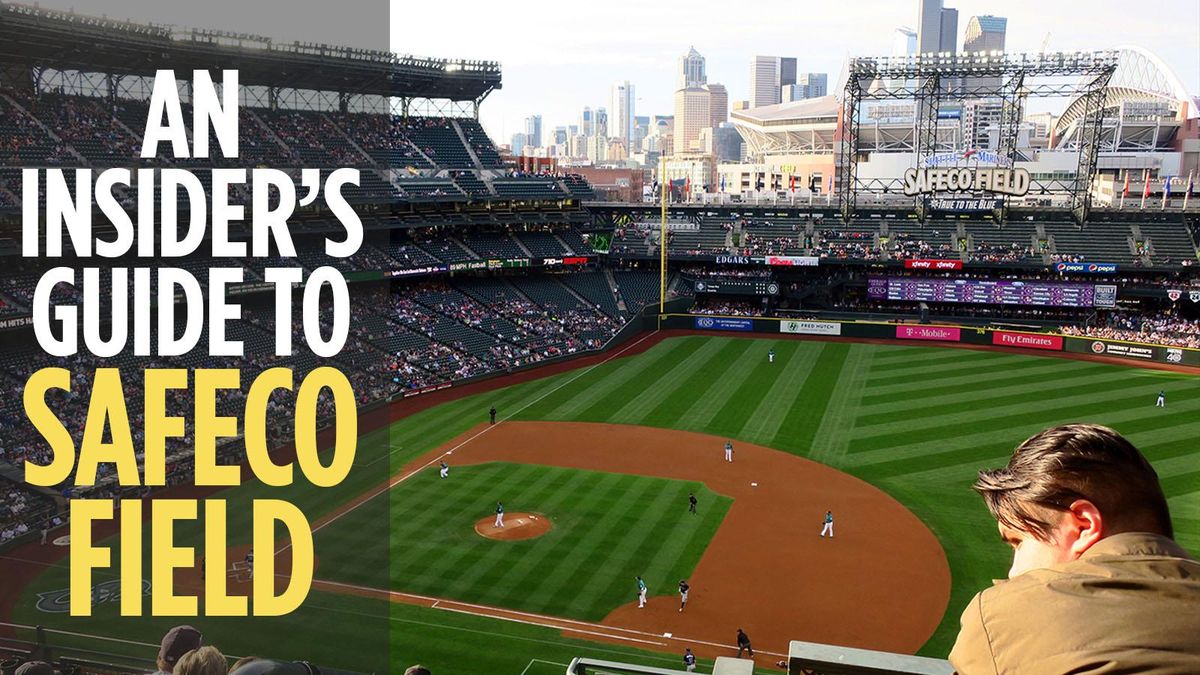 The best views of Seattle's skyline can be found in section 320 at Safeco Field. (John Nelson / The Spokesman-Review)
At the halfway point in the season, do you still have the Mariner mojo?
You should. Our boys of summer are still in the playoff picture, improbable as that might seem after their slow start. Now that the Fourth of July is here, it's the perfect time for a trip to Safeco Field as the M's begin a seven-game homestand on Monday.
I'd love to see you there. As a Mariners seating host, it always gives me a thrill to meet people from my former hometown of Spokane and pass on what I know about the stadium.
Allow me to offer a few Safeco insider tips.
Where is the cheapest seat?
Barring any special ticket deals, the cheapest seats in Safeco are in the center-field bleachers. Tickets can cost as little as $7 and the view is great.
One of the wonderful things about Safeco is that the cheapest ticket gains you access to all of the major attractions in the stadium. As a fan, I've often bought a cheap ticket and spent the game wandering around the public areas, watching an inning or two from different locations.
Snag that cheap seat, watch for a couple of innings, and then wander. It's a great way to see a game.
Where should I get a hot dog?
You can't walk more than 50 feet without running into a concession stand that sells hot dogs. I also like the sausages, provided by Hempler's Meats, sold throughout the ballpark.
Along Occidental Avenue just north of the stadium, several carts sell hotdogs, sausages and hamburgers. Killer deal: After the game, a few stands sell two sausages for $5 as they try to get rid of the leftovers.
What if I don't want a hot dog?
I'm often asked by visitors where to find the best food in the stadium. Hard to choose, but some of the favorites among fans that I've observed:
The pizza from Ballard Pizza Co. in the 'Pen.
Handmade ice cream sandwiches at The Frozen Rope near Section 132.
Vegetarian offerings at The Natural near Section 132.
Fish and chips from Ivar's at sections 117 and 335.
Tacos from Poquitos (behind Edgar's Cantina) – and yes, this is also the home of the fried grasshoppers.
Snack waffles from Sweet Iron near Section 136.
If you want a full dining lineup, ask any seating host or guest services employee for a list.
Where are the best views?
Safeco Field offers some incredible views of the Seattle skyline, Elliott Bay and the Olympic Range. The best views are on the top level.
Best field-and-city view: Section 320.
Best views of Elliott Bay: The patio area from sections 330 to 337.
Best place for a Seattle skyline/sunset shot: Near the angled walkway behind Section 340. As the sun slowly dips to the west, snap a shot of the city looming majestically to the north.
Where do I see Junior and Dave?
You'll find statues of the Mariners' two MLB hall-of-famers in these locations: Ken Griffey Jr., outside Safeco at the home-plate entrance; Dave Niehaus at Section 105 in right-center field. And you can see many more photos and memorabilia from other Mariners greats such as Alvin Davis, Jay Buhner and Edgar Martinez in the Mariners Hall of Fame Museum behind sections 133-136.
Where do I see Edgar in person?
For most of the game, the current Mariners hitting coach nearly always stands on the home-plate side of the M's dugout, staring at the field with stoic intensity. Just like during his playing days, coach Martinez loves to follow a routine.
How do I meet the Mariner Moose?
The precocious and popular mascot always amazes me with his gymnastic abilities. Before, during and after games, he can be seen doing back-handsprings, not easy for a large antler-wielding animal.
He is available for pictures in his center-field Moose Den at Section 192 about 1 1/2 hours before first pitch for about an hour. He returns in the bottom of the second inning, stays into the third inning, then returns again in the bottom of the seventh to the middle of the eighth.
You may also catch him wandering around the stadium during the game.
How do I get an autograph?
For Mariners players, arrive as soon as the gates open, usually two hours before a game starts. The Mariners will be concluding their batting practice – head over to their dugout (on the first-base side) and try to get to the rail or along the right field line. Then wait.
Ask, "Hi Kyle, are you signing today?" Calling players by name, giving them a chance to respond, and being polite goes a long way. Saying, "Hey, No. 15 – sign my ball!" is destined to fail.
For opposing teams, park yourself near the dugout on the third-base side. Often, visiting players will sign if they aren't in the lineup that day. I once saw the Cardinals' Yadier Molina sign for 15 minutes. The Rangers' Adrian Beltre also is famously friendly and willing to sign.
Among visiting teams, the Cleveland Indians were the friendliest about signing last year. Manager Terry Francona signed from the dugout – something I've never seen another manager do.
When the game starts, players aren't allowed to sign, so don't try.
How do I get a ball?
You've probably seen players throw balls to fans and thought, "Hey, I want one. What about me?" Nothing is guaranteed of course, but here are a few ways to increase your chances of getting a ball.
Wear an opposing team's hat or jersey. During pregame or breaks in the action, visiting players are looking for friendly faces. Make eye contact, call them by name and have your hands up and ready.
Be a kid. Everyone wants to make children happy at the ballpark, including players. Get near the dugout rail or the bottom of an aisle, particularly as players are running off the field to go up to bat.
Be polite. Players can pick out the jerks in the crowd just like you can.
Hang out after the game. Often players throw balls and batting gloves to the crowd near the dugouts. Bat boys also toss an occasional ball they find as they clean up.
Best place for foul balls during batting practice: Deep in foul territory along the rail on the third-base side. I've seen more batting-practice balls sail into this area than anywhere else.
I need a beer. Where do I go?
Inside the stadium, a 24-ounce can of Rainier or Coors will cost you $12 – not cheap, but you can find a few deals. Happy hour in the 'Pen (the sometimes-wild, party patio in left and center field) takes place before every game and lasts until one hour before first pitch, where draft beer costs $6.50.
The cheapest beer sold at Safeco is a 12-ounce can of Miller High Life at $5. Beer snobs are also covered: More than 30 craft brews are available on a list that grows longer every season.
Prefunction options before entering: Henry's Tavern has a large patio just south of the stadium, across Edgar Martinez Drive. Jimmy's on First is just north of Safeco across Royal Brougham Way. To the west, Pyramid Alehouse has another large patio across Dave Niehaus Way. All around Pioneer Square and along First Avenue, you'll find friendly watering holes. One of my favorites is the always-lively Triangle Pub in a historic building at First Avenue South and Railroad Way South.
You'll find another historic drinking institution inside Safeco Field. "Scooter the Beerguy" has sold suds at every M's game played at Safeco Field from his cart at Section 138. That's right – he's working on a consecutive-game streak that rivals Cal Ripken Jr.
What's his real name? He won't say.
"I'm like Ronald McDonald," he says. "Just call me Scooter the Beerguy." Prior to working in Seattle, Scooter worked for eight seasons for the Spokane Indians, so you may even remember him.
Along with your beer, you get Scooter's boisterous comments with every sale. During a game against the Blue Jays in June, Scooter was busy schooling out-of-towners from British Columbia on what beer to drink. American brands clearly confused them.
"You should have a Rainier," he told one middle-aged couple. "When in Rome, as they say. Julius Caesar used to drink this!"
I don't like beer. Where can I get wine?
All major concession stands sell wine. I recommend checking out the First Base Vine at Section 125. It's a handsome, wood-paneled wine bar with a wide selection.
Where are the Spokane connections at Safeco?
A great photo of Tommy Davis from the 1959 Spokane Indians is enshrined in the Baseball Museum of the Pacific Northwest. Davis hit a lusty .345 for the Indians that season before being called up by the Los Angeles Dodgers. You'll also see photos of Gale Wade (1958), Ron Fairly (1960), Lib Julien (1963) and Mel McGavock (1965). They are on display behind Section 133.
Nearby, you can find the Washington Baseball Coaches Hall of Fame, with an engraved plaque honoring many Spokane-area coaches. Among them: Coaching legends Bill Frazier from Gonzaga Prep and Jim Paton from Rogers are enshrined as 1988 charter members. Through the years, coaches such as Pete Weitz of Lewis and Clark, Don Ressa of University, John Thacker of Ferris, Ron Brooks of Shadle Park, Ed Garcia of Central Valley and Jim Wasem of Eastern Washington University have joined them.
I have squirmy kids. Where should I take them?
Two suggestions: The center-field Seattle Children's Hospital Playfield at Section 190. Also, the Kids Corner, with a free timed run, pitching and hitting challenges, is on the 300 level behind Section 328.
Where are the best seats on the 100 level?
May I humbly suggest sections 131-139 along the third-base line. That's where I work during most home games, along with other members of seating host Team 2. We're all pros – come by and say hi when you visit.
And … go Mariners!
John Nelson is a freelance writer based in Seattle. Read his blog at SkiZer.org.
Local journalism is essential.
Give directly to The Spokesman-Review's Northwest Passages community forums series -- which helps to offset the costs of several reporter and editor positions at the newspaper -- by using the easy options below. Gifts processed in this system are not tax deductible, but are predominately used to help meet the local financial requirements needed to receive national matching-grant funds.
Subscribe to the sports newsletter
Get the day's top sports headlines and breaking news delivered to your inbox by subscribing here.
---