News > Spokane
The Guardian apologizes for flawed article about Spokane
March 16, 2017 Updated Thu., March 16, 2017 at 11:04 p.m.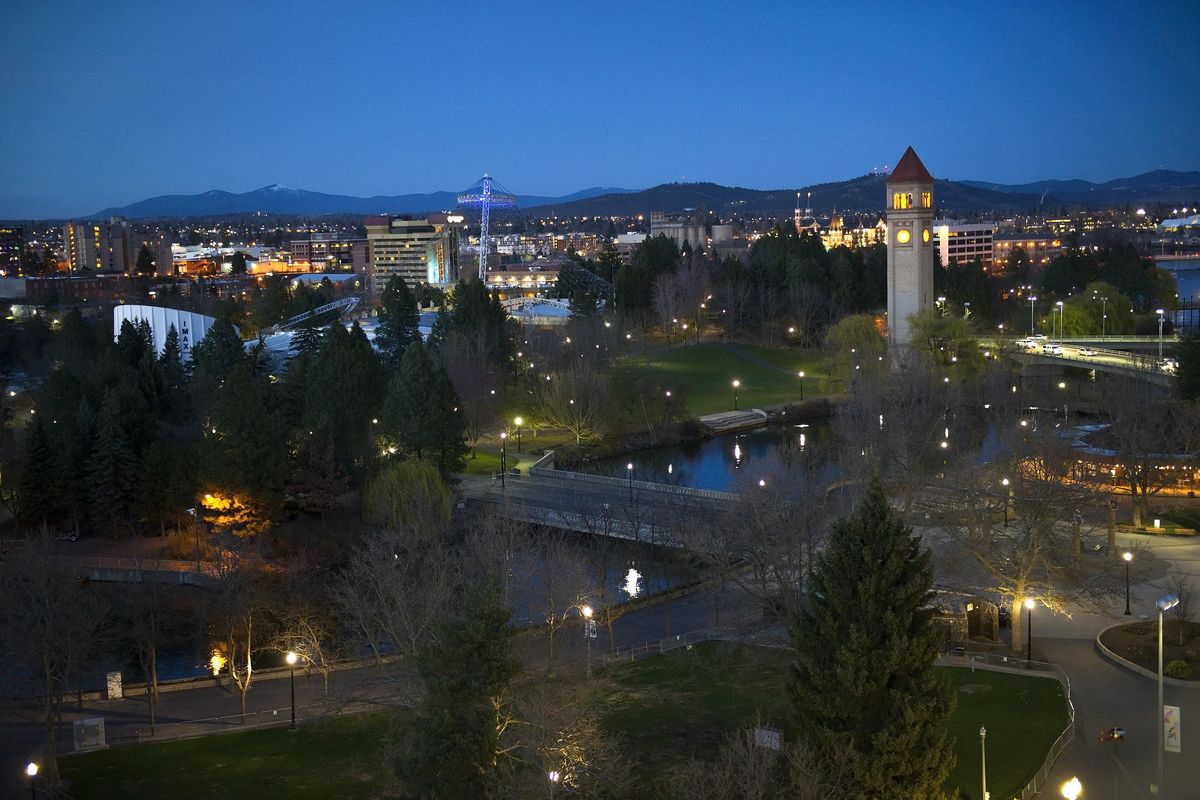 Riverfront Park at dusk, April 9, 2014. (Colin Mulvany / The Spokesman-Review)Buy a print of this photo
British newspaper the Guardian issued a 500-word apology Thursday for an article that prompted a storm of criticism from Spokane residents and inspired the Twitter hashtag #CodyComeHome – a playful jab at the writer, Cody Delistraty, who claims the Lilac City as his hometown.
Delistraty's article, headlined "How Gonzaga became the central hope for the struggling city of Spokane," was published Tuesday and widely perceived as a mocking indictment of the city's socioeconomics.
"Cody's essay was intended to reflect on the success of Gonzaga's basketball team in their post-industrial surroundings, drawing on his own experience in the place he calls home," the Guardian's U.S. editors wrote in the apology. "Unfortunately, it didn't quite hit the right note, and it caused a storm among Spokanites."
The apology continues: "We didn't expect the storm of criticism, but, looking back, we should have been more judicious in our editing, headline and presentation. We made some factual errors in the piece, but it was perhaps a question of tone: it was never our intention to mock or sneer, and for that we're sorry."
The Guardian also pointed out, "Savvy Spokanites coined the hashtag #CodyComeHome to point out all their town has to offer. Which is a lot! Locals reminded us that Spokane has stunning natural scenery, four beautiful seasons, crisp Washington air, sunsets over the mountains, a vibrant arts scene, 8,000 people on the recent women's march, award-winning local wine, and much, much more. We hear the craft beer is pretty good, too."
Delistraty, who lives in Paris, also penned an apology in local newsweekly the Inlander.
"I had meant to capture how important the Gonzaga basketball team has always been to me," he wrote. "But by characterizing the city in an unfairly negative way with errors in fact of various sorts, it has led to a lot of understandable frustration among Spokanites. … To anyone who was hurt by the essay, I apologize. Spokane is a place, as so many residents know, that is full of courage and progress and success."
Visit Spokane, the city's tourism agency which popularized the #CodyComeHome hashtag, tweeted on Thursday: "We accept your apology @GuardianUS and appreciate your response!"
City Councilwoman Karen Stratton said she appreciated the apology, but was more heartened by the response of Spokane residents, who quickly came to the defense of their hometown.
"It shows you we had a lot of proud citizens who are excited about what we have going on here," Stratton said.
Before the apologies were issued, Spokesman-Review columnist Shawn Vestal wrote a snappy response to Delistraty's piece that attracted a massive number of readers to spokesman.com.
"This is easily one of the most-read stories or columns on The Spokesman's website this year," Editor Rob Curley said. "Normally, when a story gets big numbers like this, it's because it has gone viral in some way, with substantial amounts of the web audience being national. Shawn's column had a massive audience and it was almost completely local.
"Even with Gonzaga being a No. 1 seed in the NCAA Tournament and the tremendous interest in all things related to the Bulldogs, nothing else even came close to this."
Local journalism is essential.
Give directly to The Spokesman-Review's Northwest Passages community forums series -- which helps to offset the costs of several reporter and editor positions at the newspaper -- by using the easy options below. Gifts processed in this system are not tax deductible, but are predominately used to help meet the local financial requirements needed to receive national matching-grant funds.
Subscribe now to get breaking news alerts in your email inbox
Get breaking news delivered to your inbox as it happens.
---