A&E > Food
These Easter sides just might steal the show
March 28, 2017 Updated Wed., March 29, 2017 at 2:52 p.m.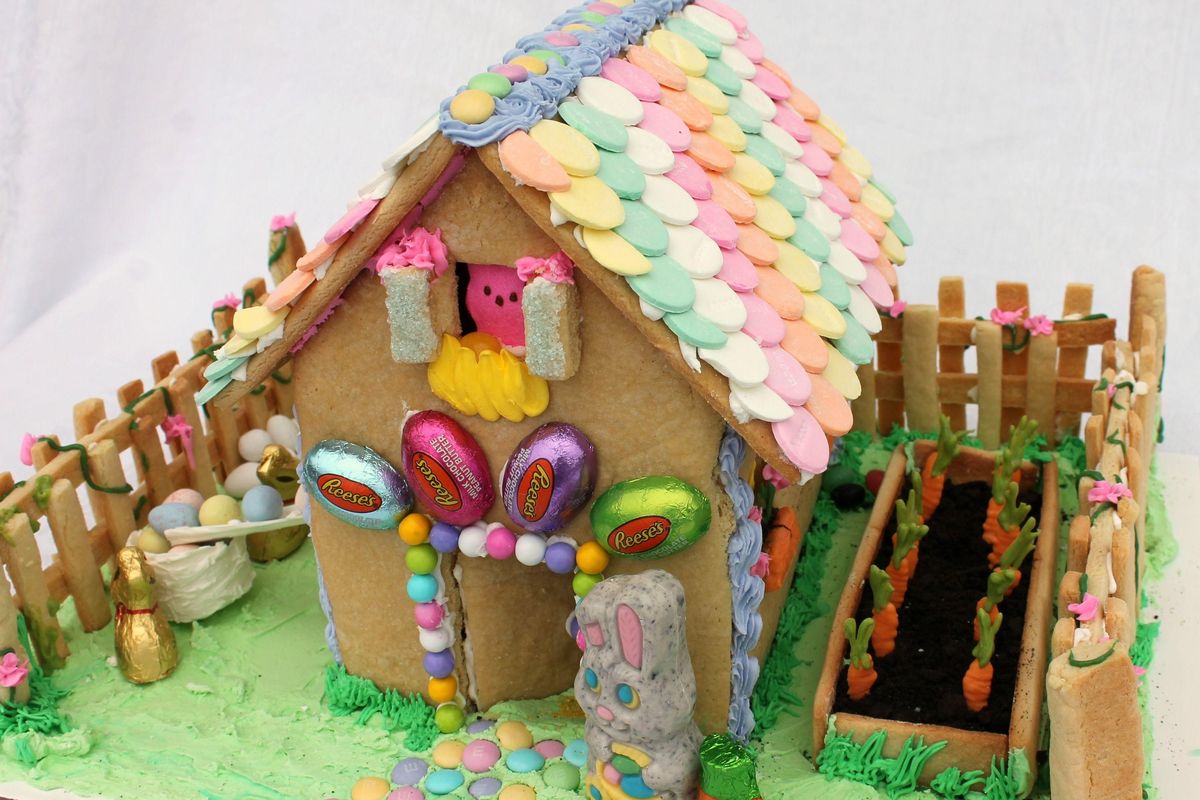 Edible houses aren't just for Christmas. This bunny house centerpiece celebrates springtime and Easter. (Lorinda McKinnon)
A juicy ham or leg of lamb may be the highlight of your Easter table, prompting enthusiastic oohs and aahs. But with a little planning and creativity, side dishes and desserts can be the most memorable items on your menu.
If you are serving buffet-style brunch, choose dishes that are easy to serve; it will keep the line moving along – a welcome advantage when guests are clamoring for real food after a morning of eating chocolate eggs and jelly beans.
This recipe selection includes a hearty side dish, sweet dessert and edible centerpiece to brighten your holiday brunch.
Potatoes Au Gratin with Ham Balls
From Lorinda McKinnon
This rich, creamy dish can be mellow or tangy, depending on your choice of cheese. I used Monterey Jack and extra-sharp cheddar, but don't be afraid to experiment with Romano or Asiago for a flavorful variation or Gruyere for a gooier texture. If you're serving ham with dinner you may want to forgo the ham balls, but you'll be missing out on a delightful treat; ham, cheese and potatoes are a magical combination.
If you are lucky enough to have leftovers, you'll find that this dish is even better the next day as the flavors meld and the top gets a little crunchier.
For the ham balls:
1 pound cooked ham, skin removed, cubed and ground (use food processor or meat grinder)
1 pound fresh ground pork
1 cup ground oatmeal (use food processor, meat grinder or coffee grinder)
1 tablespoon mustard
For the potatoes:
6 tablespoons butter
1/2 cup chopped onion
2 cloves fresh garlic, minced
1/2 cup all-purpose flour
1 1/2 cup milk
1 1/2 cup cream
1/2 teaspoon salt
1/4 teaspoon pepper
1 cup grated Monterey Jack cheese
1 cup grated extra-sharp cheddar cheese
8 average potatoes
1/4 cup freshly grated Parmesan cheese, for topping (optional)
Make the meatballs: Preheat oven to 375 degrees. Cover baking sheet with foil. Mix all ingredients until well combined. Form about 4 dozen, 1-inch balls. Place on prepared baking sheet and bake for 20 minutes.
Make the potatoes: Preheat oven to 350 degrees. In large saucepan on medium-low heat, melt butter. Stir in onion and garlic, and cook briefly until bubbly. Gradually add the flour, stirring continuously. Continue to cook for 1 minute. Slowly add milk and cream, stirring continuously until mixture thickens, about 5 minutes. Add salt, pepper, Monterey Jack and cheddar cheese. Stir well until cheese melts. Remove from heat and let stand while you prepare potatoes.
Peel potatoes and slice thinly, between 1/8-inch and 1/4-inch. Combine potatoes, ham balls and sauce in a large (at least 4-quart), lightly greased casserole dish. Bake for 1 hour or until potatoes are tender.
If desired, sprinkle with Parmesan cheese during the last 15 minutes of baking. Allow casserole to sit 10 minutes before serving.
Yield: 12 servings
Mini Carrot Cheesecakes
From Lorinda McKinnon
For small but stunning double-decker treats, flavorful carrot cake is covered with a layer of coconut-walnut cheesecake and topped with a swirl of whipped cream.
Or, if you'd like to take it to the next level, make cute little carrots out of orange and green candy melts, found in the cake decorating sections of large stores. These can be heated, then squeezed from pastry bags or heavy plastic food storage bags onto parchment; they'll peel right off the paper after a few minutes in the refrigerator.
You can make the mini cakes ahead of time and store them, well wrapped, in the freezer. Bring them out to thaw a few hours before you make the cheesecake.
For the carrot cake:
3/4 cup sugar
1/2 cup oil
3 eggs
1/4 cup buttermilk
1 teaspoon vanilla
1 cup grated carrot
1 (8-ounce) can crushed pineapple, drained well
1 cup all-purpose flour
1 teaspoon baking powder
1/2 teaspoon baking soda
1/2 teaspoon salt
1 teaspoon cinnamon
1/4 cup raisins
1/4 cup walnuts, chopped
For the no-bake cheesecake:
8 ounces of cream cheese, softened
1 cup powdered sugar
1 cup heavy whipping cream
1/2 cup dried coconut, unsweetened
1/2 cup finely chopped walnuts
Make the carrot cake: Preheat oven to 325 degrees. Line muffin pans with paper liners.
In a large bowl, beat sugar and oil together well. Add eggs, buttermilk and vanilla. Beat for 2 minutes on medium-high speed. Mix in carrot and pineapple. Combine dry ingredients and stir into batter just until blended. Stir in raisins and walnuts. Place 1 rounded tablespoon of batter in each cavity. (The cups will only be half full after they're baked, leaving room for the cheesecake layer.) Bake for 20-25 minutes, or until a toothpick comes out clean when inserted in the middle. Allow cupcakes to cool completely on a rack.
Make the no-bake cheesecake: In a large bowl, beat cream cheese and powdered sugar together well. Add cream and beat until stiff peaks form. Stir in coconut and walnuts. Divide evenly between cooled cakes, leveling mixture with the back of a spoon. Cover and chill for at least 4 hours (overnight is better). Peel off wrappers to show the layers, or leave the cakes in the wrapper if preferred. Decorate with a rosette of whipped cream and a jelly bean or candy carrot or sprinkles.
Yield: 2 1/2 dozen mini carrot cheesecakes
Sugar Cookie Bunny House
From Lorinda McKinnon
For a creative centerpiece, make this adorable Bunny House. The dough house is easy to build, and the decorations can be as simple or as detailed as you want. Children will love to help with the design and quality control (someone has to check to make sure the candy is fresh) and everyone will enjoy the demolition when the time comes.
Give yourself plenty of time; dry icing makes for a sturdy house. When the walls go up, it's best to let the house sit overnight before adding the roof. And, speaking of royal icing, make lots. If you are making fences, planters and chicken nests, you'll need a large cake board, which will take a batch of icing just to cover. So, make two batches, but have enough ingredients for one more, just in case.
Hard wafer candy or small squares of sour strips make great roof tiles. Candy melts are perfect for making carrots and vines. This dough recipe makes enough for one house. If you want to make fences, as pictured, you will need another batch.
For the sugar cookie dough:
3/4 cup shortening
1 1/2 cups sugar
1/3 cup cream
1 egg
2 tablespoons fresh lemon juice
4 1/2 cups all-purpose flour
1/2 teaspoon baking powder
1/4 teaspoon baking soda
1/2 teaspoon salt
For the royal icing
4 cups powdered sugar
3 tablespoons meringue powder (found with cake decorating supplies or online)
5-6 tablespoons warm water
Food coloring
Assorted candy and sprinkles, for decorating
To make the house: Preheat oven to 325 degrees.
In a large bowl (stand mixer is best), beat shortening and sugar for 1 minute. Add cream, egg, and lemon juice and beat well. Add flour, baking powder, baking soda and salt. Dough will be stiff. Working with 1/3 of the dough at a time, roll out on lightly floured parchment paper, about 1/4-inch thick.
Using a sharp knife, cut the shapes to build the house. For the roof, cut two 5 1/2-by-8 1/2-inch rectangles. For the side walls, cut two 5 1/2-by-7-inch rectangles. For the house front and back, cut two 5 1/2-inch-by-8 1/2-inch rectangles, then make the peak of the house by cutting from the center of the 5 1/2-inch side down 3 inches and repeating on the other side. The roof line will be 4 inches long and hit the 5 1/2-inch mark to be flush with the side walls. (You can use the diagram provided to create paper templates.)
Lift off scraps and slide the parchment with the cutouts onto a baking sheet, leaving at least 1 inch between pieces. Cut shapes for windows and doors, but don't remove the pieces; they will help hold the shape during baking. Once the pieces are baked you can re-cut and remove them. Save the doors to use in the house, cut the upper shutters apart and save. The window pieces on the side walls are scrapped.
Bake approximately 15 minutes, or until the edges are beginning to turn golden brown. Remove from oven. Hold your template over the pieces. If they have spread, take a sharp knife and trim them to size. Allow to cool on rack. Repeat with the remaining pieces. If any pieces feel soft after cooling, put them back in the oven for a few minutes. They must be very firm.
If you are making fences, cut the long parallel support pieces and short vertical fence pieces. Don't put them together before baking or the fence posts will droop between the support pieces. Bake them separately and put them together with royal icing after they cool.
To make royal icing: In a large bowl, combine the powdered sugar and meringue powder. Gradually add water until it is very thick and creamy. Add additional water if necessary, 1/4 teaspoon at a time. Beat for at least 5 minutes. Mixture should make stiff peaks. Keep covered when not using; it will dry out quickly.
Assemble the house: You may want to decorate your outside walls before construction. It's easier to do this on a flat surface. Use a small amount of royal icing to attach candy and decorations and allow them to dry.
The walls will go up first. Put a generous amount of icing along the back edges of the front and back pieces, up to where the roof pitch begins. Using heavy cans to brace the structure as you go, connect a side piece to the front piece. Add the back piece and the other side. Make sure your house is straight, and then let it dry overnight.
Tint one batch of royal icing green and spread it on a sturdy cake board. Carefully pick up your house and place it on the icing. If you have extra icing, save it for grass and bushes. Using a pastry or food storage bag with the tip snipped off, squeeze icing (any color) along the top edges of the house – along the sides and on the roof pitch.
Place one half of the roof on the house and carefully stick two pins through the roof into the house, almost at the tip of the pitch, one at the front of the house, one at the back. Repeat with the other roof piece.
While the roof is drying, you can decorate the yard. Add vines, grass, bushes, and flowers using colored royal icing. Crush chocolate cookies for a garden bed. Build a fence. Add nests using crushed shredded wheat, baked cookie dough, icing, or edible Easter grass and fill them with candy eggs or jelly beans.
Once the roof feels solid, pull out the pins and display proudly.
Local journalism is essential.
Give directly to The Spokesman-Review's Northwest Passages community forums series -- which helps to offset the costs of several reporter and editor positions at the newspaper -- by using the easy options below. Gifts processed in this system are not tax deductible, but are predominately used to help meet the local financial requirements needed to receive national matching-grant funds.
Subscribe to the Spokane7 email newsletter
Get the day's top entertainment headlines delivered to your inbox every morning.
---