Senior prom at Riverview dances down memory lane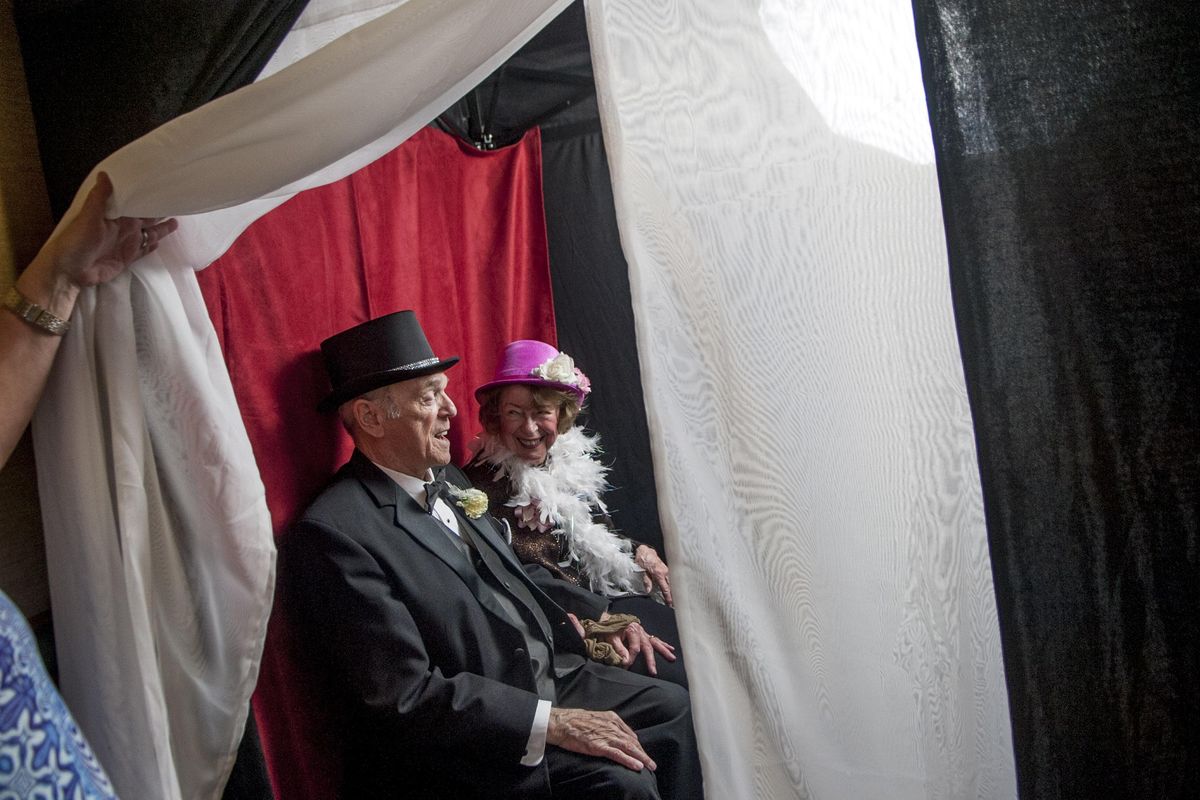 Sara Martin beams while looking at a photo from her 1962 prom. She's pictured in an apricot-colored gown standing next to a young Kevin Martin, dressed in a dark suit.
She invited Kevin, then a Gonzaga University freshman, to her Holy Names Academy senior prom held at the Davenport Hotel. The dance had Elvis Presley tunes and the Twist. She wore long white gloves and recalls her favorite flowers, gardenias, in the wrist corsage.
"I met him through a friend," said Sara Martin, gazing at their picture from 55 years ago. "He dated Marycliff girls, but he ended up marrying a Holy Names girl."
By 1965, they were wed. She'd decided against becoming a nun after a short stint at a convent. Both 73 now, the couple lives at Riverview Retirement Community, which held a prom-themed dance last week for residents and employees.
After their first prom, Kevin and Sara Martin grabbed hamburgers at a favorite joint on Division Street.
"Nowadays, kids get limousines and eat at fancy restaurants," she said. "We went out and got a burger after. He was a catch. I had a crush on him from the first time I met him."
The Martin's photo joined other prom pictures from residents and staff flashed on a video slide show during Thursday's Riverview Ball, held in the afternoon. The center's recreation room was decorated in black, silver, and white balloons and streamers.
Riverview Retirement, a 32-acre campus along Upriver Drive in Spokane, has about 400 residents in housing that ranges from independent living units to assisted-living quarters and skilled nursing care.
Kayla Schreiber, Riverview recreational therapist, said the facility normally holds a Western-themed barbecue during this time of year.
"This year, we wanted to do something different," Schreiber said. "A lot of staff members have had their kids going to prom the past few weekends, so we thought, why not bring prom here?"
About 150 people dressed up all over again in formal gowns and suits, or casual clothes if they preferred, to dance down memory lane. Some of the men even arrived in tuxes, and several employees also wore formal attire and danced with residents.
"It sure looks like a high school prom," said Angie Brierley, 83.
On a table near the entrance, people could select orchid corsages or yellow carnation boutonnieres.
A D.J. played music from multiple decades starting with the 1920s through to today's top music, with a range from Glenn Miller to Johnny Cash. Even a line dance to "Boot Scootin' Boogie" drew a crowd, and a few residents in wheelchairs took a few twirls, assisted by staff.
Between dances, people put on hats and fancy props to take turns at a photo booth that instantly printed three small photos.
Although her husband skipped the festivities, Sara Martin came to the dance in a formal black cruise dress. "He's shy," said Martin about her husband. She took several spins on the dance floor with Riverview friends. "I love dancing."
Merilyn Kraftenberg, 89, watched from a table near the dance floor. She recalled attending the Coeur d'Alene High School prom in 1945 in a pink formal dress, but she didn't have a date.
"Most of the boys were gone because they'd been drafted," she said. "There was a few boys there. We had a live band. We had dance booklets and the guys would use them to ask us to dance."
Prom-era music for Clyde Anderson, 90, meant Benny Goodman, Artie Shaw, Tommy Dorsey and his brother Jimmy Dorsey. Anderson is known at Riverview Retirement for being good at the foxtrot, and some staff members have asked him to teach them the dance moves.
Anderson, dressed in a pinstriped suit, came to Riverview's prom with his wife Joanne, 86. She wore a polka-dot dress. The couple met a few years after his graduation and military service, so they weren't together yet when Anderson went to his 1944 senior prom at North Central High School.
He remembers his prom was held downtown next to the Spokane Club. "It's not there anymore," he said. "It was the Eagle's Club. I don't even remember an orchestra, just probably a Victrola."
At age 17, Anderson also attended the prom in 1944 for Lewis and Clark, after he was asked by a girl from that school he'd met at a swimming event.
"It was World War II, so there wasn't a lot of time for frivolity," Anderson recalled. "Nobody had money back then. I borrowed a suit to go to the prom from a friend who was the same size. Mostly the girls made their dresses. You bought a corsage for your date; that was a given."
About a week after those two proms, Anderson left to serve with the U.S. Navy. He stayed in during the rest of the war, studied engineering at Gonzaga University for two years, then got a degree in engineering at University of Washington before being recalled into the military for Korea.
"By the time I came back here everyone was married or gone," he said. "My wife was an RN."
They met on a blind date and got married in May 1953. After years as Valley residents, they both live at Riverview Retirement.
Anderson said he appreciates the music of the 1940s, and danced with his wife for many of the big band sounds played during the dance, much like at his prom. "It was the Glenn Miller era," he said. "Right now, it's just a bunch of noise."
Rock 'n' roll of the 1950s was the music of prom for Phil Martin, 78, who came dressed to the max Thursday – wearing a tux and vest to escort his date, Pam Comstock, 85, who wore a formal dress. While Comstock was in Minneapolis for her senior dance, Martin went to the 1956 prom in Spokane for North Central High School.
"There was lots of '50s music, Elvis, Little Richard, Perry Como," he said.
Another couple, Bill and Marjorie Havercroft, came to listen to that music on Thursday. This one dance counted, because they didn't make it to the senior prom during their high school years. Marjorie, now 82, couldn't afford to go as a senior in 1953, and Bill graduated early.
"I was working by the time the prom would have happened," said Bill, 83. "I found out I could graduate in three and 1/2 years and went to work."
Although they both attended Rogers High School, they never met while both were students. A chance to buy a car brought the pair together, when Bill Havercroft worked at a sawmill with Marjorie's brother.
"Her brother had a car in his yard he said he'd sell me for a dollar," he said. "She answered the door. I had to go back and ask her out."
They married in 1954. However, he admits going to a few dances in Spokane before he met his future wife. "There was a place downtown," he said. "The Spot, they called it, and every Friday night they had dances, and you'd just show up. Not being a dancer, I'd listen to the music and look at the girls."
The Havercrofts eventually made up for those missed early dances, when they later enjoyed square dancing together for about 10 to 15 years.
Today, Marjorie Havercroft deals with health issues because of osteoporosis, and following a recent surgery, she lives at Riverview. Bill Havercroft, who keeps up their home near Chief Garry Park, visits her at Riverview every day.
"I can't get along without her," he said. To which, Marjorie patted his hand and said, "I'm glad."
---