Sports > EWU football
Eastern Washington gives up game's final 21 points in loss to Southern Utah
UPDATED: Sat., Oct. 21, 2017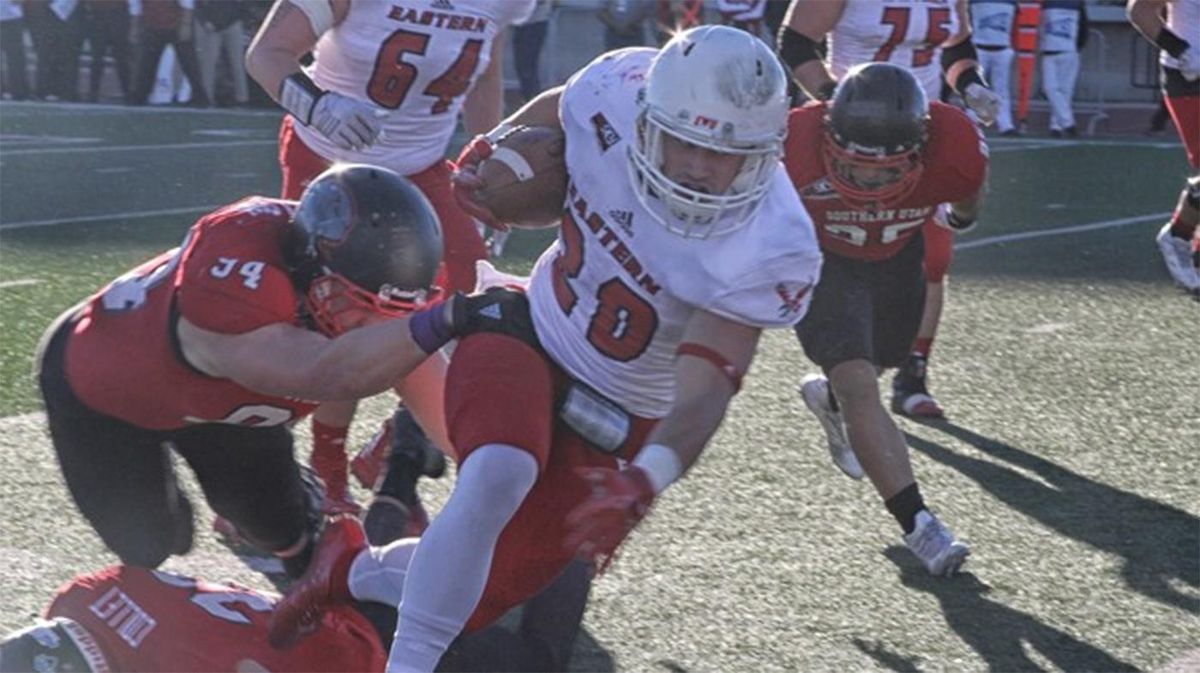 (EWU photo)
CEDAR CITY, Utah – It all seemed so easy in the first quarter, and all but impossible in the fourth.
In between, momentum has seldom been so fickle for Eastern Washington, which lost its way on both sides of the ball Saturday night in a 46-28 Big Sky Conference defeat at Southern Utah.
The Eagles (5-3 overall, 4-1 in the Big Sky) also lost their spot atop the standings and are tied with five other teams, a game behind Northern Arizona.
But if the eighth-ranked Eagles squandered their early momentum – they led 14-0 after the first quarter – Southern Utah also seized it by the throat, outscoring the defending Big Sky champs 46-14 the rest of the way.
"It was a game we didn't play as well as we would have liked, and felt we could have played better," said Aaron Best, who suffered his first conference loss as Eastern's head coach.
"But the team we played was a pretty darn good outfit," Best said of a team that broke Eastern's 12-game winning streak in conference games.
The Thunderbirds (5-2, 3-1) were coming off a big win over in-state rival Weber State, and early on it appeared they were in for a letdown. After one quarter they managed 37 yards of total offense, while Eastern had 170.
Eastern's opening drive was as good as it gets, even by Eagles standards. Mixing the run and pass, EWU didn't face a third-down situation in a nine-play, 75-yard march that was capped by quarterback Gage Gubrud's 17-yard touchdown pass to Nsimba Webster.
Later, Eastern stayed on the ground to double the lead, with Sam McPherson bulling through several defenders for 18 yards to earn a first down at the SUU 9.
Two plays later, McPherson reversed field and took the ball 3 yards for a score to make it 14-0.
Everything changed early in the second quarter. Still leading 14-0, Eastern faced fourth-and-3 at its 47-yard-line. Wide receiver Stu Stiles couldn't hold on to Gubrud's pass on the sideline. Southern Utah took over on downs and capitalized with its first touchdown drive.
"We were trying to get the offense in a bit of a rhythm," Best said. "It wasn't the ideal situation, because their defense was playing so well, so that went through my head.
"These situations are calculated. We thought we could move the sticks."
Eastern's two-score lead was restored 11 seconds later on a 96-yard kickoff return by Dre'Sonte Dorton.
Southern Utah responded with its best drive of the half, a nine-play, 75-yard march capped by James Felila's 8-yard run against the grain.
Eastern managed just 52 yards of offense in the second quarter, and only managed one more touchdown drive the rest of the night.
"They were causing it," said Gubrud, who finished 24 for 44 for 246 yards and three interceptions. "They were getting pressure on us and they were covering us down. By the time we made adjustments, they kind of had our number and had momentum."
Southern Utah kept that momentum in the third quarter. After an exchange of punts – including one downed at the Eastern 3 – the Thunderbirds found running room inside and out.
On third-and-goal at the 8, Southern Utah quarterback Patrick Tyler found Landen Measom alone on the left edge of the sideline. With the extra point, Eastern trailed for the first time in the game, 22-21 with 6:24 left in the third quarter.
Then things got worse, as Jarmaine Doubs intercepted Gubrud's pass that was heading toward the sideline.
Eastern's defense held, but Manny Berz's was good on a 43-yard field goal that just cleared the crossbar to put the Thunderbirds up 25-21.
Eastern's offense woke up with a series full of big plays: Gubrud's 31-yard pass to Nic Sblendorio, a third-down completion for 13 to Webster and finally a pivotal moment.
On third-and-15 at the Thunderbird 22, Gubrud rifled a throw down to the left sideline to Zach Eagle. Eagle's catch at the 2 was reviewed, but the original call was upheld, and Custer scored on the next play to give Eastern a 28-25 lead with 11:32 left.
Southern Utah went to the ground again, gambling on fourth down and coming up big as Tyler threw over a trio of rushers to wide-open tight end Logan Parker. The Eagles trailed again, 32-28 with 7:39 to play.
Local journalism is essential.
Give directly to The Spokesman-Review's Northwest Passages community forums series -- which helps to offset the costs of several reporter and editor positions at the newspaper -- by using the easy options below. Gifts processed in this system are not tax deductible, but are predominately used to help meet the local financial requirements needed to receive national matching-grant funds.
Subscribe to the sports newsletter
Get the day's top sports headlines and breaking news delivered to your inbox by subscribing here.
---