News > Crime/Public Safety
Spokane County detectives make arrest in Florida on 2016 murder case
Aug. 8, 2018 Updated Wed., Aug. 8, 2018 at 10:32 p.m.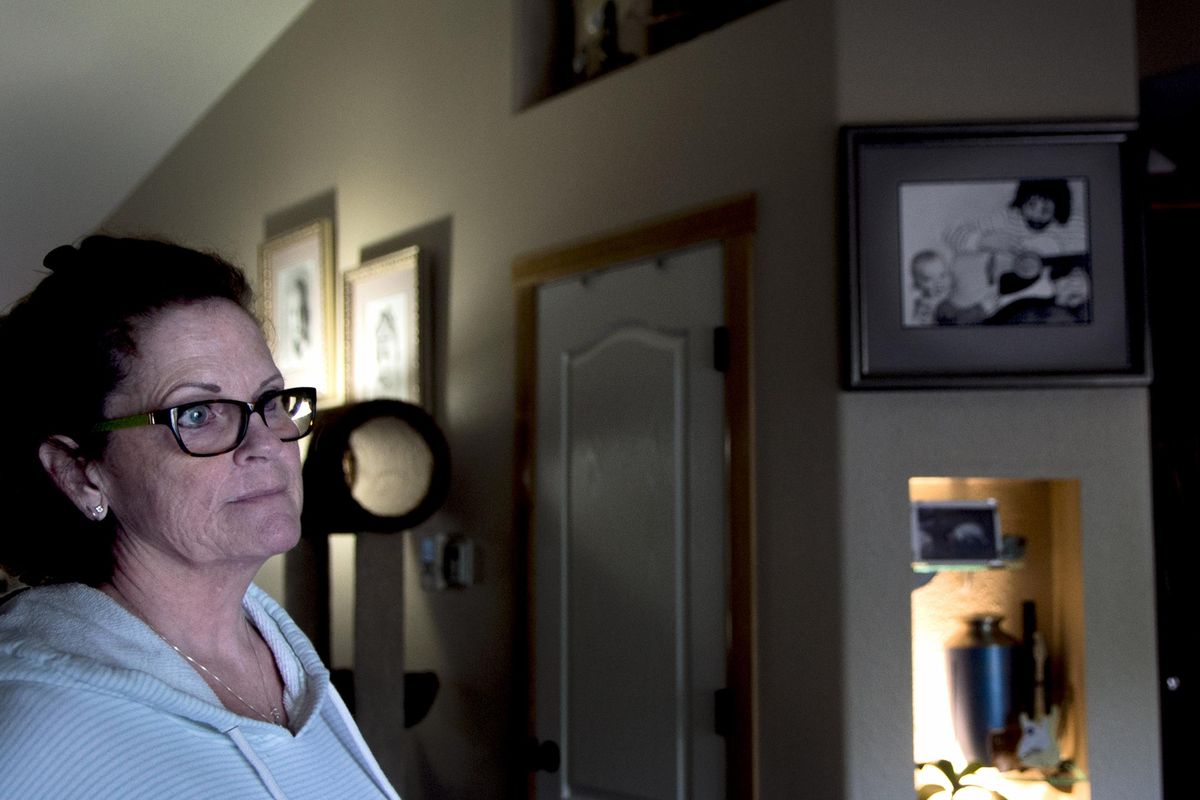 FILE – Patty Fowler pictured near a memorial dedicated to her son Cory Fowler at her home in Athol, Idaho on Friday, September 2, 2016. "I just couldn't quit crying, my son isn't supposed to be dead," she said. (Kathy Plonka / The Spokesman-Review)
Dan and Patty Fowler have spent years waiting for a phone call, years waiting for a voice on the other end of the line to say the words they've been aching to hear: Your son's suspected killer is in custody.
After two years and six months, that call came. On Tuesday afternoon, the Spokane County Sheriff's Office made an arrest in the violent death of 34-year-old Cory Fowler, whose body was found inside his Spokane Valley apartment in February 2016 – shot once in the head and once in the chest.
His parents discovered his body.
A suspect in the killing, 38-year-old Christina C. Stiles – Cory Fowler's ex-girlfriend and the mother of their daughter – was taken into custody in Jacksonville, Florida, where she awaits extradition to Spokane on a $1 million bond.
"I had lost all hope," Patty Fowler said. "I was at the point that after two and a half years and no physical evidence, I was just – I did not think anything would happen … But I think we're going to be OK."
Fowler said she was perusing her iPad when she got the call at about 2 p.m. Dan Fowler was in the bath, watching a Western.
At first, she couldn't believe it. Then she couldn't stop saying "thank you" over the phone to the detective. A day later, the two said they are overwhelmed by the mixture of feelings.
"It's been two and a half years of bottled up emotions coming out," Dan Fowler said.
"But we're very, very happy," his wife continued. "And it kind of brings back some of the pain. It just puts it all out there."
Phone calls not returned
The Fowlers describe their only son as quiet. Funny. He loved music – especially Eric Clapton's – "The Hitchhiker's Guide to the Galaxy," and singing. He was always singing. And if he wasn't, he was cracking a joke.
He loved being a father, too, said Nellamae Behar, a longtime coworker of Cory Fowler's at Premera Blue Cross, where they both worked from home as customer service representatives.
"He's the kind of dad you wish you had," she said late last year. "Somebody who is involved and loving. That's who he was."
Cory Fowler was closely involved with his family, they said, so much so that, when he went days without returning phone calls and texts from his parents and sister, they knew something was wrong.
"Finally I left him a voice mail and said 'if you don't answer or call me back, I'll be out there tomorrow morning,' " Patty Fowler said last year. "We went out there and found him. It was the most horrible day of my life."
Gathering evidence
The couple discovered their son's body at about 9 a.m. Feb. 18, 2016, on the living room floor between a couch and table in his apartment at 12925 E. Mansfield Ave., where he lived alone for about a year.
Court records say he was shot first through the right cheek, causing him to fall onto the couch and slump over on the left side. He was then shot in the chest.
His parents suspected he'd been dead for at least a week. A series of search warrants filed by Spokane County sheriff's detectives indicate the last time he logged in to work was on Feb. 11, a day after he last talked to his sister via instant messaging. Nobody heard from him after that night.
When the Fowlers entered the apartment through the front door – which was, uncharacteristically, unlocked – they found it in disarray, a product of poor housekeeping, but furniture was untouched and items on a table near where he lay were unmoved, including glasses that remained standing. These details were of particular interest to detectives, who theorized that had the shooting been random, there would have been more signs of a struggle.
Initially, according to court records, investigators with the Spokane County Sheriff's Office believed Cory Fowler's death to be a suicide. But when the body was moved by a medical examiner and a gun wasn't discovered anywhere nearby, the investigation turned to murder.
Court records suggest the shooter was someone close to Cory – someone who walked through the unlocked front door, just as they'd done many times in the past.
There were no items missing from the apartment, including expensive electronics. Money and drugs remained, some sitting in plain sight. There were no signs of forced entry.
Dr. John Howard, the Spokane County medical examiner, told detectives the distance from Fowler's shooter would have been a "foot or less" based on gun powder residue. The trajectory angle of the first bullet suggested the shooter was at least a foot shorter than Cory.
Then there was the ammunition: a special type of .380 bullet manufactured by Rottweil, a German-based ammunition company that has not produced the casing for numerous years, according to court records. Detectives contacted several local gun stores, but none had carried the bullets for years, leading investigators to believe it was special-ordered online.
Early suspicions
Stiles, who was in the midst of a heated custody battle with Cory Fowler when he died and maintains custody of their child today, was the subject of Dan and Patty Fowler's suspicions. They said her relationship with their son appeared innocent enough at first, Cory moving from Portland to Coeur d'Alene in 2015 to live with her and his soon-to-be-born daughter. But it soured over time, and the two were constantly fighting over their child.
"I had to beg her to let Cory see the baby when she was born," Patty Fowler said. "She didn't even tell Cory she went to the hospital. Nothing."
Court records show Stiles, at 5-foot-2 to Cory Fowler's 6-foot-1, became the focus of the murder investigation almost immediately. She was interviewed days after the shooting by Detective Andrew Buell, and she told him she couldn't remember where she was on the evenings of Feb. 11 through Feb. 13.
Then, a week later, investigators received a call from Coeur d'Alene police, who reported a missing and possibly suicidal person. Stiles had apparently left a note to her family, saying she was "leaving and not coming back." The note, according to court records, further said she was "doing this because the investigation into Fowler's death was ruining her reputation and she hoped her disappearance would allow the case to be closed."
Buell also looked into a computer Stiles sold two days after Fowler's suspected death, but it had apparently been wiped clean.
The week Fowler was killed, he was scheduled to have his first one-on-one court supervised visit with his daughter without Stiles present.
"She didn't want to give custody to him at all," Patty Fowler said. "No visitation."
By March 2016, Stiles had hired a lawyer. According to court documents, prosecutor Larry Haskell said he was contacted by attorney David Partovi, who said he wanted to "make a deal" for his client's cooperation, and that it would be a case of "self-defense."
Reached by phone Wednesday, Partovi said he was "not in position to talk on that case at all," adding that he no longer represents Stiles.
Haskell did not return calls seeking comment.
When interviewed by Buell after the shooting, court records say Stiles described Fowler as violent and abusive. She said the same to a counselor before his death, saying that he had a history of abusive behavior, would anger easily and would "physically threaten" her.
Detectives noted they couldn't find any evidence of Fowler's alleged violent past. Even Stiles' 17-year-old son told them Fowler was peaceful and it was only his mother he ever saw angry or animated, court records say.
Cory Fowler's family refuted the allegations of abuse..
"He had no conflict at all in his life," Dan Fowler said. "Except for Christina."
Hoping for closure
In June 2016, after search warrants were executed on Stiles' Coeur d'Alene residence, investigators seized a phone they believed was hers. It turned out to be her son's, and was dormant through January until February, then was activated a day after Cory Fowler's death, according to court records. Stiles told deputies she lost her phone or it was stolen that same day.
After the first few months of the investigation, the case appeared to stall as detectives awaited information that might lead to her phone. Dan and Patty Fowler said after a new detective was assigned in November 2016, they only got updates on the case when a reporter called whenever a new search warrant was filed.
In September 2016, the couple offered a $10,000 reward to anyone who stepped forward with information. They canceled it months later when nothing came of it.
Years later, a memorial of their son still sits in their Athol, Idaho, living room. An urn containing his ashes sits near a small replica of the cream colored Fender Stratocaster Eric Clapton shredded on stage. With them is a picture of Cory Fowler playing a guitar to his young daughter – a composite of two separate photographs, the couple said, since Cory Fowler never had a chance to take a real one.
Seated in their home Wednesday morning, they said they couldn't believe, almost two years later, their suspicions of Stiles might be validated by an arrest in a state 2,700 miles away. They aren't even sure when she moved or exactly why.
More than the potential of seeing their son's death brought to justice in court, they said they're equally exhilarated at the possibility of seeing their granddaughter again – a child now in her preschool years who's only met her grandparents once, a few days after she was born.
"I'm excited to see if she looks like her daddy," Patty Fowler said. "If she has curly hair like her daddy. I just have so many questions."
Local journalism is essential.
Give directly to The Spokesman-Review's Northwest Passages community forums series -- which helps to offset the costs of several reporter and editor positions at the newspaper -- by using the easy options below. Gifts processed in this system are not tax deductible, but are predominately used to help meet the local financial requirements needed to receive national matching-grant funds.
Subscribe now to get breaking news alerts in your email inbox
Get breaking news delivered to your inbox as it happens.
---