Sports > EWU football
Eastern Washington scores 20 points in the fourth quarter to top UC Davis, earn spot in FCS semifinals
Dec. 8, 2018 Updated Sat., Dec. 8, 2018 at 11:44 p.m.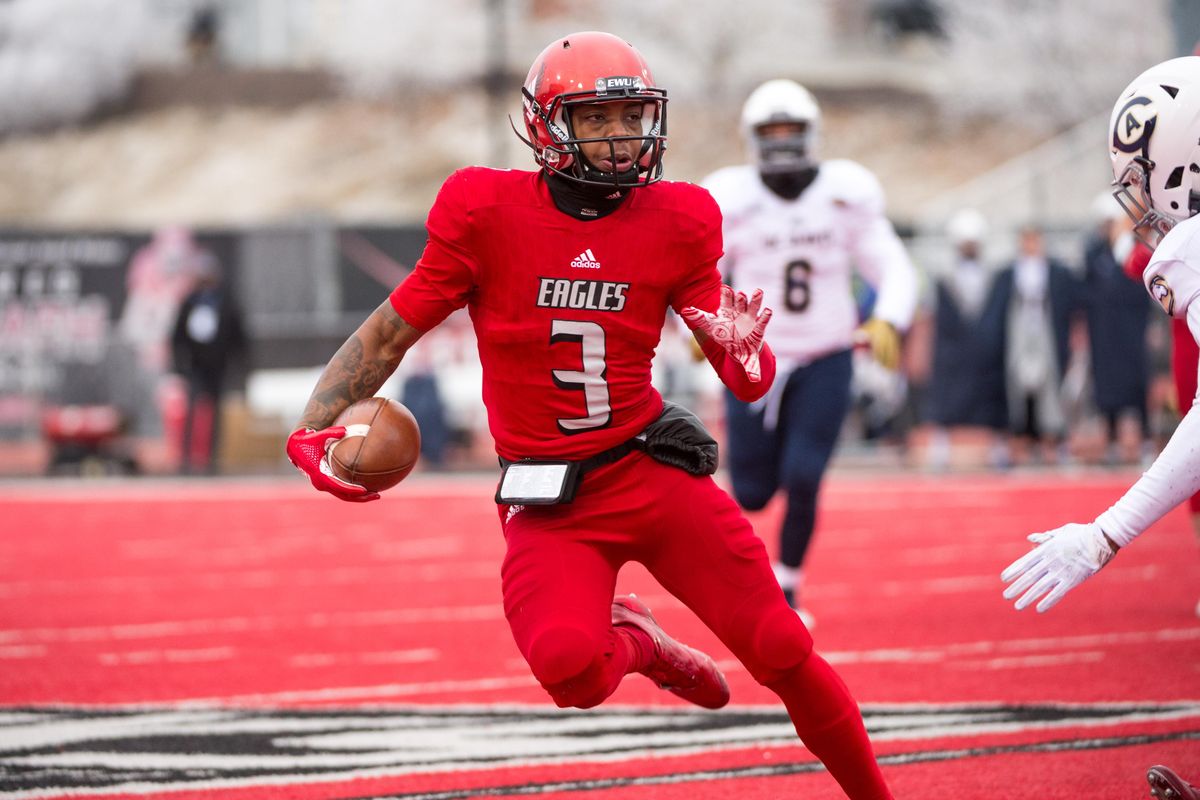 Quarterback Eric Barriere (3) of Eastern Washington University carries the ball upfield in an FCS quarterfinal game against UC Davis at Roos Field in Cheney, Wash. on Dec. 8, 2018. The Eagles beat the Aggies 34-29 and Barriere gained 29 rushing yards. (Libby Kamrowski / The Spokesman-Review)
Eastern Washington imposed its will in a November rout of UC Davis.
It ripped out the Aggies' heart in the encore.
Sam McPherson's 35-yard touchdown run with 26 seconds left lifted the Eagles to a 34-29 win over UC Davis in a wild FCS quarterfinal Saturday at Roos Field.
The Aggies were on the cusp of avenging a 59-20 loss to EWU four weeks ago when Namane Modise turned the corner on a successful, go-ahead 2-point conversion that gave UC Davis a 29-28 lead with 1:13 remaining.
UC Davis head coach Dan Hawkins' gutsy call silenced EWU's crowd, many whose cold, red faces matched the Eagles' turf.
They soon exhibited jubilation in temperatures that reached the low 20s.
EWU quarterback Eric Barriere orchestrated a swift, four-play, 47-second winning drive capped off by the run by McPherson, who accounted for 147 rushing yards.
On the first play of the deciding series, Barriere eluded several tacklers and bolted on a 29-yard run to put the Eagles in UC Davis territory, sparingk the drive.
EWU's defense, which limited the Aggies' high-powered offense for a second time, sealed the win when defensive end Jim Townsend had a strip sack in the final seconds, the fumble recovered by linebacker Chris Ojoh.
Barriere shook off an early third-quarter interception and had one of the most efficient passing games of his college career, completing 21 of 25 attempts for 235 yards and three touchdowns, and ran for another score.
"We all believed in each other," said Barriere, who had touchdown passes to Terrence Grady, Henderson Belk and Nsimba Webster.
"Before, we huddled up and told everyone what they were supposed to do. We knew if we executed, it would turn out OK. Everyone believed in each other, did our job and we came out on top."
Third-seeded EWU (11-2) will host No. 7 seed Maine (10-3) Saturday in the national semifinals, the Eagles' fifth semifinal appearance in nine seasons. Kickoff is slated for 11 a.m.
Missouri Valley Conference rivals North Dakota State and South Dakota State will meet in Fargo, North Dakota, in the other semifinal.
UC Davis (10-3), which shared the Big Sky Conference title with EWU and Weber State, concluded its best FCS Division I season in program history.
EWU head coach Aaron Best expected the Aggies to make adjustments since their last meeting, which they did.
The Eagles' prolific offense was held in check for about three quarters, namely a running game that racked up 390 yards in the Nov. 10 drubbing.
But EWU kept feeding McPherson and Dennis Merrit and it broke through in pivotal fourth quarter in which the Eagles scored 20 points, overcoming a 28-21 deficit.
Of EWU's 214 rushing yards, 81 were in the fourth quarter.
"This was a rejuvenated UC Davis team, and we knew weren't going to see the same outfit we saw in November," Best said. "They were ready to go and we made a ton of plays on defense, but we couldn't capitalize on the turnovers. We got the ball out of their hands, but we just couldn't muster a lot on offense. Give a credit to their defense for doing different things to us.
"They moved their front a little bit and brought more pressure than we anticipated. We knew they would do something different, but we made enough plays at the end."
Early on, it was UC Davis' rushing attack that moved the chains.
UC Davis' Ulonzo Gilliam had 26 carries for 132 yards and two touchdowns on the ground. His 3-yard touchdown reception late in the fourth quarter set up the 2-point conversion.
The Aggies' standout tandem of quarterback Jake Maier and wide receiver Keelan Doss had a much better outing the second go-around.
Doss hauled in nine catches for 143 yards and Maier completed 26 of 38 passes for 234 yards and two touchdowns.
It was still one of Maier's subpar performances this season, as he was picked off twice, fumbled and was sacked three times.
Maier has thrown 10 interceptions this season. EWU is responsible for four.
"We turned the ball over a lot in the second half. I don't care what sport it is, that's hard," Hawkins said. "Momentum is a big thing and sometimes it's hard to counteract momentum. I give them credit, they played hard, that's what it's about this time of year. It's a long playoff, it's physically and mentally draining, so I give (EWU) credit."
EWU linebacker Kettner Kupp had a game-high 16 tackles. Fellow linebacker Ojoh had 10 tackles, an interception and the fumble recovery.
Kupp, who played in the 2016 FCS semifinals, expected a white-knuckle affair.
"It's playoff football," Kupp said. "That's kind of how you expect it to go and that's how it went tonight. I'm glad to come out on top."
Local journalism is essential.
Give directly to The Spokesman-Review's Northwest Passages community forums series -- which helps to offset the costs of several reporter and editor positions at the newspaper -- by using the easy options below. Gifts processed in this system are not tax deductible, but are predominately used to help meet the local financial requirements needed to receive national matching-grant funds.
Subscribe to the sports newsletter
Get the day's top sports headlines and breaking news delivered to your inbox by subscribing here.
---