Sports > High school sports
Basketball regionals preview: Eastern Washington sends its best across the state
Feb. 21, 2018 Updated Wed., Feb. 21, 2018 at 10:27 p.m.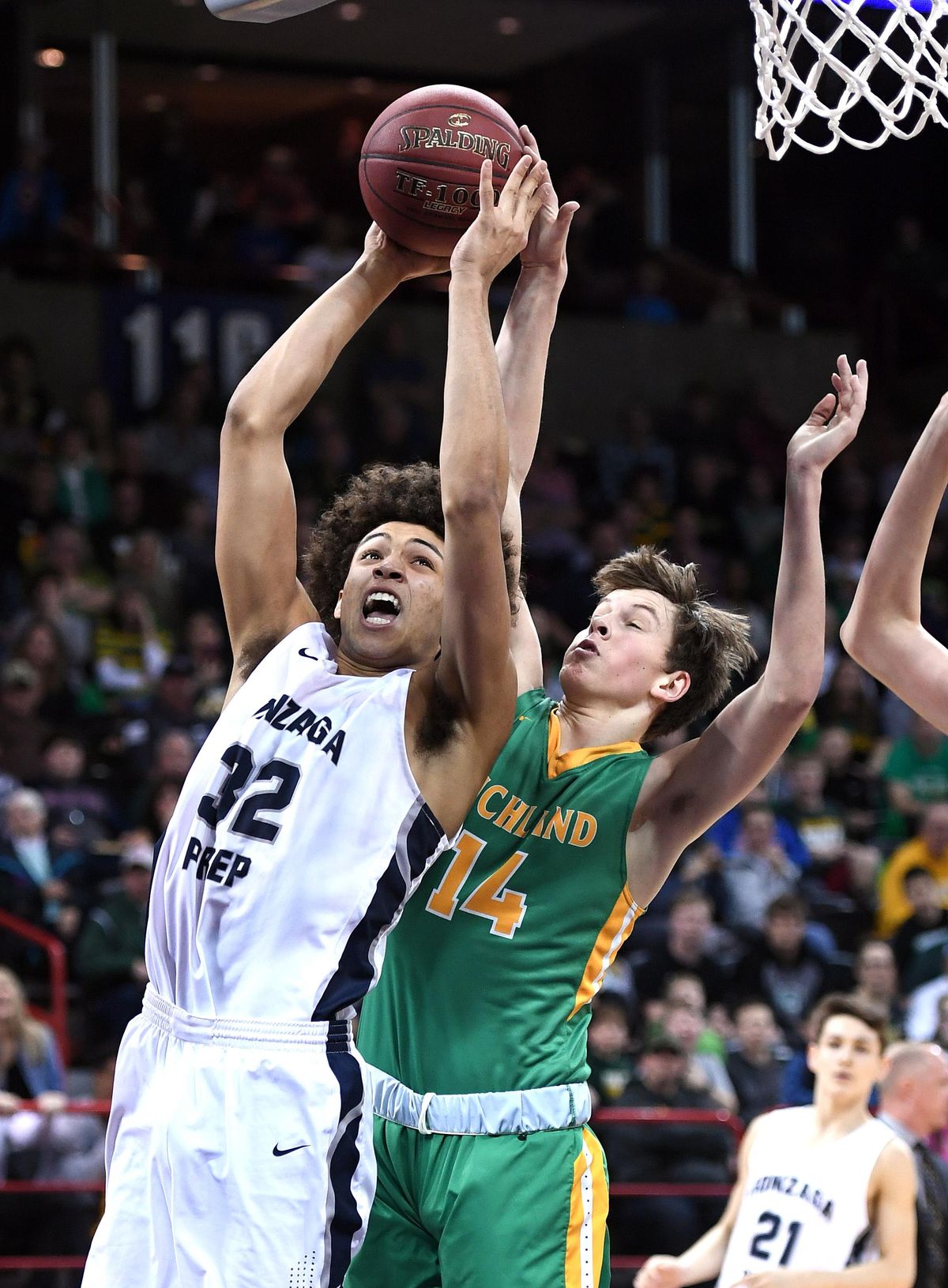 Gonzaga Prep's Anton Watson drives as Richland's Garrett Streufert defends during the District 8 4A title game last Friday at the Spokane Arena. (Colin Mulvany / The Spokesman-Review)
The regional round of the state basketball tournament starts on Friday at venues across the state, including local gyms at University, West Valley, Pullman and Medical Lake.
Sixteen boys teams and 15 girls teams from Eastern Washington qualified for the state playoffs.
All teams participate in the regional round. The top eight seeds play each other, with the winners moving into the state quarterfinals on Thursday. The losers face a first-round matchup at a state tournament venue on Wednesday.
The bottom eight seeds play to eliminate four teams, with the winners advancing into a first-round game.
Nineteen of 31 area teams automatically qualified for a second game.
The Greater Spokane League, via the District 8 tournament, boasted the No. 1 seed in the boys and girls 4A brackets.
Gonzaga Prep (23-0), the boys top 4A seed, faces No. 8 seed Sunnyside (19-3) on Friday at 6 p.m. at University.
No. 1 girls 4A seed Central Valley (23-0) takes on No. 8 seed Camas (16-7) on Saturday at noon at U-Hi.
The area had two other No. 1 seeds.
East Valley (19-1) earned the 2A girls top seed and will play No. 8 seed White River (20-4) on Saturday at 4 at U-Hi.
Colton (22-1) girls took top 1B seed and face No. 8 seed Mt. Rainier Lutheran (21-3) on Saturday at 2 at Pullman.
Undefeated 1A Freeman (21-0) and 2B St. George's (23-0) boys received No. 2 seeds and were given local games at U-Hi.
The Scotties face No. 7 seed Cascade Christian (14-8) on Friday at 8, while the Dragons face No. 7 seed Toutle Lake (19-6) on Saturday at 2.
Medical Lake (21-0) girls, one of seven undefeated teams in the state – boys or girls – received a No. 5 seed in 1A and faces No. 4 seed Zillah (22-1) on Saturday at 4 at Davis HS.
4A
Lewis and Clark's boys and girls were slotted at West Valley for Friday night.
The boys (16-8) finished third in the District 8 tournament to earn the No. 9 seed and faces 16th-seeded Bellarmine Prep (15-10) of the South Puget Sound League on Friday at 6.
The LC girls (15-8) placed second in the tourney and are the 12th seed. They take on Glacier Peak at 8.
U-Hi's girls (16-8) were third out of the District 8 tournament and are seeded 14th. The Titans play 11th-seeded Sunnyside (16-6) on Saturday, but have to travel to Chiawana to do so.
3A
Mt. Spokane's boys and girls placed second in the District 8 3A tournament.
The 14th-seeded girls (13-10) play Peninsula (21-4) on Friday at Mt. Tahoma while the 15th-seeded boys (17-6) take on No. 10 seed Marysville-Pilchuck (19-4) on Saturday at North Creek, both in loser-out games.
2A
Three of the five Great Northern League boys teams qualified for regionals and all play Saturday.
Pullman (19-2) is the sixth seed and the only one of the three not playing for its life this weekend. The Greyhounds play third-seeded Foss (19-4) at Mt. Tahoma.
West Valley (16-8), the 12th seed, takes on Liberty (Issaquah) (19-4) at U-Hi and 16th-seeded Cheney (10-13) faces North Kitsap (19-4) at Rogers (Puyallup), both in loser-out games.
1A
Newport boys (17-6) drew the eighth seed and must face top-seeded Lynden Christian (22-1) at Mt. Vernon on Saturday.
Ninth-seeded Lakeside (14-10) plays against No. 16 seed King's (15-11) in an elimination game at Medical Lake on Friday.
The seventh-seeded Lakeside girls (17-6) takes on No. 2 seed Cashmere (20-1) at Wenatchee while 14th-seeded Freeman (14-9) travels to Tumwater to challenge 11th-seeded Montesano (17-7) in a loser-out game.
2B
Liberty (20-3), which fell to St. George's in a nail-biter in the boys district title game, is the sixth seed and plays Toledo (21-4) at W.F. West.
Colfax (18-6), the 11th seed, must face 14th-seeded Crosspoint (13-7) in a loser-out at Pullman.
Both games are on Saturday.
It's a battle between Northeast 2B girls foes as second-seeded Davenport (19-4) takes on seventh-seeded St. George's (18-6) on Friday at Medical Lake. The Gorillas swept the season series between the teams, including a 20-point win on Jan. 27.
No. 5-seed Colfax (19-4) travels to W.F. West to play fourth-seeded Napavine (21-2) on Friday.
1B
In boys action on Friday, No. 8 seed Almira/Coulee-Hartline (18-5) has to travel to Eisenhower to battle top-seeded Sunnyside Christian (22-1), while No. 5 seed Pomeroy (20-2) takes on fourth-seeded Yakama Tribal at Davis.
Saturday features sixth-seeded Odessa (22-3) against No. 3 seed Cedar Park Christian (26-1) at North Creek while 12th-seeded Garfield-Palouse (18-6) battles Mt. Rainier Lutheran (18-10) in a loser-out at Pullman.
No. 2 seed Pomeroy girls (18-5) take on Almira/Coulee-Hartline (22-2), the seventh seed, at Pullman on Saturday, while sixth-seeded Selkirk (21-4) – which finished second in the district tournament – goes to Puyallup to face third-seeded Neah Bay (21-2).
Local journalism is essential.
Give directly to The Spokesman-Review's Northwest Passages community forums series -- which helps to offset the costs of several reporter and editor positions at the newspaper -- by using the easy options below. Gifts processed in this system are not tax deductible, but are predominately used to help meet the local financial requirements needed to receive national matching-grant funds.
Subscribe to the sports newsletter
Get the day's top sports headlines and breaking news delivered to your inbox by subscribing here.
---