News > Spokane
Amazon roll-out in Spokane follows growth in Prime subscriptions; among 7 fulfillment centers announced this year
Sun., July 29, 2018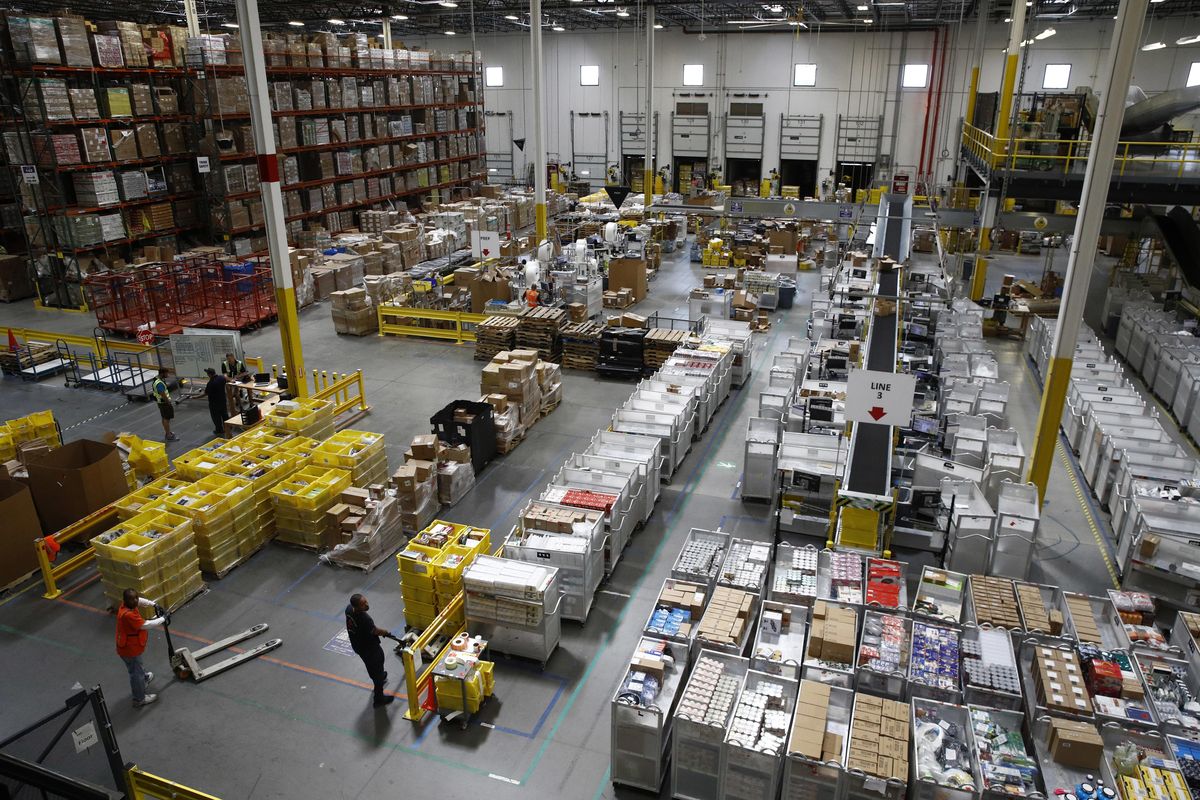 Workers prepare to move products at an Amazon fulfillment center in Baltimore. (Patrick Semansky / AP)
Amazon's desire to be closer to your doorstep is behind the company's plans for a massive distribution center near the Spokane International Airport.
Since the beginning of the year, Amazon Inc. has announced new fulfillment center projects in seven U.S. cities. The rapid rollout is designed to help the e-commerce giant deliver on its promise of "fast, free shipping" to more than 100 million Amazon Prime customers, who pay a $119 annual subscription for two-day delivery service.
Besides Spokane, new fulfillment centers will be built in Tucson, Arizona; North Las Vegas; Tulsa, Oklahoma; Bessemer, Alabama; and Gaines Township, Michigan.
In Ohio, where Amazon unveiled plans in May for a new center in West Jefferson, three other fulfillment centers are already in the works in the state – two with opening dates scheduled for later this year, and another slated for 2019.
The Spokane fulfillment center is scheduled to open in the fall of 2019. With initial employment of more than 1,500 workers, the center will be among Spokane County's largest private employers. But that doesn't count the fleet of squatty orange robots that will glide around the warehouse, locating products and hauling them to employees.
Amazon keeps refining its warehouse designs, and the Spokane facility will include the latest in automation, said Lauren Lynch, an Amazon spokeswoman.
Seattle-based Amazon reported a 31 percent increase in sales last year. Company officials credited part of the growth to Prime customers, who bought more than 5 billion items last year.
"We keep making Prime faster," Amazon boasted in its annual report.
Besides two-day shipping on millions of items from Amazon Prime, the company offers "free same-day" and "free one-day" delivery in more than 8,000 cities.
Amazon has more than 100 fulfillment centers in the U.S., including three in the Puget Sound area. The Spokane facility is Amazon's first in Eastern Washington.
The Spokane warehouse will operate around the clock, with day and night shifts. During the peak holiday retail season, employment at the center could swell to nearly 3,000. Hiring will begin next year.
The $181 million warehouse will ship smaller items that can fit into 18-inch bins, such as games, housewares and school supplies.
The robots bring pods of the yellow bins to workers, who will select the items in customers' orders and package them for delivery. As part of the focus on speed, inventories of products are scattered throughout the warehouse, instead of being centralized in one location. The robots locate the product closest to each worker.
The cavernous warehouse will have a footprint of 699,959 square feet. Mezzanine levels in the four-story structure will push the total size past 2.6 million square feet, according to plans on file with Spokane County.
Amazon customers often wonder if a fulfillment center in their city will lead to same-day delivery for purchases, Lynch said.
"Yes, it will help Spokane customers" with delivery times, she said last week. But in terms of same-day delivery, "I can't say."
Local journalism is essential.
Give directly to The Spokesman-Review's Northwest Passages community forums series -- which helps to offset the costs of several reporter and editor positions at the newspaper -- by using the easy options below. Gifts processed in this system are not tax deductible, but are predominately used to help meet the local financial requirements needed to receive national matching-grant funds.
Subscribe now to get breaking news alerts in your email inbox
Get breaking news delivered to your inbox as it happens.
---