Alek Jacob, Gunnar Schubert help Gonzaga avoid elimination in NCAA Baseball Tournament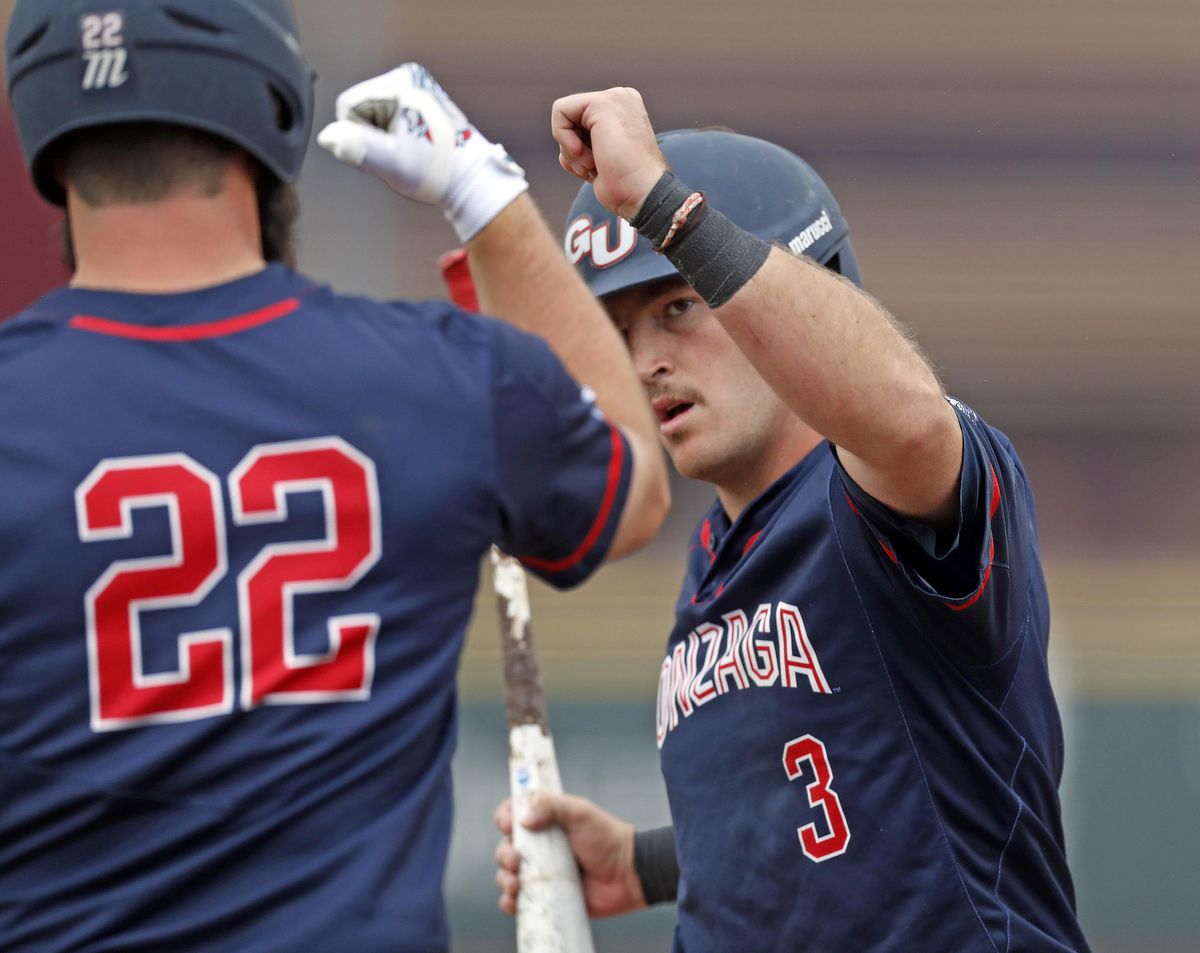 MINNEAPOLIS – Railroad tracks run alongside Siebert Field on the Minnesota campus, site of the NCAA Tournament's Minneapolis Regional.
Three pitches into Gonzaga's 8-2 victory over Canisius in an elimination game Saturday afternoon, a freight train rumbling by gave two long blasts on its horn, jolting some of the Bulldogs in the dugout.
"It was weird," said shortstop Gunnar Schubert. "The whole dugout was like, what? It was right in the middle of the action, and we thought the (engineer) was doing it on purpose. I thought it might have affected me, but that kid at the plate (Isaac Barrera), he battles his tail off every time. It didn't faze him at all."
Barrera drew a full-count walk, as did Ernie Yake behind him, and Austin Pinorini eventually singled in both. That started a productive offensive day for the Bulldogs (33-23), who shook off Friday's walkoff loss to UCLA by pounding 17 hits to back eight effective innings from freshman right-hander Alek Jacob.
Rain delayed the start two hours, forcing Jacob to warm up twice, something he had never done before.
"I'm proud of the way came out and scored two in the first inning after a tough loss," said Gonzaga Coach Mark Machtoff. "I think we gave a good response."
Gonzaga will meet Minnesota or UCLA in the losers bracket final at noon Sunday, with that winner advancing to the championship round Sunday at 4 p.m. The Bulldogs must win twice Sunday to force a deciding game Monday for the regional title and a berth in a super-regional, the last step before the College World Series. Canisius, from Buffalo, New York, finished 35-22.
"(Friday's) game was a heartbreaker, but it was nothing we hadn't been through before," said Schubert, who went 3-for-6 with a homer and two RBI, missing hitting for the cycle by a double. "Coach Mac always preaches it's about being resilient. Stick with each other no matter what happens. Those are your guys and you go through all the way until the end. Nothing changed. We flipped the page and realized we had to get it done."
Every starter hit safely as the Zags knocked out Golden Griffins starter Andrew Sipowicz in the fourth inning. Pinorini went 3-for-4 with three RBI, while Schubert was robbed of the double he needed for the cycle by Mark McKenna's running catch in right-center in the sixth. Four other Zags had two hits. Schubert's homer in the third cleared the left-field wall, and his opposite-field RBI triple off the wall in right-center in the fourth spotted Jacob a 6-2 lead.
Jacob, the lanky sidearmer from North Central, allowed two runs on seven hits while throwing a season high 133 pitches (85 strikes). He mostly worked ahead in the count, throwing 20 first-pitch strikes to 33 batters, and did not allow a run after the third. Jacob's effort and the sizable lead allowed Machtoff to rest closer Casey Legumina, who Friday surrendered four runs in the ninth to take the loss.
"I understood I had to give my team eight innings," said Jacob (7-5). "That was my goal, to give my team eight innings and save the bullpen a little bit. I got a little tired, but I had to battle through that."
In the losers bracket final Machtolf plans to stick with his usual Sunday starter, sophomore left-hander Mac Lardner (7-3, 2.67 ERA), and go from there. "Hopefully he'll have a good outing," he said. "We'll let the game talk to us and see what we have to do to get to that second game."
---