A&E > Music
Spokane Symphony names five finalists to succeed Eckart Preu
Sun., March 4, 2018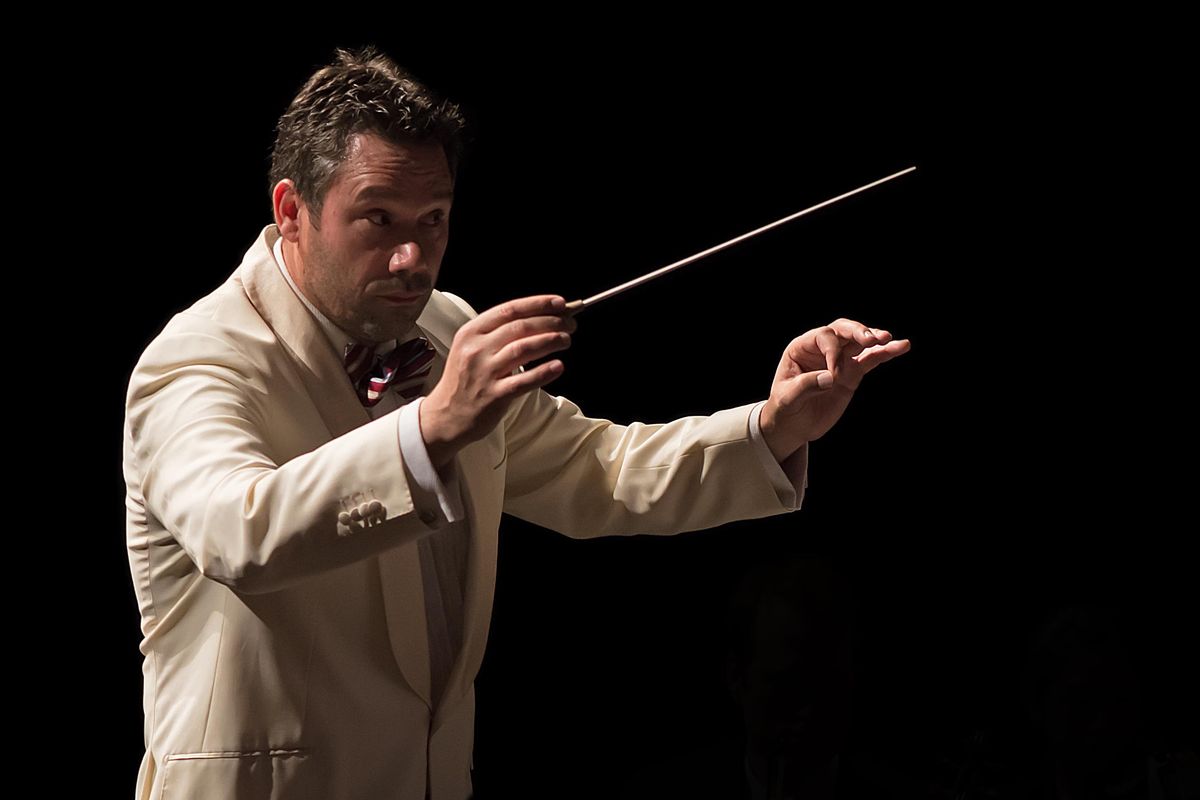 Arthur Arnold will conduct the Spokane Symphony March 23-24, 2019 in his bid to replace Eckart Preu. (Robert Colasanto)
From 188, there are now five.
The Spokane Symphony's search committee last week announced the names of the five finalists to replace Eckart Preu as the symphony's music director in 2019. A four-month search yielded 188 candidates from around the world. The 12-member committee narrowed the field to five.
There are four men and one woman. Two are Europeans, two are Japanese, one is from Western Washington. And one, Morihiko Nakahara, is a familiar face to Spokane audiences.
Each finalist will visit Spokane during the 2018-19 symphony season to conduct a Classics concert. They'll spend a week here, said symphony executive director Jeff vom Saal, meeting with musicians, staff, donors, educators and the public to demonstrate and discuss their artistic qualities and musicianship, administrative and leadership skills, and community engagement.
"It's a massive job. It's a tough job for somebody to do well and not either go gray or lose hair," vom Saal said. "I will say our candidates are something. They are fantastic, and I think we continue to demonstrate that we have a great role that we play in the industry. We have have a great reputation.
"I think we're going to have a very, very exciting year next year, and some tough decisions," he added. "But it will be fun along the way, without question."
Preu, who joined the Spokane Symphony in 2004, announced in September that 2018-19 season would be his last in Spokane. He will conduct five Classics concerts during his final season.
Morihiko Nakahara – Nakahara first joined the Spokane Symphony during the 2003-04 season as associate conductor; and he has served as resident conductor for the past 10 years. The 2017-18 season also marks Nakahara's 10th as music director of the South Carolina Philharmonic, and he serves as director of orchestral studies at UMass Amherst. A native of Kagoshima, Japan, Nakahara holds degrees from Andrews University and the University of Cincinnati-Conservatory of Music. Nakahara will conduct the Spokane Symphony on Oct. 6 and 7.
James Lowe – Lowe serves as chief conductor of the Vaasa City Orchestra in Finland. He was one of five conductors featured in "Conduct! Every Move Counts," a documentary centered around the Sir Georg Solti Conducting Competition, which was shown at the Spokane International Film Festival in 2017. Lowe is also principal conductor of the Edinburgh Contemporary Music Ensemble and has worked with orchestras throughout Europe. Educated at the University of Edinburgh, Lowe continued his development as Benjamin Zander Conducting Fellow with the Boston Philharmonic and with Jorma Panula, Neeme Järvi, Bernard Haitink and Valery Gergiev. Lowe will conduct the symphony on Feb. 16-17, 2019.
Rei Hotoda – Hotoda, who began her tenure as the music director of the Fresno Philharmonic in July, was the former associate conductor for the Utah Symphony, a position she held from 2015-17. From 2009-12 she was the assistant conductor the Dallas Symphony. Hotoda studied conducting with Gustav Meier at the Peabody Institute in Baltimore. She holds a doctorate in piano performance from the University of Southern California, and a bachelor's in piano performance from the Eastman School of Music. Hotoda will conduct the symphony on March 9-10, 2019.
Arthur Arnold – Arnold has served as music director of the Moscow Symphony Orchestra for seven years, conducting the Master Series in the Grand Hall of the Moscow Conservatory. The Dutch-born Arnold is also the music director and conductor of the Pacific Region International Summer Music Academy (PRISMA) Festival on Canada's west coast, co-founding the festival in 2012. He studied at the Accademia Chigiana in Siena, Italy, with Myung-Whun Chung and Gianluigi Gelmetti, and with Jorma Panula and Diego Masson. Arnold will conduct the symphony on March 23-24, 2019.
Jayce Ogren – A native of Hoquiam, in Western Washington, Ogren was named artistic director of Philadelphia's Orchestra 2001 in 2016. Before that, he was the assistant conductor of the Cleveland Orchestra and music director of the Cleveland Youth Orchestra from 2006-09. With Orchestra 2001, he leads staged performances, such as Peter Maxwell Davies' "Eight Songs for a Mad King" at the Philly Fringe Festival. As an opera conductor, Ogren has led Britten's "Turn of the Screw" and Mozart's "The Magic Flute," among others. Ogren's work in contemporary music includes leading with the International Contemporary Ensemble at Lincoln Center, and concerts with the New York Philharmonic's CONTACT! and BIENNIAL series. Ogren received a bachelor's in composition from St. Olaf College, and a master's in conducting from the New England Conservatory. With a Fulbright Grant, he completed a postgraduate diploma in orchestral conducting at the Royal College of Music in Stockholm where he studied with Jorma Panula. Ogren will conduct the symphony on April 13-14, 2019.
Local journalism is essential.
Give directly to The Spokesman-Review's Northwest Passages community forums series -- which helps to offset the costs of several reporter and editor positions at the newspaper -- by using the easy options below. Gifts processed in this system are not tax deductible, but are predominately used to help meet the local financial requirements needed to receive national matching-grant funds.
Subscribe to the Spokane7 email newsletter
Get the day's top entertainment headlines delivered to your inbox every morning.
---