News > Crime/Public Safety
Spokane police searching for suspect in apartment shooting
UPDATED: Fri., May 18, 2018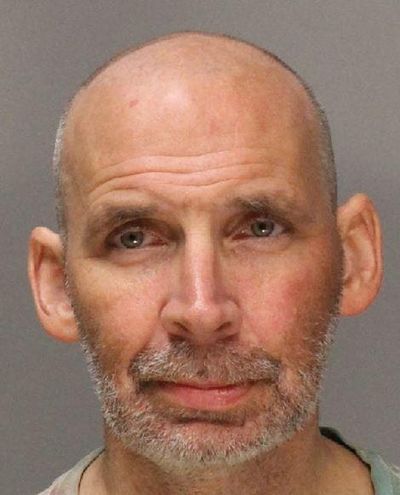 A Thursday night shooting in West Central left one man with a gunshot wound to his foot, and the suspect is still at large, according to Spokane police.
Christopher T. Felch, 47, is suspected of firing multiple shots at two men in an apartment complex, according to a news release.
Officers were called about 11 p.m. to 2018 W. Broadway Ave. One man was hit in the foot, and Felch fled the scene, police said. A SWAT team later searched Felch's residence and found guns.
One of the men allegedly shot at by Felch was Josh Reimers, who said Felch was angry that his ex-girlfriend is dating Reimers.
Reimers said Felch had been driving by the apartment for the past couple of days and harassing his girlfriend.
On Thursday night, Felch walked to the apartment complex's parking lot, Reimers said. He said he and his unnamed friend were on the front deck on the second floor when he and Felch started arguing.
Reimers said when he told Felch to leave, Felch instead opened his coat and took out a 9 mm black Glock handgun and fired nine rounds from the parking lot at him and his friend, who lives in the same complex. Reimer's friend was shot in the foot, he said, and was taken to the hospital, but he will be OK.
Reimers said it took "seconds" for police to arrive after he and his girlfriend, who asked not to be named, called the police.
Friday is Reimers' birthday, and he said he's getting kicked out of his apartment complex because of the incident, he said.
"All I'm thinking is, 'Where am I going to live now?' This guy just caused me to lose my apartment."
Felch has an extensive felony record, including leading police on a car chase in 2004. Police at the time said he pointed a gun at officers, who then shot Felch multiple times. Felch did not fire his weapon.
Last year, Felch pleaded guilty to strangulation, a first-degree assault, in August. He also pleaded guilty to a riot charge in 2010.
Police are asking anyone who sees Felch to immediately call 911. Anyone who has information about the incident is asked to call Crime Check at (509) 456-2233.
Local journalism is essential.
Give directly to The Spokesman-Review's Northwest Passages community forums series -- which helps to offset the costs of several reporter and editor positions at the newspaper -- by using the easy options below. Gifts processed in this system are not tax deductible, but are predominately used to help meet the local financial requirements needed to receive national matching-grant funds.
Subscribe to the Coronavirus newsletter
Get the day's latest Coronavirus news delivered to your inbox by subscribing to our newsletter.
---