Sports > High school sports
State 1A, 2B, 1B girls track and field: Ashley Sande of St. George's finishes stellar career with four titles
Sat., May 26, 2018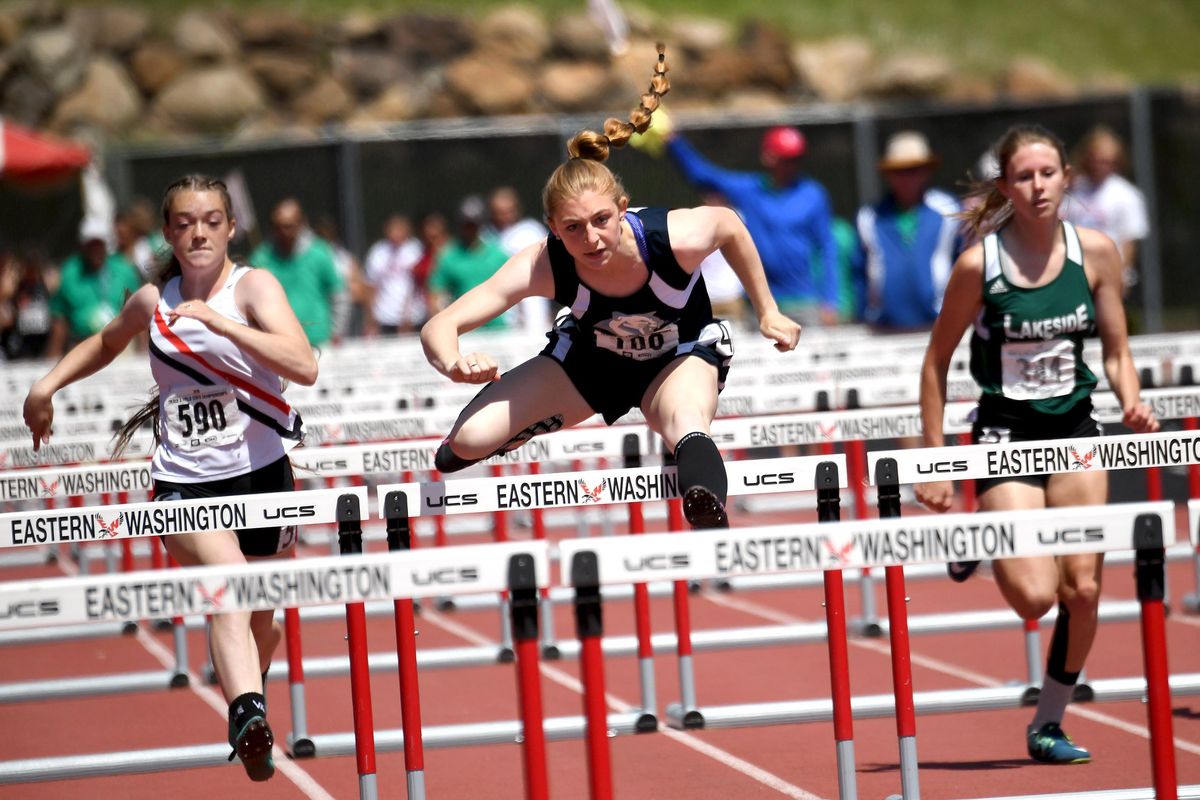 Chewelah's Lillian Kirry, center, clears a hurdle before winning the State 1A 100-meter hurdles at Eastern Washington University in Cheney on Saturday. (Kathy Plonka / The Spokesman-Review)Buy a print of this photo
Ashley Sande put a fitting bow on the end of a stellar sprint career.
Everything the St. George's senior touched Saturday turned to gold as the State 1A/2B/1B championships concluded at Eastern Washington University's Roos Field.
Sande captured State 2B titles in the 100- (12.92 seconds), 200- (26.27) and 400-meter runs (57.67) and anchored the 1,600 relay (4:06.10), which won for a fourth straight year.
She led the Dragons to a third runner-up finish. As a sophomore, she led St. George's to a state title.
The Dragons finished with 64 points, six behind champion Northwest Christian (Lacey).
Sande started things off in the 100, going against a strong headwind.
"That was a little rough," Sande said. "It was the one I was most nervous for because anything can go wrong when it's that short of a race."
Sande got redemption in the 400. A year ago, she false started at the state-qualifying regional meet.
"I'm happy. I've been waiting for that one a long time," she said.
In her final open event, the 200, Sande didn't waste any time building a lead.
She finished with a spectacular finishing leg in the 1,600 relay. She teamed with Reagan Ivey, Grace Harrill and Cambrie Rickard.
St. George's became the first 2B team to capture four straight wins in the 1,600 relay and the second team overall in state history.
Alyssa Oates of Wilbur-Creston defended her title in the high jump (5 feet, 2 inches); and freshman Darby Soliday continued a tradition by her dad (Monte) and two uncles (Lance and Lonnie) by winning the 300 hurdles (45.69).
1A
Lakeside repeated as state champs.
It started with a freshman, Hana Hill, winning the pole vault on Thursday.
On Saturday, junior Faith Kennedy added a title in the 400 (57.81). She was third in the race last year.
"It was adrenaline-rushing," Kennedy said. "It was fun competing against the girls I competed against last year."
Lakeside finished with 68 points and runner-up Seattle Academy had 46.
Other area state champs were: Lillian Kirry of Chewelah in the 100 hurdles (15.38) and Becky George of Deer Park in the 3,200 (11:01.86).
1B
Anne Hockett of Oakesdale defended state titles in the 100 and 300 hurdles.
Hockett won in the 100 hurdles in a time of 16.85 and posted 46.34 in the 300.
The stiff headwind bounced Hockett around in the shorter hurdles.
"I couldn't three-step the whole race," Hockett said. "A couple of the hurdles I had to four-step."
About 35 minutes after the 300, Hockett did the 200. She took fourth.
Hockett had a good reason for doing a sprint so soon after the longer hurdles.
"Basically, for the team, to get team points," Hockett said. "It's not fun, but the pain is worth it for the team."
The foursome of Emma Perry, Amber Jones, Logan Reed and Elizabeth Perry led Oakesdale to a title in the 1,600 relay (4:20.30).
That helped Oakesdale take second with 93 points, three behind Trout Lake.
Jadyn Corder of St. John-Endicott/Lacrosse became a three-time state champ in the discus (118-5) after she captured a title in the shot put on Friday.
Local journalism is essential.
Give directly to The Spokesman-Review's Northwest Passages community forums series -- which helps to offset the costs of several reporter and editor positions at the newspaper -- by using the easy options below. Gifts processed in this system are not tax deductible, but are predominately used to help meet the local financial requirements needed to receive national matching-grant funds.
Subscribe to the sports newsletter
Get the day's top sports headlines and breaking news delivered to your inbox by subscribing here.
---