A&E > Food
Trailer-made: The Compass Breakfast Wagon rolls out some of the best biscuits around town
UPDATED: Tue., May 29, 2018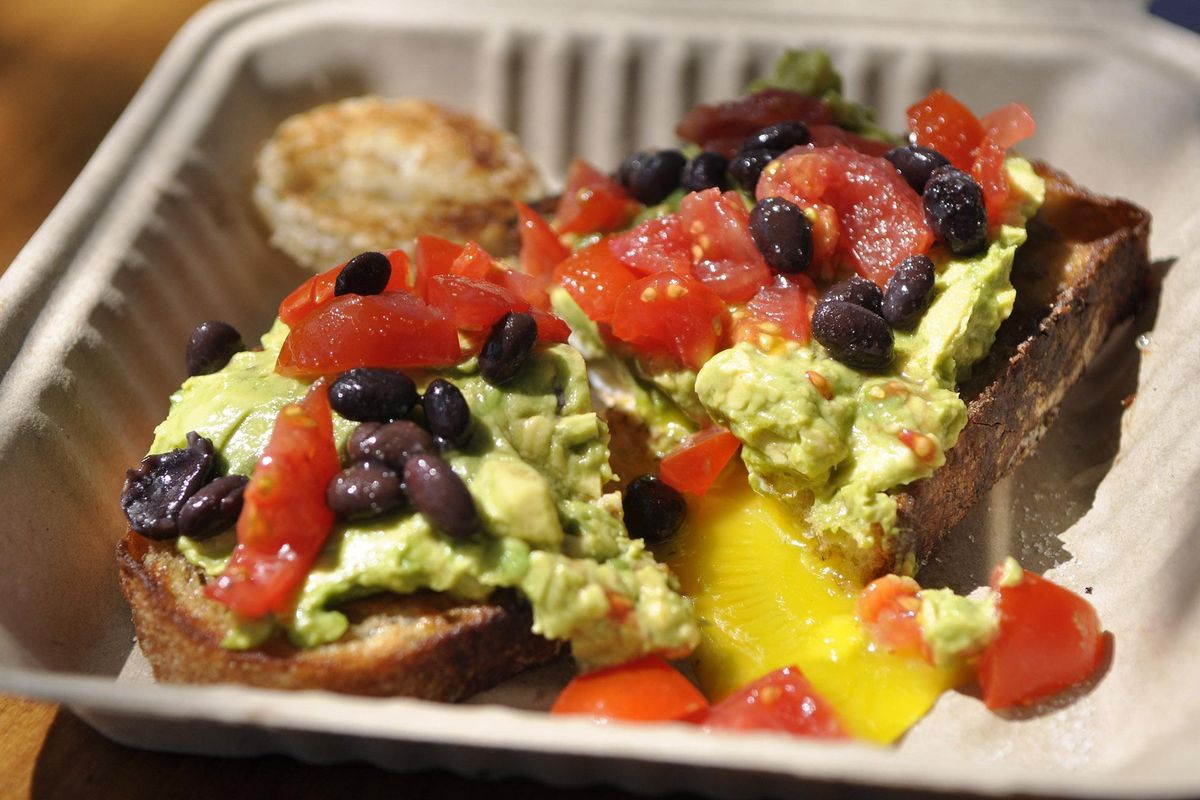 At $6.50, the avocado toast is the most expensive menu item at the Compass Breakfast Wagon, which normally can be found at Tenth Avenue and Maple Street on Spokane's Lower South Hill. (Adriana Janovich / The Spokesman-Review)
Biscuits are best right out of the oven.
Ross Carper knows this. So, when he was converting his 1972 camping trailer into a food truck, he made sure to include a convection oven.
The biscuits at his Compass Breakfast Wagon are trailer-made, baked fresh inside the vintage trailer that he parks at Tenth Avenue and Maple Street on Spokane's Lower South Hill. Launched late last September, the breakfast trailer is in the middle of its first complete season, serving breakfast three days a week from spring through fall.
Biscuits are the star of the streamlined menu.
"People really love the biscuits," Carper said.
They're a top-seller. But there are other specialties, too.
The One-Eyed Jack (or Toad-in-the-Hole or Birdie-in-the-Hole) is made with bread from Common Crumb Artisan Bakery, cheese and an egg or two, depending on how hungry you are.
"It's a fun, sentimental family thing to make," said Carper, who spent a year transforming his trailer into a food truck, working on it here and there, "slowly tinkering with it and getting it up to code."
It's outfitted with a 6-foot hood and fan, 3-foot flat-top griddle, two-burner gas range and a commercial-grade potato shredder for hash browns.
When it comes to ingredients, "I try to be as local as I can," Carper said.
Eggs, meat and produce are sourced through LINC Foods, a cooperative that sells foods grown and raised in the Spokane area. The coffee – cold brew and Chemex – comes from local roasters Indaba in Spokane or Doma in Post Falls. The biscuits are made with flour from Shepherd's Grain.
And the trailer, "It's pretty self-contained," Carper said.
Prep is done at the commercial kitchen at his church, First Presbyterian, in downtown Spokane. Carper works there part-time, too, as the director of service engagement. He stops at the church kitchen in the morning to make the gravy and dough for the biscuits as well as "chop stuff."
The days he works at the food truck, he said, "I get up pretty early," typically around 4 a.m.
Carper didn't go to culinary school, but – before opening for business – he spent about a year researching recipes and best practices and getting tips and ideas from local chef friends.
He's no stranger to research. He's a contributing writer and editor for Field and Compass, a boutique media company – "kind of like a marketing co-op," he said – from which the Compass Breakfast Wagon takes its name. "It's kind of a cousin brand."
Field and Compass produces a free quarterly magazine and promotes "local, uncommonly good things," said Carper, who has a Master of Fine Arts in fiction writing from Eastern Washington University and lives on the lower South Hill near the spot he parks his food truck.
He loves his neighborhood, which isn't far from First Pres.
"I wanted to create a little, fun, walkable food option where I live and work," he said. "I love local food. I love local farms. And I love cooking. I've always enjoyed cooking, especially breakfast. I love how food brings people together."
And that's what Carper aims to do – not only through his food truck but his work at his church and Field and Compass. His interests – his faith and family, neighborhood and storytelling – overlap in ways that make sense to him and connect to his common goal.
"I love writing. I love local things. I love serving. And I don't think action can be divorced from your faith – whether it's marketing or service or food in my neighborhood," Carper said. "I love Spokane, and I'm doing what I can to make it a special place, to make it a better place. That can be very simple, as simple as making a breakfast sandwich that puts a smile on someone's face."
His prices might also make people smile. He keeps menu items approachable. They land in the $4 to $6.50 range. Most are $5. The most expensive item is the avocado toast with avocado-black bean mash, tomatoes, lime, sea salt and an egg.
One might opt for a Green Goddess Smoothie with mango, peach, spinach, orange juice, coconut and Greek yogurt or the B-Fast Burrito with hash browns, pepper jack cheese, egg and sauteed peppers wrapped in a flour tortilla. Add bacon for a dollar. Or, "sauce it" with Sriracha aioli and salsa verde from De Leon Foods.
The Fire-in-the-Hole is a One-Eyed Jack with hot pepper sauce, Sriracha aioli and pepper jack cheese.
And then, of course, there are the biscuits – crumbly, creamy, flakey but not dry. Buy one by itself and top it with honey or syrup or jam and butter or cinnamon and sugar. Order a biscuit with sausage gravy. Or get a biscuit breakfast sandwich. It comes with a fried egg and cheese. Add meat for $1.50.
A portion of the proceeds go to neighborhood or food-related causes such as Friends of the Bluff, Friends of Polly Judd Park and Roosevelt Elementary School.
Carper also offers specials. There's a new item, too: Mama's Fried Egg Sandwich, which features bacon and eggs and veggies – like the ones Mom told you to eat. It might be the truck's largest offering.
But portions at the Compass Breakfast Wagon "aren't insanely huge," said Carper, who graduated from Mead High School in 2000, then earned a bachelor's degree in philosophy from Western Washington University in 2004 and his MFA in 2009.
He and his wife, Autumn, a math teacher at Shadle Park High School, have three daughters: Caroline, 7; Iris, 3; and Mira, 4 months. They're regular visitors at the food truck on the weekend.
"The spot is really close to my house," Carper said.
Another reason he likes it: "It's really visible."
With its charcoal exterior and wood accents, the Compass Breakfast Wagon – with its clean lines and minimalist look – is difficult to miss.
That's by design. Carper's mission, like the mission of Field and Compass, is "to serve as a compass to help people find other cool stuff in the community," Carper said.
He likes to point people in the direction of his other favorite neighborhood spots and events, and even carries maps produced by Field and Compass to give to customers.
The food truck's motto: "Find your way. Fuel your day."
Local journalism is essential.
Give directly to The Spokesman-Review's Northwest Passages community forums series -- which helps to offset the costs of several reporter and editor positions at the newspaper -- by using the easy options below. Gifts processed in this system are not tax deductible, but are predominately used to help meet the local financial requirements needed to receive national matching-grant funds.
Subscribe to the Spokane7 email newsletter
Get the day's top entertainment headlines delivered to your inbox every morning.
---