Going inside the disappearance and murder of a Nampa Police drug informant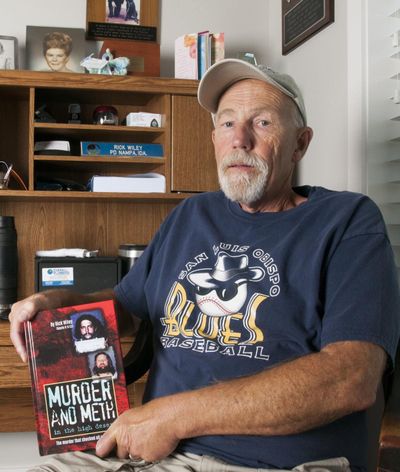 NAMPA — Thirty-one years after a Nampa Police drug informant was kidnapped and murdered, Rick Wiley, an investigator on the case, says he finally has some closure.
Beginning in January 2017, Wiley spent about a year writing a book about a murder investigation that would be etched into his mind for years to come.
"Murder and Meth in the High Desert" is Wiley's recount of the murder of Denise Williams, then a 27-year-old drug informant, along with his investigation with lead detective Alan Creech.
Wiley, who spent 33 years working at the Nampa Police Department, said he thought about writing the story for many years, but it was only recently published in April.
"It's a story that you think about every night before you go to sleep," Wiley said.
The incident
Williams signed on to be an informant through Creech. She helped police catch Richard Holmes for a drug bust in September 1987, an act that did not go unpunished because eight days later she disappeared.
Williams' boyfriend at the time, Sam Longstreet, and another friend of his knowingly dropped her off at a location where Williams was kidnapped. Holmes arranged for two men, Max Hoffman and Ron Wages, to take her to the Owyhee desert and kill her.
Wiley said he and Creech suspected Holmes was to blame for the disappearance of Williams. But, as Wiley explained, until her body was found, prosecutors didn't have enough evidence to press murder charges.
Police did not find Williams' body until nearly a year later, when Holmes revealed to police the location of her body hidden near a cave in the Owyhee County desert. She was slashed, stabbed and buried by rocks.
Tipping off police cost Holmes' his life. Imprisoned on a separate kidnapping charge, Holmes was murdered during a riot for releasing details of where Williams' body was, Wiley said. He was killed before he was charged for her death.
Wages, also involved in Williams' murder, pleaded guilty to first-degree murder and was sentenced to life in prison when he was 36. Now 66, he still is in the Idaho State Correctional Institute in Boise.
Hoffman, 32 at the time, was found guilty of first-degree murder and sentenced to death. Following many appeals, Hoffman's sentence was commuted to life in prison in 2004. He died in September 2014 of natural causes while in prison.
Longstreet, Williams' former boyfriend, and his friend were both charged with second-degree kidnapping, but because they testified against Holmes, they served little time in prison, Wiley said. They too have since died.
The book details events leading up to and following Williams' death and includes testimony from the court trials and hearings of the men convicted.
"There (are) so many twists and turns," he said. "How can things this crazy happen in Nampa, Idaho, or Owyhee County?"
Legacy of a local murder
The investigation consumed Wiley and Creech for nearly two years.
The theft of evidence at the beginning of the case and the attempted murder of a police service dog are just some of the additional incidents Wiley and other investigators experienced.
Wiley dedicated the book to Creech, who acted as the lead investigator for the two years the case was being investigated. Creech eventually became chief of the department in 2000 and was killed in an airplane crash in 2002.
Creech's son, Payette County Sheriff's Lt. Andy Creech, was only 11 years old when Williams was murdered. Reading Wiley's book, Creech said, has given him more details about what happened and what his father went through.
"It was something that really impacted our family," Creech said.
His father, who signed Williams on to be an informant, felt responsible for her. When she disappeared, Creech said his family did not see much of him while he worked the case. His dad and the family even received threats.
It was quite the switch to go from feeling safe with a father in law enforcement to actually worrying about safety, Creech said.
Creech thinks Wiley's book will be an especially interesting read for those who were around when the murder happened.
The 339-page book reads much like a police report, said Wiley, who wrote police reports for 46 years.
"Something like this was a monstrous undertaking," he said. "To not only write it up and put facts down, but also to make it interesting where people will enjoy it."
Wiley left the NPD in 2006 and worked for the Owyhee County's Sheriff's Office until his retirement in January 2017.
"I feel a whole lot better about the whole thing now that I wrote this all down," Wiley said.
---