Republican Brad Little wins Idaho governor's race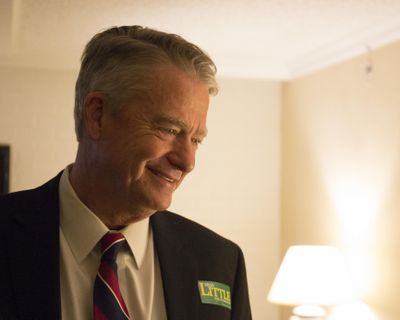 BOISE – Longtime Republican lawmaker Brad Little defeated Democratic challenger Paulette Jordan on Tuesday to become Idaho's next governor, immediately saying he'd assert Idaho's independence from federal authority.
"I look forward to working with President Trump to continue to allow Idahoans to be the masters of their own destiny," he said in a victory speech. "Idaho has been fairly successful but we have more to do in taking back the authority that the federal government over the years has taken, whether it's in the area of education, transportation, health care, public lands management and all the areas of regulation."
Little's win came as no surprise in the deeply conservative state, despite significant national media attention given to his opponent.
Little has been lieutenant governor since 2009 and has vowed to continue retiring Gov. Butch Otter's legacy of leading the state's recent explosive growth.
"That's my ultimate goal: To enhance that prosperity going forward," Little said. "We still have work to do."
One of Little's first challenges could be to deal with a voter initiative involving Medicaid expansion.
"I want to come up with an Idaho solution if Medicaid passes," he said earlier in the evening, noting that could be easier with Democrats getting a majority in the U.S. House. "I think, actually, the fact that the Affordable Care Act isn't going to change dramatically maybe gives us leeway to do some better things."
Opponent Paulette Jordan, a former state lawmaker and member of the Coeur d'Alene Tribe, was the first woman to earn her party's nomination in Idaho. She didn't immediately concede, but said her candidacy created a movement.
"They said it wasn't our time," she told a cheering crowd before Little had been declared the winner. "They said it wasn't your turn. What did we say? What did we say? No, this is our time."
Little was raised in Emmett, part of a longtime sheep ranching family with a massive livestock operation. He has served 16 years in state government and was appointed to lieutenant governor in 2009 to replace U.S. Sen. Jim Risch, who was headed to Congress.
Little has a pro-business reputation and has been criticized – and lauded – as a political carbon copy of Otter.
Little will head a state experiencing a bit of a boom, with a rapidly growing population, low unemployment rates and housing costs that are skyrocketing in some areas. The growth will likely make some pressing issues even more urgent, including widespread deferred maintenance on roads and other infrastructure and a shortage of qualified tech workers.
On education, Little would like to see school districts consolidate resources to reduce overhead costs, putting any savings into education programs. He would take the same approach for city and county highway districts. He's also a proponent of more career technical education programs and letting colleges and universities keep the sales tax generated on their campuses with the money going toward lowering tuition costs.
Jordan, a member of the Coeur d'Alene Tribe, grew up in a ranching and farming family in northern Idaho. She was elected to the Coeur d'Alene Tribal Council – the governing body that leads the sovereign nation – and was elected to the Idaho House of Representatives in 2014, where she served on the business, energy and state affairs committees. She resigned from the statehouse earlier this year to focus on her gubernatorial run.
Jordan during her campaign noted that Idaho continually hovers near the bottom when it comes to national rankings of education spending. She wanted to see an opt-in universal preschool program for kids, improved pay and incentive programs for teachers and increased opportunities for high school students to earn college credit.
Jordan said the funding for those programs can come from savings elsewhere – including some criminal justice savings from decriminalizing marijuana, and some savings from expanding Medicaid.
Jordan represented some big "firsts" in the heavily conservative state of Idaho. She was the first woman to win her party's nomination for governor (though Idaho hasn't elected a Democrat to the top seat since Cecil Andrus almost 30 years ago). If she had won, she would have been the first Native American governor of a U.S. state.
Those details helped boost her name recognition at home and nationally, garnering her a celebrity endorsement from Cher and earning her profiles in The Atlantic, CNN and other major news outlets.
---