Sports > WSU football
Recap and highlights: Gardner Minshew breaks school record, Washington State reaches 10 wins in rout of Arizona
Nov. 17, 2018 Updated Sun., Nov. 18, 2018 at 12:37 a.m.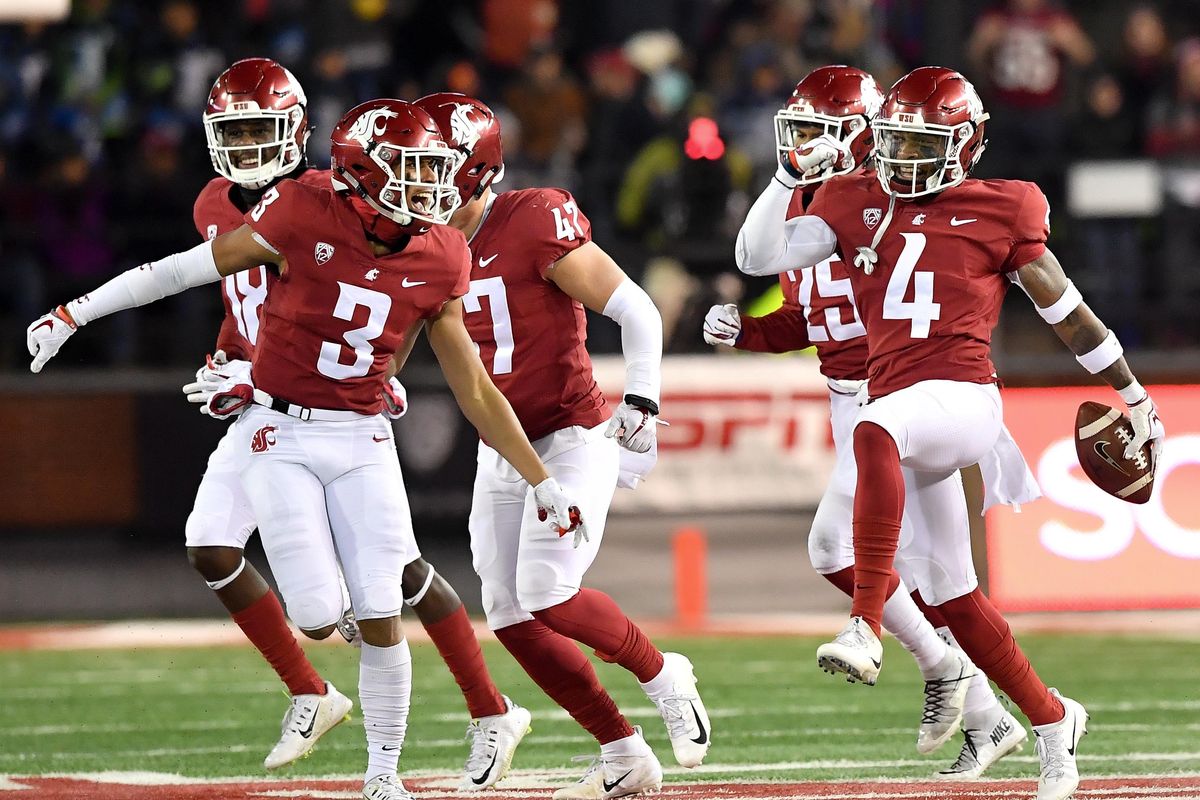 Washington State Cougars cornerback Marcus Strong (4) celebrates after he intercepted a pass against Arizona during the first half of a college football game on Saturday, November 17, 2018, at Martin Stadium in Pullman, Wash. (Tyler Tjomsland / The Spokesman-Review)
PULLMAN – It's been a season of milestones for Washington State in 2018, and the Cougars were eyeballing another one Saturday evening, trying to become sixth team in program history to nail down 10 wins in a single season and the first one to do it since 2003.
The visiting Arizona Wildcats were never going to interfere with school history on a frosty night in Pullman, and in many cases actually helped No. 8 WSU reach the 10-win plateau at Martin Stadium. In a 69-28 blowout, the Cougars got that record and also broached a number of others they probably didn't count on.
Had it not been for a fumbled snap on a PAT in the second quarter, WSU would've matched the most points scored in a single half in program history. Instead, the Cougars settled for a 55-14 halftime lead – one point shy of the 56 they scored in 1997 against Southwestern Louisiana.
But that's all right. The Cougars still pushed their overall record to 10-1 and improved their Pac-12 mark to 7-1 by dominating an Arizona team that beat them by three touchdowns a year ago.
Quarterback Gardner Minshew continued to polish his Heisman Trophy resume, completing 43-of-55 passes for 473 yards and a school-record seven touchdowns. Junior college transfer Calvin Jackson Jr. caught his first and second touchdown passes in a WSU uniform and Tay Martin led the receivers with seven catches for 124 yards and one touchdown.
The Cougars' multi-purpose running backs also had a hand in making this the highest-scoring game of the Mike Leach era. James Williams had one touchdown rushing and another receiving to bring his season total to 14, while Max Borghi rushed for 50 yards, caught for 65 more and rushed for a touchdown in the first quarter.
The Cougars didn't need a ton of help on a night in which their offense generated 605 yards. The offensive line bought Minshew eons of time in the pocket and opened up running lanes for the tailbacks, who finished with 111 yards and 5.8 yards per carry.
But the Wildcats (5-6, 4-4 Pac-12) constantly stubbed their toe, too, committing six first-half penalties for 72 yards. They also gave up four turnovers.
Rather than stage a major upset of the country's eighth-ranked football team, Arizona, whose chances of a Pac-12 South title were dashed earlier in the afternoon when Utah beat Colorado, often looked like a team more interested in returning to the sunny Tucson desert as fast as humanly possible.
The Cougars were already leading comfortably, 14-0, when the Wildcats finally got first-down yardage on their third offensive possession. Williams had scored WSU's first touchdown on a 1-yard run and the Cougars got the ball back in quick succession when cornerback Marcus Strong made an impressive play while backpedaling to intercept Arizona quarterback Khalil Tate.
WSU also scored two touchdowns in a span of four seconds in the second quarter. After Minshew fired to Jackson Jr. to make it 41-14, the Cougars recovered Jack Crane's ensuing kickoff, which rolled into the end zone after two players attempted to corral it.
Kainoa Wilson eventually pounced on the ball for the special teams TD to make it 41-14. – Theo Lawson
SWX
First quarter
10:44 – WSU 7, Arizona 0: James Williams powers in from 1-yard out to get the Cougars out to an early lead.
Washington State took just nine plays and 4:16 to go 75 yards and score the on the game's opening drive.
Quarterback Gardner Minshew went 5-for-5 passing on the drive. He completed a clutch 9-yard pass to Tay Martin on 3rd-and-8 from the Arizona 18.
Minshew is at 55 yards passing. Williams has 20 total yards (15 receiving, 5 rushing).
9:26 – WSU 7, Arizona 0: The Cougars defense quickly ends Arizona's first drive as Marcus Strong makes a stellar interception of Khalil Tate's 3rd-down pass at the WSU 47.
7:38 – WSU 14, Arizona 0: Washington State makes Arizona pay for the interception with Maz Borghi plunging his way in for a 1-yard rushing touchdown.
Borghi got the call to start the drive, hauling in a swing pass on the first play before rushing the ball on the second. Both plays ended in facemasks on Arizona to put WSU at the UA 11.
The touchdown was Borghi's 11th this season, pulling him within one of the WSU freshman record held by Deon Burnett.
3:19 – WSU 14, Arizona 7: The Wildcats get on the board with Khalil Tate hitting Shawn Poindexter in the back of the end zone for 24-yard touchdown pass.
Arizona went 70 plays in under two minutes to get back in the game. Once inside WSU territory, the Wildcats concentrated their passing attack towards Cougars cornerback Darrien Molten. Molten was called for pass interference on the final two plays of the drive.
0:19 – WSU 21, Arizona 7: The Cougs respond to Arizona's touchdown with one of their own.
Gardner Minshew, with time in the pocket, found a a wide-open Calvin Jackson Jr. on a deep-crossing route for a 27-yard touchdown pass.
The TD was Jackson's first of his career.
The Cougars started the drive from the Arizona 49 after Travell Harris zoomed 34 yards on the kick return and 15 more yards were tacked on after a horse collar tackle on the Wildcats during the return.
Second quarter
12:03 – WSU 28, Arizona 7: The Cougars extend the lead on Gardner Minshew's second touchdown pass of the night. This one an 11-yard connection to Dezmon Patmon after play action.
A 43-yard run by James Williams put the Cougars deep in Arizona territory. Williams made a couple defenders miss and followed his blockers, including wide receiver Tay Martin, for the big gain.
Minshew is now 16-for-20 passing for 134 yards.
10:43 – WSU 28, Arizona 14: Arizona finds the end zone behind two big plays from quarterback Khalil Tate.
Tate took off and ran for 33 yards on 3rd-and-7 at the Arizona 30. A play later, he floated a 37-yard touchdown pass to Tony Ellison.
Tate is 3-for-6 passing for 73 yards with two TDs and one interception.
7:08 – WSU 34, Arizona 14: Gardner Minshew fires his third touchdown of the half as the Cougars stay hot on offense.
Minshew found Calvin Jackson Jr. underneath the coverage for a 6-yard touchdown pass.
Minshew completed all seven of his pass attempts on the 75-yard drive and is now up to 209 yards. The Cougars have scored touchdowns on five of their six possessions.
7:04 – WSU 41, Arizona 14: Madness in Pullman as Arizona fails to field a kickoff and the Cougars recover the loose ball for a touchdown.
Jack Crane's kickoff for WSU eluded Arizona's Cedric Peterson and bounded into the end zone where Cougars special teamer Kainoa Wilson fell on it.
3:22 – WSU 48, Arizona 14: Gardner Minshew tosses another touchdown pass and the Cougars extend the lead.
Minshew found James Williams all alone out of the backfield for a 9-yard TD connection. The Cougars signal caller is now up to 230 yards in the game and has four touchdown passes.
Williams has 72 total yards.
0:40 – WSU 48, Arizona 14: Heartbreak for the Wildcats as running back Gary Brightwell fumbles at the 1-inch line and the Cougars recover in their own end zone.
Brightwell was battling to cross the goal line as Jahad Woods had him wrapped up. Woods reached in and pried the ball from Brightwell just before he broke the plane.
WSU defensive back Marcus Strong fell on the ball.
0:10 – WSU 55, Arizona 14: Washington State breaks the 50-point mark in the first half after going 80 yards in two plays, capped by Tay Martin's 50-yard touchdown pass from Gardner Minshew.
Max Borghi took a pass from Minshew 30 yards on the first play of the possession.
Minshew is up to 311 yards passing and has five touchdowns.
Halftime
Third quarter
12:18 – WSU 55, Arizona 21: Khalil Tate marches the Wildcats down the field on the opening possession of the second half for a touchdown.
Tate found Shun Brown open in the end zone for the a 2-yard TD pass.
1:02 – WSU 55, Arizona 28: Arizona scores its second touchdown of the quarter as Khalil Tate hits Shawn Poindexter with a 14-yard scoring pass.
Arizona drove 80 yards on 11 plays after WSU kicker Blake Mazza pushed a 27-yard field goal wide right.
Fourth quarter
14:43 – WSU 55, Arizona 28: Washington State picks up its fourth takeaway of the game as the Cougars fall on Shun Brown's fumble during a punt return.
12:37 – WSU 55, Arizona 28: Cougars quarterback Gardner Minshew fires his sixth touchdown of the evening with a 2-yard dart to Jamire Calvin near the sideline.
The six TDs for Minshew ties a school record. He is up to 403 yards passing.
7:39 – WSU 69, Arizona 28: Gardner Minshew has set the Washington State record for single-game touchdown passes with his seventh of the night.
The Washington State QB hit Easop Winston Jr. for a 9-yard touchdown pass. Minshew is up to 473 yards on 43-for-55 passing.
Pregame
Minshew Mania taking over in Washington State
Via espn.com: Gardner Minshew shares his unconventional journey to Washington State and how his mustache is symbolic of the Cougars squad.
WSU uniforms
The Cougars will be decked out in crimson and white when the face the Wildcats. Washington State is going with crimson helmets and tops with white pants and accents.
Arizona uniforms
The Wildcats will break out the road whites for this game. White tops and white pants will be capped with navy blue helmets.
Local journalism is essential.
Give directly to The Spokesman-Review's Northwest Passages community forums series -- which helps to offset the costs of several reporter and editor positions at the newspaper -- by using the easy options below. Gifts processed in this system are not tax deductible, but are predominately used to help meet the local financial requirements needed to receive national matching-grant funds.
Subscribe to the Cougs newsletter
Get the latest Cougs headlines delivered to your inbox as they happen.
---