Sports > WSU football
TV Take: Washington State makes thumping of Arizona look like a walk in the park… or through Pullman
Nov. 17, 2018 Updated Sun., Nov. 18, 2018 at 12:09 a.m.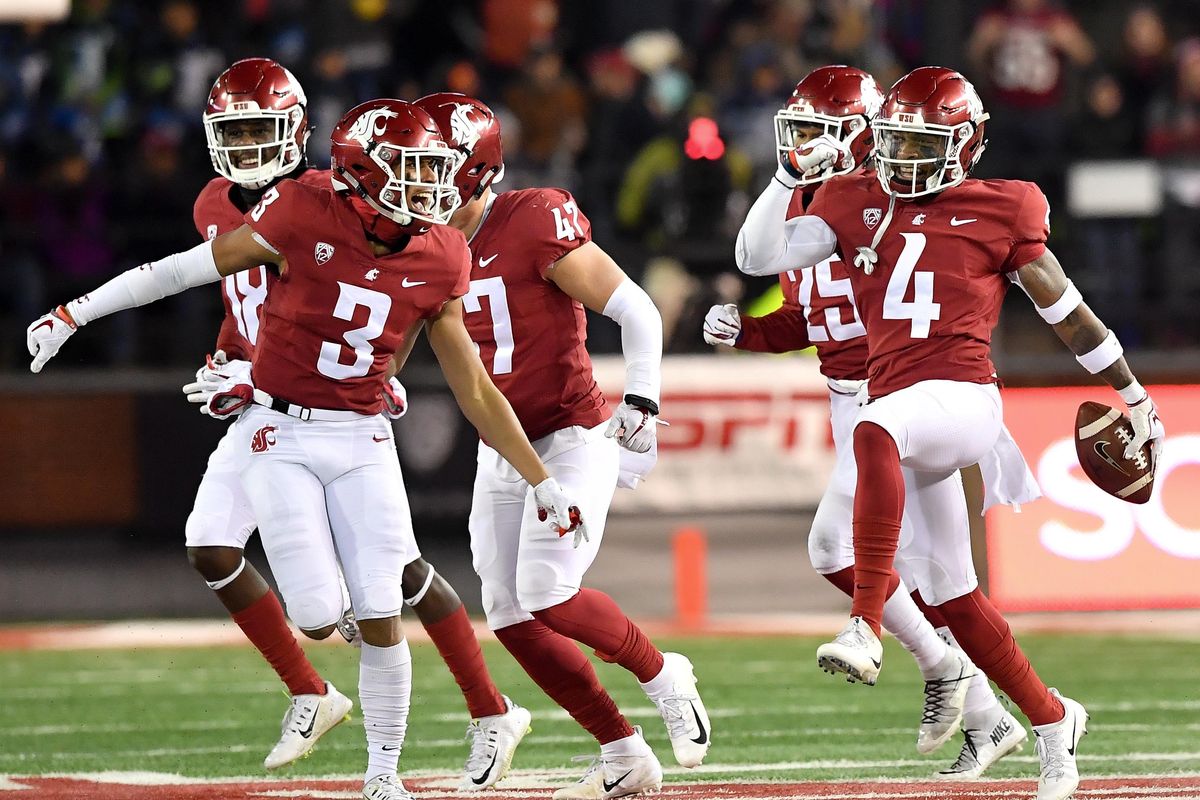 Washington State Cougars cornerback Marcus Strong (4) celebrates after he intercepted a pass against Arizona during the first half of a college football game on Saturday, November 17, 2018, at Martin Stadium in Pullman, Wash. (Tyler Tjomsland / The Spokesman-Review)
The distance Washington State has traveled this year is in some ways analogous to the distance coach Mike Leach travels many days from his home to his office.
He makes the trip on foot. And for most of the early part of the season, he does it alone. But not when his Cougars are 10-1, which they are after Saturday night's 69-28 walk-over against Arizona on ESPN.
This week's companion was analyst Brock Huard, who made the trek Friday along with Leach and two camera operators. It was the opening act of the self-proclaimed world-wide leader's broadcast from Martin Stadium.
What they saw …
Huard and Bob Wischusen, doing the play-by-play, saw the Cougars last week at Colorado. Despite the ease of the 31-7 win, the offense didn't sail all that smoothly in the Boulder wind. And by "offense," we mean Gardner Minshew.
Against the Buffs, Minshew, the nation's leading passer, was 35 of 58 for 335 yards and two touchdowns. Against the Wildcats, who dropped to 5-6 overall and 4-4 in the Pac-12 and out of the South race, Minshew connected on 43 of 55 throws for 473 yards and a school-record seven touchdowns.
It's been a pretty impressive couple of weeks for Minshew, as the rest of the nation has been discovering what the folks in Eastern Washington have known for a while: He just may be the next Dos Equis spokesperson.
He is, after all, the most interesting man in college football.
It showed in national stories – from USA Today to Sports Illustrated to the Athletic – about him recently. It showed in a three-minute feature College GameDay played Saturday morning. And it showed throughout the game Saturday.
"He's taken the Palouse by storm, he's taken the country by storm," sideline reporter Allison Williams said prior to the first play.
She focused on Washington State's Heisman campaign, which features a fake mustache, the upper lip-covering of choice for Cougar fans. Heck, even the Cougar pride statue was wearing one – as we also saw in the first quarter.
"It's the beauty of college football," Huard said. "We see stars emerge every year."
Though Minshew might be the wildest of the wild stories the former Washington quarterback mentioned, including the likes of Lamar Jackson and Baker Mayfield.
"This guy wasn't even here in the spring," Huard said, sounding as if he was shaking his head in disbelief. He is now and he's the mustache-adorned face of the first 10-1 Cougars team since 1997 – the Rose Bowl year.
To get there again, Washington State has to win the Apple Cup on Friday in Pullman – something Huard and Wischusen discussed often in the second half – and, if that goal is accomplished, defeat the South champion in Santa Clara a week later.
What we saw …
Revenge is, supposedly a dish better served cold. It was cold in Pullman on Saturday night – dropping into the 20s – and Washington State got its revenge for last year's 58-37 loss in Tucson.
The weather might have played a small part in this one, though Huard had none of it.
"Is it cold? Sure," he asked and answered, long before the cameras began fixating on a group of shirtless young men. "Have a lot of these Wildcats never played in 28-, 27-degree temperatures? Absolutely. But I don't think (Arizona's four turnovers) are a product of this.
"I think this all about how hard Washington State is playing."
If there was a flaw for the Cougars, it came up front on defense. They struggled at times to keep Khalil Tate within the confines of the pocket. And whenever the junior quarterback got outside, especially toward his right, he made something happen. Inside? Not so much.
The play that epitomized Arizona's night occurred late in the first half and it occurred within the pocket – at the start.
Tate, who had some highlight moments, including four touchdown passes and a 33-yard run, fumbled a snap on a third-and-6 from Arizona's 31-yard line. After running around, backward, he just launched a Sky Hook from the 6-yard line toward the line of scrimmage. It only came up about 10 yards short. And he was cited for grounding.
The camera panned to Arizona coach Kevin Sumlin, a look of disgust on his face. It was 41-14 at the time.
"You know that commercial," Huard said, "you wanna get away …"
Washington State just wants to get to Pasadena – at least. And two more steps, long, tough steps, are needed.
Local journalism is essential.
Give directly to The Spokesman-Review's Northwest Passages community forums series -- which helps to offset the costs of several reporter and editor positions at the newspaper -- by using the easy options below. Gifts processed in this system are not tax deductible, but are predominately used to help meet the local financial requirements needed to receive national matching-grant funds.
Subscribe to the Cougs newsletter
Get the latest Cougs headlines delivered to your inbox as they happen.
---