A&E > Art
Survive: Deb and Spenser
Sun., Oct. 7, 2018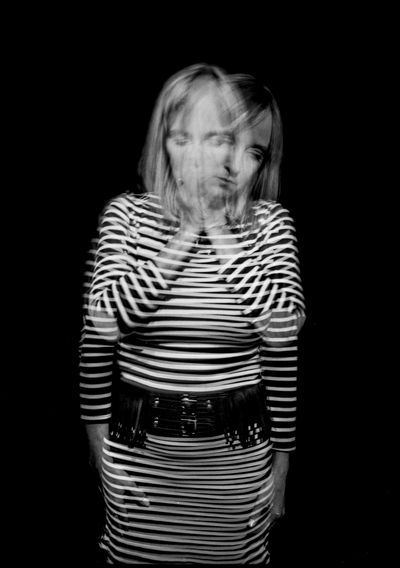 Her portrait is made up of two images layered on top of each other.
In one, she's standing with her elbows bent, both hands covering her mouth and nose. In another, her head is tilted to one side. She's looking down, sadly, almost serenely, in a way that's reminiscent of depictions of the Madonna in Renaissance art.
When Deb. J. Smith looks at the image she sees one thing: pain.
"I feel like maybe later I might see something else." But now, she says, "I really don't see anything else, I think, because it is so fresh."
Spenser Smith died by suicide June 29, 2016.
"He's forever 28," she says.
She talks of him in present tense and makes sure to tell people she has five children: four boys and a girl. He's her youngest.
"Suicide doesn't discriminate," she says. "It knows no age boundaries."
That's one of the things she's learned since he died and she's been seeking out support and information, completing a 12-week course through the National Alliance on Mental Health, or NAMI, and attending a weekly support group for those who've lost a loved one to suicide through Hospice of Spokane.
"That's really my path: to educate myself so I can educate others."
She plans to take a facilitators' training in February "so I can be a resource in the community."
Meantime, it's too difficult to talk about without tearing up. But, crying, she says, is "very healing."
She also says: "I don't even know where I am in that process. My feelings are really all over the place. I can manage my grief now. People think as time goes on it gets easier. But … you wake up, you think about it. You go through your day, and then at night … It's always there. You have to kind of fight it to not think about it."
Even though it might bring tears, she wants to talk about her son. "I'm never going to stop talking about Spenser," she says. "I want people to ask me about him."
Some details, however, are off-limits. "People don't ask the method, and I don't tell them. I don't want him to be remembered by how he died. His suicide doesn't define who he was."
Local journalism is essential.
Give directly to The Spokesman-Review's Northwest Passages community forums series -- which helps to offset the costs of several reporter and editor positions at the newspaper -- by using the easy options below. Gifts processed in this system are not tax deductible, but are predominately used to help meet the local financial requirements needed to receive national matching-grant funds.
Subscribe to the Spokane7 email newsletter
Get the day's top entertainment headlines delivered to your inbox every morning.
---