Sports > WSU football
John Blanchette: Cougars lose a legend, if only to retirement
Mon., Oct. 15, 2018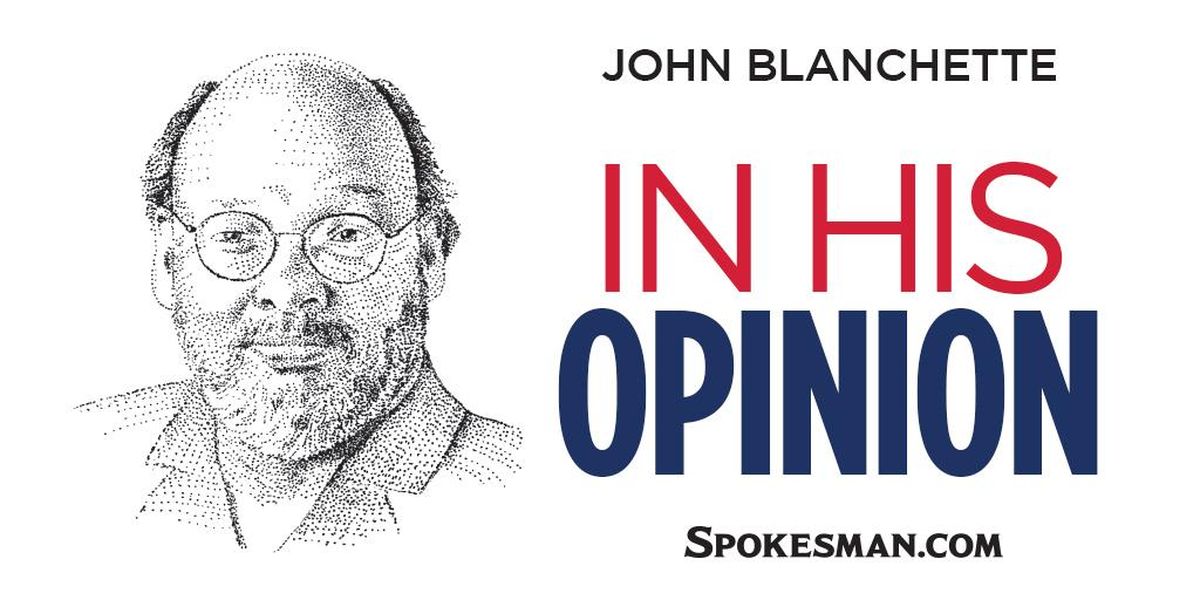 After a bye weekend brought news that triggered more hyperventilating than any bowl came a different kind of 'bye that also takes the breath away.
Losing a legend, if only to retirement.
Whatever the Washington State Cougars achieve this football season and beyond, they'll do it without the comforting narration – or even just the avuncular asides – of Bob Robertson, who went into victory formation on Monday after 52 years as their beloved voice.
And, yes, he took his getaway line with him: Always be a good sport, be a good sport all ways.
You wonder how many Cougar fans tuned in during the leanest of football seasons and hung tough through a blowout just to hear him sign off.
Sharing those moments guaranteed that the high points – Rueben Mayes running wild, Drew Bledsoe airing it out, climbing that Everest back to the Rose Bowl – would be even more special when delivered by that familiar modulated bass.
Bob Robertson is more than just familiar, though. He's in the fabric.
Even with such an inventive logo for brand recognition, Wazzu could hitch its identity to his voice alone.
Alas, endings are inevitable. That was clear when BobRob stepped into a semi-emeritus role in 2012, ceding the play-by-play call but not his perch in the booth. A bum knee started slowing him down a few years ago, and then came a scary moment two weeks ago Sunday after the Utah game.
"Got up that morning and I was real dizzy," Robertson reported, noting he's had other such spells, as yet undiagnosed. "I was walking around my hotel room for 30 minutes, holding a cellphone, hoping somebody would call and tell me who and where I was. And obviously no one wanted to put me on a plane in that condition."
Off he went by car, ferried by an employee from the Hilltop Inn.
Over from Tacoma drove his son John, to pick him up in Vantage.
Down came the consensus from his family: that's the ballgame.
"So I was outnumbered," he said. "But they're right. It's time."
Popular, even iconic, sports broadcasters are as native to Washington as the evergreen. The original pro franchise voices out of Seattle – Dave Niehaus, Pete Gross, Bob Blackburn. Kevin Calabro with the post-Blackburn Sonics. Bob Rondeau – the other Bob on the other side of the state at that other school who called it quits just last season.
One and all, they were revered – part of that strange alchemy that binds fans with their teams, and their broadcast voices.
Really, what is that? It's radio – you'd think an increasingly marginalized medium, what with every game on TV. Why the emotional tie?
"Trust," offered Matt Chazanow, the man now in WSU's play-by-play chair. "National guys are great at what they do, but the local fan often wants it from the guy he's grown up with – who's embedded with the team and knows the storyline and just brings that consistency.
"Bob is absolutely synonymous with that trust."
Even in his abridged role the past several years. With 589 Cougar football games behind him, even older fans heard him on their little 8-transistors as kids.
And on the road, they gravitated to him in hotel lobbies – maybe to introduce their kids to him.
Give Robertson this, though: he was no one-trick Coug. Before, in and around his Wazzu duties, he's been as versatile as they come. Come summertime, he served as the voice of the Tacoma Rainiers and later the Spokane Indians – and, yes, pinch-hit for Niehaus for three games in 1993 to realize an early dream.
Odd assignment: calling table tennis for ESPN.
Odder still: roller derby, where nobody was a good sport, any ways.
Developing that sign-off, by the way, took some doing.
Sports announcers on the national level, when Robertson started, loved those signature phrases. Call it early branding.
"Probably it was back in Bellingham when I first used it," he said. "I decided I'd better have a good one.
"Often I realized, though, that I was being steered by ones I'd already heard on a network. So I started experimenting and hit on the always/all ways thing."
Robertson calls it an "accident."
Touchdowns often are.
A career as long as Bob-Rob's spawn countless highlights – too many to rank, though the Apple Cup that ended the Rose Bowl drought is the kind of memory he can replay with every listener.
Lowlights? He'll cop to those, too.
Like the famed Snow Bowl in 1992, when Bledsoe launched the pass to the end zone that Phillip Bobo hauled in while sliding into a snowbank.
"What happened was, I had the wrong receiver catching it," he admitted.
Audio review confirmed it. What are you going to do?
You own it – the same way Bob Robertson owned Cougar broadcasts for 52 years. With professionalism, grace, good humor – and a grateful audience which will miss his voice.
Say it again: Be a good sport. All ways.
Local journalism is essential.
Give directly to The Spokesman-Review's Northwest Passages community forums series -- which helps to offset the costs of several reporter and editor positions at the newspaper -- by using the easy options below. Gifts processed in this system are not tax deductible, but are predominately used to help meet the local financial requirements needed to receive national matching-grant funds.
Subscribe to the Cougs newsletter
Get the latest Cougs headlines delivered to your inbox as they happen.
---