A&E > Books
First novel from Grays Harbor author Robert Pyle is 44 years in making
Sun., Oct. 21, 2018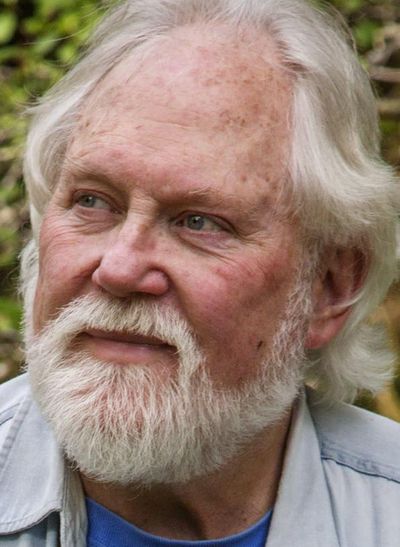 After more than four decades and nine drafts, acclaimed Grays Harbor author and butterfly expert Dr. Robert Michael Pyle has released his first novel.
On Wednesday, he will read from the novel, "Magdalena Mountain," as part of Northwest Voices at the Longview Public Library starting at 7 p.m.
Pyle, 71, has published 22 books, including "Wintergreen," which won the John Burroughs Medal for Distinguished Nature Writing in 1987, and "Where Bigfoot Walks," which he wrote during a Guggenheim fellowship in 1989.
But "Magdalena Mountain," released on Aug. 21, stumped him for 44 years.
The seed germinated even earlier, when Pyle first discovered the jet-black Magdalena alpine butterfly, which later became a pivotal character in his novel, at 12-years-old in a remote and rocky part of Colorado.
"I found (the Magdalena) and it was love at first sight. I was smitten by this black butterfly," he said Wednesday.
Pyle would eventually earn his doctorate degree in butterfly ecology from Yale. While a student, Pyle started writing a children's book about the Magdalena alpine but grew frustrated that he could not fully delve into the butterfly's biology or explore a complex plot, he said.
He knew the story needed to culminate at a fictional place called Magdalena Mountain, but it wasn't until Pyle stumbled upon Mount Meeker in Rocky Mountain National Park the summer after he graduated in 1976 that he found the inspiration for his novel's setting. Mount Meeker came to a crisp peak and the entire front face was a granite rock slide, just like the Magdalena alpine's habitat, Pyle said.
"Everything about it just shouted, 'I'm Magdalena Mountain,' " he said.
Pyle checked into the Meeker Park Lodge and started to weave multiple character arcs around the Magdalena alpine and the mountain. The characters came quickly, he said, but the dialogue, plot and character development took many attempts.
Pyle returned to the lodge many times between 1976 and 2016, from a couple of days to a couple of weeks at a time, to write nine complete drafts of his novel.
"While the early drafts had merit and something going for them, they were underripe, callow, overwritten, (with) wooden characters and flat plots," he said.
Each draft changed dramatically, he said. The climax was different each time, "flabby" plot lines were eliminated and characters gained depth.
"By living with those people for 40 years, they change, they grow," he said. "The change, I hope, is one of maturation."
The final result is the story of three Magdalenas: the butterfly, the mountain and Mary, a woman who has a terrible car accident and struggles to regain her identity. Mary meets a butterfly collector, a Yale graduate student and the leader of a monk community when they all converge on the slopes of Magdalena Mountain in search of the butterfly, which builds to an exciting climax, Pyle said.
In tandem with the human stories, Pyle interspersed short chapters dedicated to the character of the Magdalena alpine that explore its biology, habitat and journey. The novel weaves the tales of each human character and the butterfly ever tighter until they become one, Pyle said.
In this way, novels can be just as educational as works of nonfiction because they can engage readers in the plot and characters while remaining loyal to the "facts of the real world," he said.
"The emotional content of fiction is maybe one reason why you can do an even better job at telling the truth when you're telling a pack of lies, which is what fiction is: an elegant pack of lies, but you wrap it around the truth," he said.
"Magdalena Mountain," he said, has expanded his range as a writer and hopefully the range of his readers.
"My experiment is to try to do both traditional nature writing with traditional storytelling in one book," he said. "I'm trying to capture both readers of creative nonfiction: My existing readership and also readers of fiction because they're not always the same people."
His 44-year project may be complete, but Pyle isn't slowing down. He has several books in progress including a full-size book of poems, a compilation of selected essays, a collection of short stories and a book of Columbia River poems in partnership with Cathlamet photographer Judy Vander Maten.
And he's already starting another novel, which will be set in the South American Andes Mountains.
But letting go of "Magdalena Mountain" may take some time, he said.
"Even though I've written this story 10 times, I never got sick of it. In fact, I think I'll miss it. Writing novels is a different kind of practice from all the rest. To be on intimate terms with fictional characters is a privilege. These people are dependent on me. I created them. I have a huge responsibility to make them real and treat them kindly."
Local journalism is essential.
Give directly to The Spokesman-Review's Northwest Passages community forums series -- which helps to offset the costs of several reporter and editor positions at the newspaper -- by using the easy options below. Gifts processed in this system are not tax deductible, but are predominately used to help meet the local financial requirements needed to receive national matching-grant funds.
Subscribe to the Spokane7 email newsletter
Get the day's top entertainment headlines delivered to your inbox every morning.
---