Sports > Outdoors
Seven new rules every Washington hunter should know this fall
Thu., Sept. 20, 2018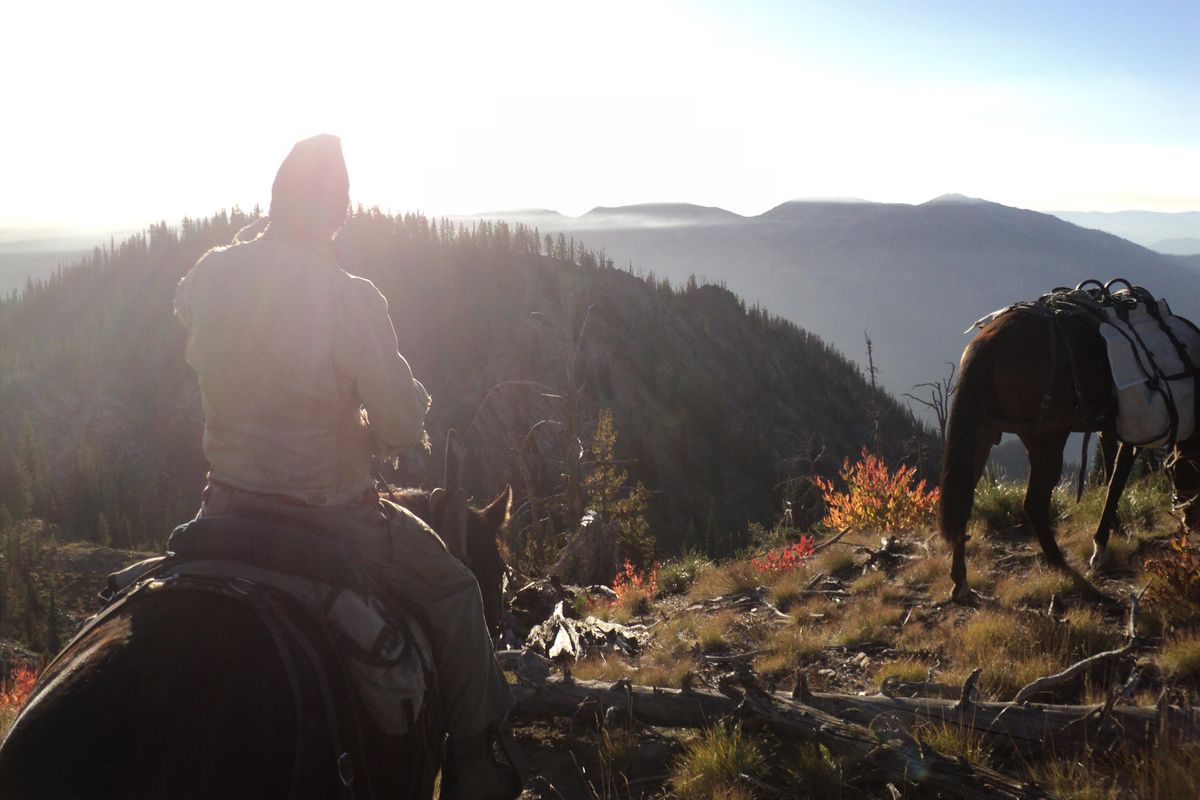 A lone elk hunter soaks in the grandeur of the Gospel Hump Wilderness, north of the Salmon River, in Idaho. (Bill Brock / Courtesy)
New rules. New regulations. A new fall hunting season.
Each year the Washington Department of Fish and Wildlife examines its hunting rules and regulations and makes changes. Making sense of those changes can be hard. We're here to help. Below are seven important changes every hunter should know. Changes include increased deer opportunities in Northeast Washington, new black powder primer options, more fall turkey opportunities (and regulations) and new requirements for black bear hunters.
Turkey hunters must wear orange
Turkey hunters must now wear hunter orange while hunting during a modern deer or elk firearm season.
In the past, turkey season did not overlap with the modern firearm season. An extended turkey season now means there is considerable overlap. With all other species, hunters must already wear orange when hunting during a modern firearm season.
Not including turkey hunters on that list was an oversight, said Kevin Robinette, WDFW regional wildlife manager in Spokane
Of the hunters who commented on this change, 37 supported it while 21 opposed. Those who opposed worried that the bright color would make it harder to successfully hunt the keen-sighted birds.
"When it comes to turkey hunting, if you sit still, if you're doing what you're supposed to do as a turkey hunter, it shouldn't matter," said Matt Mimnaugh, a board member of the Inland Northwest Wildlife Council and the chairman of the big game committee. "And on the bright side of that very small inconvenience, we are now able to hunt turkeys all fall."
Turkey season extended
Which brings us to the next change. The fall turkey season now runs Sept. 1 through Dec. 31, Robinette said. That's significantly longer than in the past, when the season ran from Sept. 23 to Oct. 31.
The extended season is partially in response to continued conflicts between turkeys and farmers and an ever-increasing population, Robinette said.
"This will be an opportunity for sport hunters to actually help out with that problem," he said.
Antlerless deer opportunities in NE Washington
Archers and black powder hunters now have early- and late-season opportunities to hunt antlerless deer in Game Management Units 101 through 121 (Northeast Washington), Robinette said.
Although it's too late to apply this fall, modern rifle hunters are now able to apply for an antlerless deer tag.
"That's something we haven't had in a long time," he said.
Montana, Mississippi added to list of CWD-positive states
In the ongoing effort to halt the spread of Chronic Wasting Disease, the WDFW has banned the importation and retention of "specific parts of dead nonresident wildlife that could contain CWD" from Montana and Mississippi.
Specifically, hunters may only bring meat that has been deboned, skulls and antlers from which all soft tissue has been removed, and hides or capes without heads attached.
The rule change comes on the heels of Montana confirming the existence of the deadly neurological disease in 2017. WDFW received 20 comments supporting the change. Five hunters opposed the change.
"I think any restrictions they put on that (CWD) is a good thing," Mimnaugh said. "We obviously don't want to see that spreading into our state."
Modern primers allowed on muzzle-loaders
More modern primers will be allowed during black-powder season. The WDFW Commission requested that the agency survey hunters on the proposal. The majority of hunters who responded favored the change.
Hunters will now be allowed to use primers for modern centerfire cartridges during muzzle-loader season. Those primers are more moisture-resistant, Mimnaugh said. Although some purists believe a more modern primer goes against the spirit of a primitive hunt, Mimnaugh doesn't see it that way and believes it could help hunters make cleaner, more ethical kills.
He imagines a situation in which a hunter shoots, but does not kill, an animal. With a traditional black-powder primer, it may not be possible for the hunter to get another shot off and cleanly finish the kill if it's raining or damp out.
"I don't think it's giving them an unfair advantage," he said.
Of those hunters surveyed, 148 supported the proposal, 77 opposed it and five were neutral.
Grizzly bear ID test required
Starting in 2018, black bear hunters will need to take an online grizzly bear identification test if they want to hunt in Game Management Units known to have grizzly bears.
Idaho and Montana require black-bear hunters to take the short test, Robinette said.
After successfully taking the test, hunters must print out a card certifying their completion and carry the card during their hunts.
Although some might grumble at the increased regulation, Mimnaugh said the new rule is nothing but good.
"I fully support that," he said. "Any time you're given an opportunity to educate yourself, and someone is willing to give you that information and make you a better hunter, why not do that?"
Drones added to list of prohibited aircraft
WDFW added drones to the list of aircraft that hunters are not allowed to use during a hunt. Using aircraft, boats or other vehicles to assist in a hunt is already prohibited under Washington's administrative code.
Drones are now added to that list. WDFW may still authorize certain individuals or organizations to use drones.
Eighty-two hunters supported the change in written comments, while 14 opposed it.
Local journalism is essential.
Give directly to The Spokesman-Review's Northwest Passages community forums series -- which helps to offset the costs of several reporter and editor positions at the newspaper -- by using the easy options below. Gifts processed in this system are not tax deductible, but are predominately used to help meet the local financial requirements needed to receive national matching-grant funds.
Subscribe to the sports newsletter
Get the day's top sports headlines and breaking news delivered to your inbox by subscribing here.
---