Sports > Spokane Chiefs
Spokane Chiefs fighting less as WHL cracks down on violence
Feb. 18, 2019 Updated Wed., Feb. 20, 2019 at 12:19 p.m. Nearly 10 years later, Dustin Donaghy still remembers the melee.
He can name all his Spokane Chiefs teammates who were with him – first on the ice, and then, after a handful of simultaneous fights, back in the locker room with game misconducts.
"Ryan Letts, he made contact with Tri-City's goalie Chet Pickard, and that started a whole melee of fights," Donaghy said. "I was on the ice, (Mike) Reddington was on the ice, Letts (and Levko Koper) was on the ice. … It was crazy. Everybody talks about the line brawls, and that was my first-ever melee where everybody grabbed somebody."
It wouldn't be the only one that game. Later in the third period, with Tri-City down three skaters and Spokane down four after the first melee, another began with about 3 1/2 minutes remaining, this one a five-on-five.
After seven of those 10 players were sent off, three more players – two for the Chiefs, one for the Americans – earned game misconducts for a fight with just 15 seconds left in the game.
In all, 17 players between the two teams received at least one game misconduct, and the teams accrued 342 combined penalty minutes in the game, which Tri-City won 5-2.
The league handed out a series of suspensions to the Chiefs: Letts got 10 games, coach Hardy Sauter one, and Cory Baldwin one game as well. Tri-City's Mitch McColm was suspended two games for his role. Each team was fined $1,250.
But don't expect anything like that to happen this Saturday, when the teams renew their rivalry at the Arena – on "Chiefs Fight Cancer" Night – with the Americans chasing the Chiefs in the U.S. Division standings of the Western Hockey League.
Fighting isn't what it used to be in the WHL.
A pair of websites – hockeyfights.com and dropyourgloves.com – track fighting data in just about every major hockey league in North America, including the WHL, and their statistics identify a clear trend in the sport: Fights are down.
In 1997-98, there were 1.93 fights per game in the WHL. This season, there have been just 0.38, about one every third game across the league.
"I think the role is more now just protecting guys and sticking up for your teammates," said Chiefs captain Jaret Anderson-Dolan. "I don't think there are many fights anymore where it's just fighting for the fan's entertainment. I think it's definitely gone away from that."
A handful of factors contributed to the decline. The game is officiated differently than it used to be. The WHL now hands out considerable suspensions for "staged" or "pre-planned" fights. Greater awareness of the lasting impact of head injuries has put pressure on the league to minimize high hits and fights.
In conjunction with those changes, players are now better skaters and more skilled than they were a generation ago.
"The game's changed. … The way people perceive hockey has changed," said Chiefs coach Dan Lambert. "There was a time when not only was it acceptable, but really, part of the game was intimidation. Now it's more about the skill of playing the game."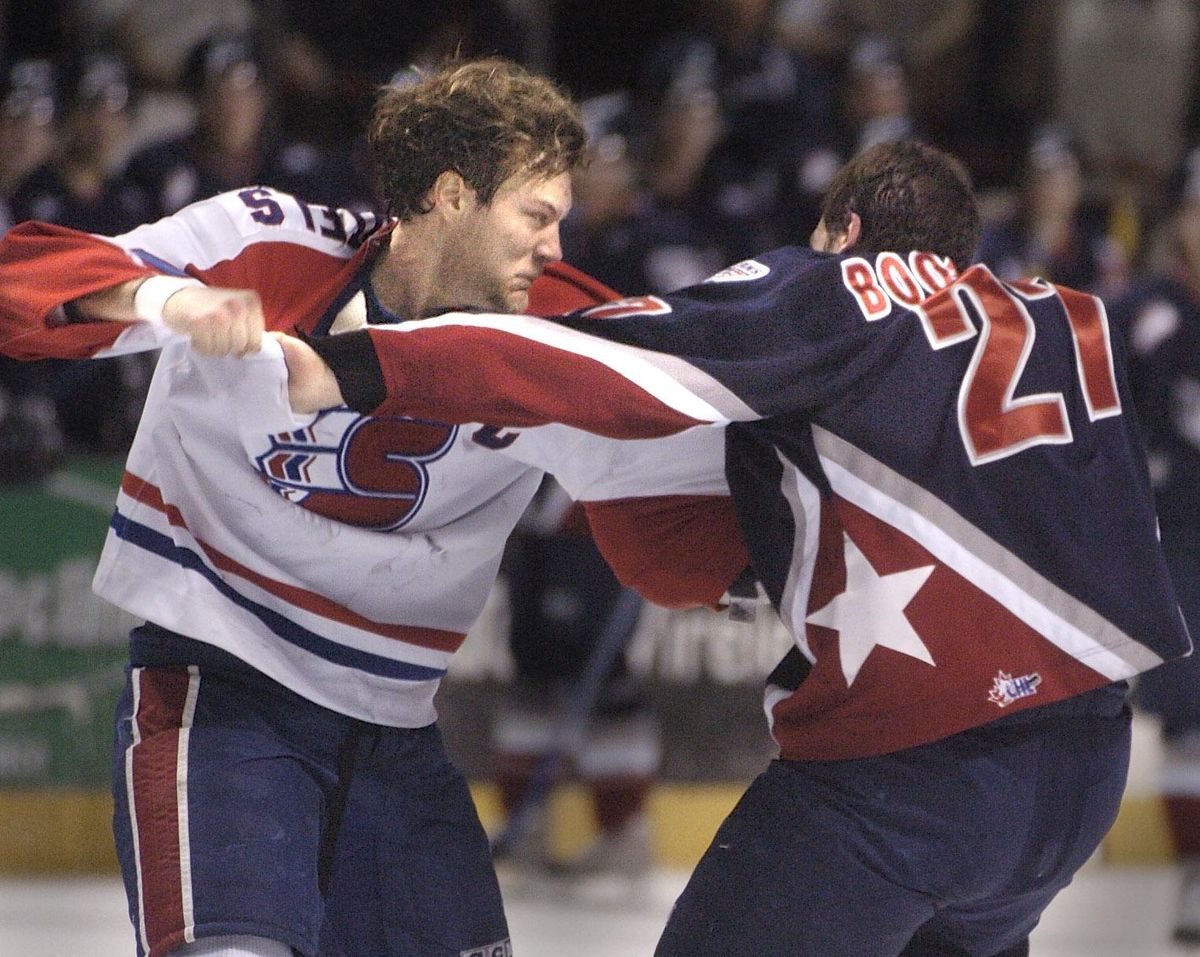 Spokane Chief Jevon Desutels and Tri-cities Aaron Boogard fight during the first period of their match in the Spokane Arena, Jan. 22, 2005. (SR)
Kerry Toporowski admits that he wasn't one of those skill players, not like his son Luke, who has 16 goals and 23 assists for the Chiefs this season.
When Kerry Toporowski played in Spokane – on a Memorial Cup winning team in 1991 – he was known as a goon. That year he led the WHL with 505 penalty minutes and engaged in 59 fights, nearly double the next closest total, according to dropyourgloves.com data.
The San Jose Sharks selected him 67th overall in the 1991 NHL Entry Draft, as an enforcer, he said, but he never reached the NHL. He played professional hockey until 2004, including six seasons with the Quad City Mallards on the Iowa/Illinois border, where he continues to live and now works as a financial adviser.
His best offensive season came in 1991, with 11 goals, 16 assists and those 505 penalty minutes, largely accrued 5 minutes at a time.
"That's what he had to do to stay in the game," Luke Toporowski said of his father. "He wanted to play at the highest level he could, and that's what he found he could do. … He did what he had to do to stay in the game."
Kerry Toporowski is quick to admit that his son is much more skilled than he ever was, and he said that staged fights just aren't necessary in the game anymore.
"I don't think they need fights for the entertainment factor. Maybe for the policing part of it, because you do see some teams running around, taking dirty hits, making dirty plays," Kerry Toporowski said.
Indeed, the WHL took specific steps in 2011 – called the Seven Point Plan – to reduce head hits and concussions, increasing penalties for such infractions. Through Feb. 9 this season, the WHL has issued 66 suspensions ranging from one to eight games.
Spokane defenseman Bobby Russell has served two separate one-game suspensions this year, both for cross-checking majors and game misconducts, on Oct. 20 and Dec. 16.
However, just 10 of those suspensions were levied for fighting, specifically the kinds the league would rather not see: fights in the final 5 minutes of a game, one-man fights (where one player commits to the fight but the other doesn't), multiple-fight situations and, in one case, the team's fourth fight of the game.
"A lot of it was based on how can we improve safety for the player, and certainly we wanted to reduce fighting,' Richard Doerksen, WHL Vice President for Hockey, said of the Seven Point Plan. "What we also wanted to do was eliminate the nonsense fighting: fighting at the start of the game, start of a period, instigators in the last 5 minutes. We've put in very severe suspensions and fines for all of those."
There are still fights in the WHL, of course. Anderson-Dolan engaged in one earlier this year.
"(Chiefs defenseman) Ty Smith got hit and it was from behind, and we were losing at the time, so it was to stick up for him, that was the only reason I did," Anderson-Dolan said.
When the league was more lax about head shots and hits from behind, players had more opportunities to jump to their teammates' defense, Anderson-Dolan said.
Now, they don't do so nearly as often.
This year, the Chiefs have engaged in just 19 fights and are on pace for about four more. That would be the franchise's lowest season total ever and about half as many as last year, when Spokane's 49 fights – none of which garnered a suspension – were the most in the WHL.
Another change is the way the referees officiate. Hooks and slashes that used to go uncalled are now whistled for penalties, and so the game is more fluid.
"Now it's faster because you're not allowed to hook people like you used to, and that's why it was a bigger man's game," Lambert said. "I find it funny when they say, well the rules changed. Well really, they just started calling them."
Chiefs assistant coach Adam Deadmarsh was one of those bigger guys. In nine NHL seasons, Deadmarsh engaged in 57 fights, according to Hockeyfights.com. A lot of those were to protect his teammates, like Hall of Famers Joe Sakic and Peter Forsberg when they played together in Quebec and Colorado.
"Back in the day, when you were allowed to use your stick for a lot of things, you ended up making people mad and guys didn't like getting slashed and hooked, which ultimately ended up in fights," Deadmarsh said.
But the slashing, hooking and interference penalties that those actions draw now are, in effect, punishment enough.
There may not be a need for Kerry Toporowski or Dustin Donaghy to do what they did for the Chiefs, but players and coaches agreed there is certainly a need for the tougher, bigger player.
What used to be called a checking line, Donaghy said, "is defined now as hard-working, keeping possession of the puck, and getting some rest for your top-end guys."
And therein is the difference many players and coaches pointed to: You can still pester an opponent without picking a fight.
"The big thing in today's game is competing hard, and you can compete hard without fighting," Deadmarsh said. "That's a big thing for me when I work with guys: I want to see them work as hard as they can."
Donaghy said he misses the adrenaline rush of a fight, the roar of the crowd. He had the power to shift momentum with his fists. His name is on the Chiefs' other Memorial Cup trophy, from 2008, and he is proud of his role on the team.
He said he believes fans still have an appetite for fights, and there is a limited place for it in the sport. But the risks are too great to ignore, Donaghy said.
"There's so much literature about what brain damage can be caused and the ill effects of fighting," Donaghy said. "And the concussions. You hear that word and it's a red light. … Imagine a 16-year-old, whose frontal lobe hasn't developed, takes a punch from a young man. That could do some damage."
Hockey has changed, and it isn't going back to what it once was.
The son of a so-called goon sees it, too.
"Back in the day there were fighters in this league and that was their job to do, and now that's not the case anymore," Luke Toporowski said. "Everybody will stick up for one another, if the time's needed, but nobody's going out there looking for a fight."
Local journalism is essential.
Give directly to The Spokesman-Review's Northwest Passages community forums series -- which helps to offset the costs of several reporter and editor positions at the newspaper -- by using the easy options below. Gifts processed in this system are not tax deductible, but are predominately used to help meet the local financial requirements needed to receive national matching-grant funds.
Subscribe to the sports newsletter
Get the day's top sports headlines and breaking news delivered to your inbox by subscribing here.
---