News > Crime/Public Safety
Washington's first major wildfire of 2019 grows to 5,000 acres in Grant County; wind-borne smoke briefly made Spokane's air quality worst in country
June 4, 2019 Updated Wed., June 5, 2019 at 6:33 a.m.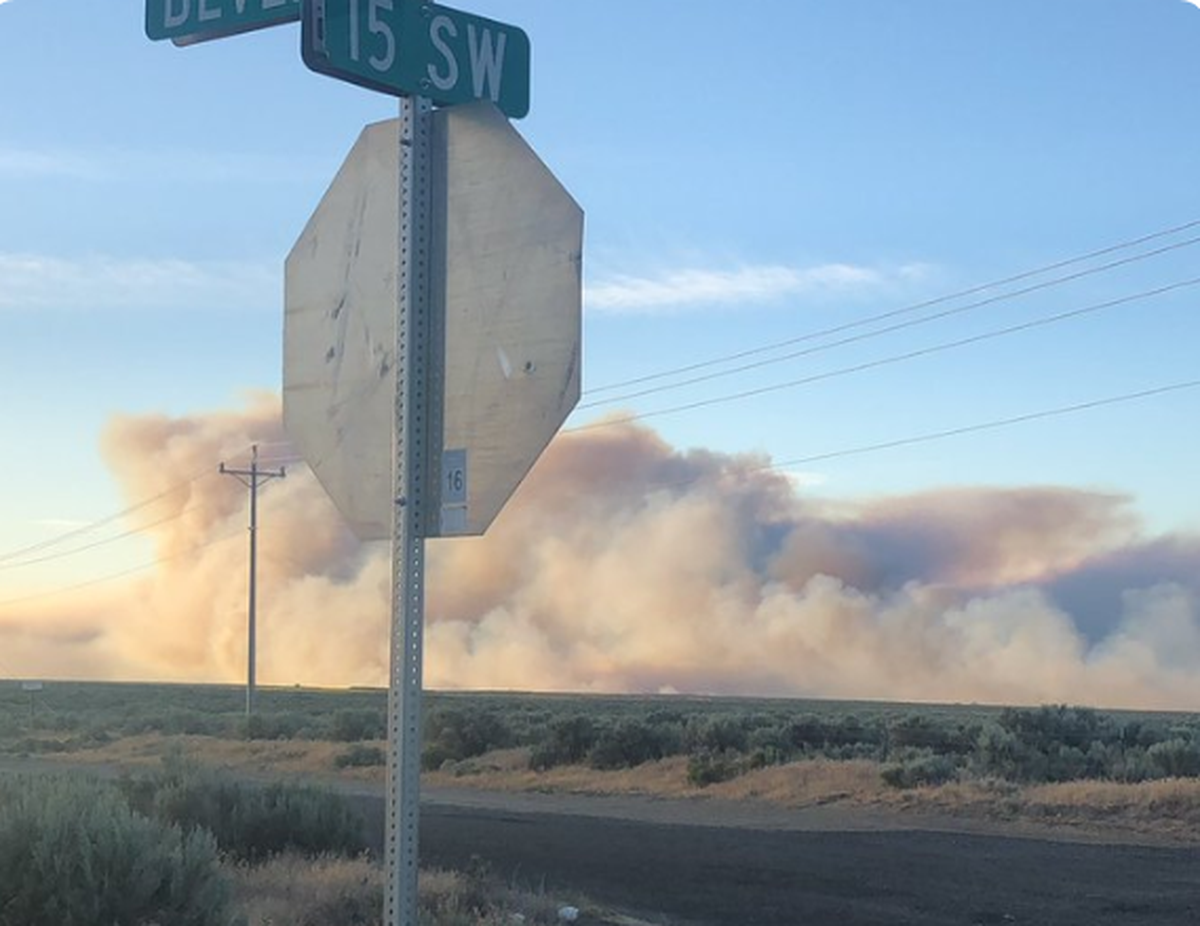 A fire that started on Monday, June 3, 2019 in Grant County near the Wanapum Dam forced evacuations and grew to 3,000 acres early Tuesday, June 4, the Grant County Sheriff's Office reported. (Grant County Sheriff's Office / Courtesy photo)
A wildfire in Grant County – Washington's first major fire event of 2019 – near the Wanapum Dam grew to more than 5,000 acres Tuesday as it burned its way east, forcing dozens of evacuations.
Spokane saw the fire's smoke slowly drift into the city through the afternoon, lowering air quality and screening surrounding hills with a smoky brown haze.
The so-called 243 Fire began burning in dry grass and sage north of Beverly on the east side of the Columbia River. Fueled by strong winds, the blaze grew quickly to more than 1,000 acres early Tuesday morning, then spread to another 4,000 acres by early afternoon.
Mandatory evacuations were ordered for some residents living on Beverly Burke Road. The towns of Beverly, Schawana and Wanapum Village went under Level 2 evacuation notices, meaning residents were told to be ready to leave at a moment's notice. The notices were still in effect Tuesday afternoon.
At about 8 a.m., the Grant County Sheriff's Office issued mandatory evacuations for the small community of Smyrna, about 13 miles east of Beverly along Road 17 South West. An emergency shelter was set up at Royal City Intermediate School.
In all, about 25 households were evacuated, with hundreds more on alert to leave if necessary, said Deputy Kyle Foreman, sheriff's office spokesman.
Justin Bishop, a dispatcher at the Washington Department of Natural Resources' Central Washington Interagency Communications Center, said the fire began at about 11 p.m. Monday south of Wanapum and quickly spread east, moving south of state Route 26.
By late Tuesday morning, the fire had grown to more than 5,000 acres. The sheriff's office estimated later in the day that the fire was 0% contained and growing.
"We're supposed to see some winds, maybe as high as 20 mph tonight," Foreman said Tuesday. "That might make fighting the fire more difficult."
State resources have been mobilized, joining six local fire agencies. That includes aircraft, which scooped water from the Columbia River north of Wanapum Dam.
Bishop said no homes had been lost. Several outbuildings were destroyed. The fire caused some power outages in the Mattawa area.
Smoke in Spokane
The same winds fueling the blaze pushed wildfire smoke across the state and into Eastern Washington, reaching there Tuesday morning. By afternoon, the Spokane Clear Air Agency recorded air quality in the "moderate" category, downgraded from the "good" measure.
At about 7:30 p.m., Spokane's air quality was classified as "unhealthy," worsening two spots from "moderate" an hour earlier.
By 8 p.m., Spokane's air quality reached the worst in the country, according to the National Weather Service.
"It's a dubious honor and certainly not one most of us would choose," the NWS tweeted.
Commissioner of Public Lands Hilary Franz said despite 2019 already being one of the most active fire seasons on record, the 243 Fire is the first major wildfire of the summer season and the first in Grant County this year to spark a state mobilization.
It came early, though – grass and brush fires on the Columbia Plateau don't typically come until mid- to late June, she said.
"We have been projecting we are going to have a very significant, record-setting season," Franz said. "This kind of size fire – 3,000 acres – we're just not used to seeing it this early."
In March, Western Washington contended with more than 50 fires that burned in the southwest corner of the state, with over 400 recorded fires statewide so far this year, Franz said.
While none grew to the size of the 243 Fire, Franz said dry conditions and reduced snowpack should mean more wildfires than normal. Last year, the state had one of its worst wildfire seasons on record, with 438,834 acres burned.
Earlier this year, Franz proposed a historic $55 million fire spending plan.
Though the bill didn't make it out of the Legislature this session, Franz said DNR still plans to treat about 50,000 acres of forested land this year, with another 70,000 planned for next year.
If the state wants to get ahead of climate change and a prolonged fire season, increased spending on preventive forest care – and not only on emergency firefighting – is the best option, Franz said.
"People always ask me, 'Is this our new normal? This smoke?' " she said. "I specifically say, 'It does not have to be.' "
Staff writer Will Campbell contributed to this report.
Local journalism is essential.
Give directly to The Spokesman-Review's Northwest Passages community forums series -- which helps to offset the costs of several reporter and editor positions at the newspaper -- by using the easy options below. Gifts processed in this system are not tax deductible, but are predominately used to help meet the local financial requirements needed to receive national matching-grant funds.
Subscribe now to get breaking news alerts in your email inbox
Get breaking news delivered to your inbox as it happens.
---