Sports
Grip on Sports: Athletic excellence can take many forms and appear in many places
Mon., June 10, 2019 A GRIP ON SPORTS • Where were we before we took Sunday morning off? Oh ya, thinking about excellence.
•••••••
• Excellence takes many forms. It may be Rafael Nadal and his dozen French Open titles. Or it may be a couple of weekend rounds at The Fairways. Or it may just be a guy who consistently hits home runs year after year.
• The French Open may be the red-clayed stepchild of tennis' Grand Slam family, but it is a grueling test of conditioning and, yes, excellence.
No one has been better at it, or any single Grand Slam tournament actually, than Nadal.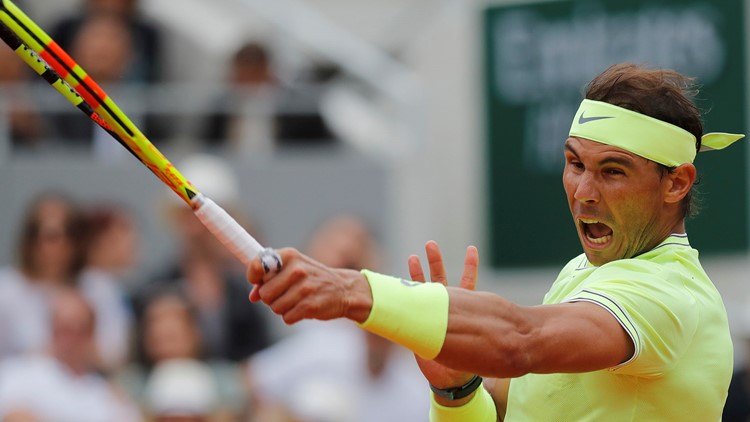 Sunday he won his 12th French Open title. Twelve. No man or woman has won a Grand Slam event in singles more often. He is the unrivaled champion of champions in clay-court tennis.
Why is that important? Playing tennis on clay takes stamina, patience and perseverance. The ball doesn't skip off the clay as it does with cement or grass. It basically sticks, making the game, even in these days of power and speed, slower. Each point can be a mini-war, a series of battles that add up to the most mentally and physically tough player winning.
That is, more than anyone ever, Nadal.
He may someday catch Roger Federer and his record 20 Grand Slam titles in 16 years. Sunday's victory gives Nadal 18, second most all-time on the men's side.
His dominance in the French also denied Federer, or Novak Djokovic (15 career Grand Slam titles), a chance for more Grand Slam titles. Each of those two only has one French championship in their long careers – mainly because their careers overlapped Nadal's.
He is, truly, clay court tennis' standard of excellence.
• Weird tennis stat alert: Bjorn Borg, one of the greats, won six French titles and five Wimbledon championships. That's it. He never made the Australian Open final and lost all four times he made the U.S. Open final. Hard courts weren't kind to him.
• The most-prestigious local 72-hole professional golf tournament finished up yesterday, with 31-year-old Sacramento pro Peter Lansburgh shooting back-to-back rounds of 66 to breeze to the Lilac Invitational win.
The Lilac can be a real test of stamina as well, as playing four consecutive days in heat and wind at The Fairways has always been tough. But with the move to June and the cooler weather prevalent this week, those factors were not as crucial.
• One of my favorite baseball players growing up was Al Kaline, an outfielder with the Detroit Tigers. (My dad was a Tiger fan and so was I, up to a point. That point, in a lot of ways, was Kaline. He made the major leagues as a teenager and was the consummate pro throughout his 22-year career.)
Kaline was a star early, becoming the youngest player ever to win a batting title when he hit .340 in 1955. But he was never the ultimate star of stars, playing his entire career in Detroit and rarely emerging into the national spotlight. He was more of a plodder, wracking up hits, home runs and All-Star appearences throughout his career.
Why mention Kaline? He finished his career chasing two milestones, 3,000 hits and 400 home runs. He got the former, finishing with 3,007. But the latter eluded him. He retired one short.
Yesterday, Edwin Encarnacion passed Kaline (and Andres Galarraga) on the all-time list, becoming the 56th player to hit 400 home runs.
Encarnacion, who stands in contrast to Kaline, having played for four teams in his 18 years, shares one thing in common. He's a plodder. Never a real star, he's played in just three All-Star Games. He's only led a league once in a major statistical category (RBIs, 2016 with the Indians). He's never going to get close to 3,000 hits.
But he's a professional power hitter who will probably finish his career in the top 50 all-time in home runs.
That won't get him into the Hall of Fame – of the top 50 home run hitters, 19 are not in the Hall through a combination of drug-enhanced performance, lack of other skills and, in a couple of case, not retired long enough to be eligible for consideration.
Encarnacion will garner a few votes when he is eligible. There will be a few writers who value his long-term consistency. And, in driving the ball out of the park at least, his excellence.
• One of those folks near the top of the all-time home run list, David Ortiz, was shot in the Dominican Republic yesterday and has been hospitalized.
Reports suggest Ortiz will be OK, but the news sent a shockwave through professional baseball.
•••
WSU: Around the Pac-12, the transfer carousel keeps on spinning, with an Oregon offensive lineman moving to Arizona State. … Oregon State picked up a linebacker from Arkansas. … Colorado may be losing another cornerback. … Arizona needs to free a basketball scholarship for their latest transfer. … Washington also picked up another transfer. … Colorado has just one newcomer and he's a freshman. … For the first time in a while, the Pac-12 won't have a team at the College World Series. That's enough to fire the commissioner over. (Just kidding, there are other, better, reasons.) Top-ranked UCLA lost at home to Michigan and Stanford was eliminated on the road. … Oregon State, which won the baseball title last season, needs to hire its next coach soon. … We castigate the NCAA often for its silly rules, including a recent faux pas that was affecting a Division II basketball player. The organization figured it out, however, and made it right.
Gonzaga: Around the WCC, the details behind Nick Emery's troubles with the NCAA are finally available, thanks to an investigation by the Salt Lake City Tribune.
Golf: Jim Meehan and Libby Kamrowski have coverage of the Lilac, with Jim writing the story and Libby taking the photographs.
Indians: We missed a couple things not being here yesterday, so we pass them along. One is Dave Nichols' story on players arriving in town.
Chiefs: The other is Dan Thompson's piece on Derek Ryan's quest for a Stanley Cup.
Mariners: The opener did his job. The power was on. And the M's pounded the Angels in Anaheim 9-3. … How are the M's getting along? … Gene Warnick has his Out of Right Field recap. … We had an Out of Right Field column for Sunday on the M's and their injuries. It looks as if Dee Gordon is headed back.
•••
• Today is one of my favorite days of the year. Sitting in my windowsill are three trophies with dogs on them. They represent three of the four times I've been part of winning teams in the prestigious Wet Dog Fur Open. What is the Wet Dog Fur Open you ask? Some 35 years ago, a S-R reader wrote sports editor Jeff Jordan a letter of complaint, saying our sports section "sucked wet dog fur." Instead of getting angry, we decided to name the sports department golf tournament we were starting in 1985 The Wet Dog Fur Open. We've played the four-man scramble event the second Monday of June ever since. It is today. There will not be another trophy headed my way, however, despite my importing of a pro from California for this year's event. Nope. We stopped giving out trophies years ago, right around the time classified ads began appearing on Craigslist. Until later …
Subscribe to the sports newsletter
Get the day's top sports headlines and breaking news delivered to your inbox by subscribing here.
You have been successfully subscribed!
There was a problem subscribing you to the newsletter. Double check your email and try again, or email
webteam@spokesman.com
---