A&E
Clue-solving: Spokane libraries unlock escape rooms
Fri., June 28, 2019 A cassette tape nearly stumped a group of teens searching for clues to escape the space station.
They knew one side of a music tape held a secret message, but Kaley Graupman, 14, and her friends puzzled over opening the cassette's case. Then they had to run an old player. They figured it out, with the last Elton John cassette case yielding a clue before time ran out.
"I am a hunter in the night sky," a recording on the cassette said. With that, they found a picture of the Orion constellation with a code to a lock box.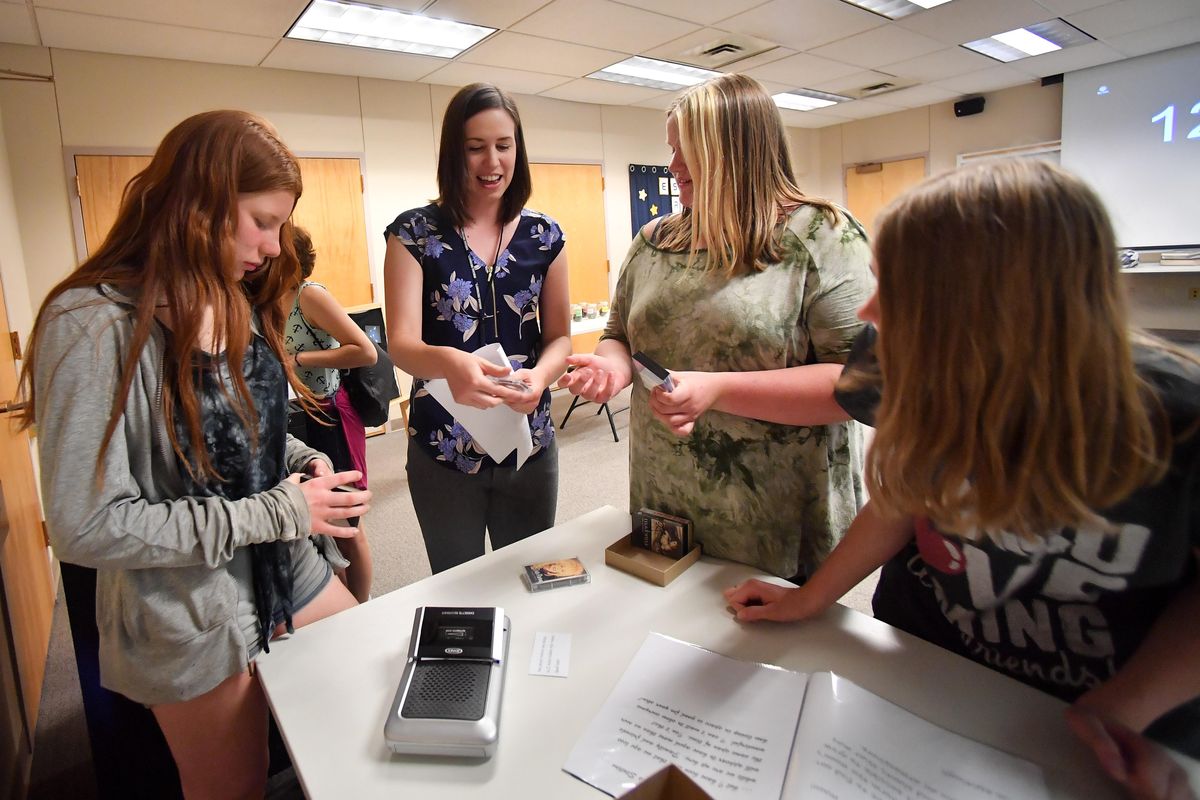 Kaley Graupman, 14, takes pointers from Gina Frerichs, a youth services librarian with Spokane Libraries, on how to use and operate a cassette tape recorder with her friends Betty Perrey, 15, far right, and Madelyn Brown, 14, as the youngsters problem solve their way through an escape room Tuesday, June 25, 2019, at Hillyard Library in Spokane. (Tyler Tjomsland / The Spokesman-Review)
On Tuesday, Graupman had entered an escape room at the Spokane Public Library's Hillyard branch with Madelyn Brown, 14, and Betty Perrey, 15, to complete "Trapped on Hydrus Station" as a mock space station scenario held in a meeting room.
Five teens in the room successfully solved a series of puzzles within a timed 30-minute segment. The group had to move around the room to discover clues among several props and books to reveal five major codes to open a lock box containing a mock keycard to "escape" the room.
More libraries are offering sessions of escape rooms as a youth summer activity, as the themed game idea has grown in popularity nationwide. Several businesses also offer escape rooms with elaborate props and scenarios.
Wrapping up on Friday, SPL held several Hydrus sessions geared to teens in grades six to 12. In July, the library will have a different teen escape room series with a theme of an alien abduction.
Also this summer, the Spokane County Library District is hosting "Deep Space Escape" for ages 10 and older at its library branches until Aug. 15. This is the district's third year of offering escape rooms as a summer activity. The sessions typically tie into the summer reading program's theme.
At SPL, Gina Frerichs, a youth services librarian, began searching earlier this year to find teen programs that would appeal to the age group. After launching its new escape room series in June, early sessions filled up.
"I did a lot of research on programming in general to see what might be appealing to this age range, and I came upon escape rooms," Frerichs said. "It's a newer thing libraries in general are doing around the country, these escape rooms. I saw that they're puzzle-solving, and they're collaborative."
She filled the Hillyard room with educational items as if the group were on a future space station orbiting the moon. Participants are astronauts finishing up a six-month stint. As they're about to leave, the doors lock hypothetically. Equipment is compromised, and their shuttle home leaves in 30 minutes.
If they don't solve clues to get out, they're stuck there another six months.
Thomas Mascaro, 15, helped solve Tuesday's escape room clues with the help of stepsister Meredith Hughes, 13. As the final 5 minutes ticked away, they collaborated with the three other girls to find a final code using an ultraviolet light.
"I've done an escape room before, and I thought this was equal," Mascaro said. "It was challenging."
At Spokane County libraries, youths will have an equal challenge. For groups going into the district's escape room, they're part of a space mission crew awakened from a deep state of sleep because something's gone wrong.
The captain, the sole member awake for the whole mission, has locked himself in a bathroom and isn't available. The group wins if they figure out how to connect with their mission control center. If they solve all clues before time runs out, they get a NASA video feed with the help of a library employee who plays the part.
"They're on their own and have to contact NASA to get the information they need to survive," said Gwendolyn Haley, the library district's public services manager. "It's a great chance for the kids to work collaboratively, flex some leadership muscles and really think logically through puzzles.
"They sort through clues and decide what's important and what's not. It's critical thinking and also it's pulling in some of the STEM skills into it. They're learning things as they have to solve puzzles and win the game, but it doesn't feel like sitting through a lecture."
Of course, nobody is locked in a library meeting room at a county branch, either, with a focus more on finding a solution under the time limit.
Haley agreed that escape rooms have grown as a trend, including for educational settings, because they offer a fun way to learn and work with others.
"I'd say escape rooms are kind of a thing," she said. "There are all the businesses that have opened up. Everyone knows someone who did this for a birthday or another event.
"It's just a lot of fun. This fits well with what we're doing with the library for learning and developing skills."
Registration is required to attend escape room activities at both library districts.
Local journalism is essential.
Give directly to The Spokesman-Review's Northwest Passages community forums series -- which helps to offset the costs of several reporter and editor positions at the newspaper -- by using the easy options below. Gifts processed in this system are not tax deductible, but are predominately used to help meet the local financial requirements needed to receive national matching-grant funds.
Subscribe to the Spokane7 email newsletter
Get the day's top entertainment headlines delivered to your inbox every morning.
---