Sports > Gonzaga basketball
Recap and highlights: Saint Mary's stuns No. 1 Gonzaga in low-scoring WCC championship game
March 12, 2019 Updated Tue., March 12, 2019 at 8:08 p.m. LAS VEGAS – Jordan Hunter notched a double-double of 15 rebounds and 12 points as second-seeded Saint Mary's stunned top-seeded and No. 1 ranked Gonzaga 60-47 in the WCC Tournament championship game on Tuesday at the Orleans Arena.
Jordan Ford added 19 points for the Gaels (22-11), who earn the conference's automatic berth into the NCAA Tournament.
Gonzaga (30-3) will receive an at-large big into the Big Dance, but its hopes of earning one of the four No. 1 seeds is in question.
Brandon Clarke paced the Bulldogs with 16 points and eight rebounds, while Josh Perkins added 10 points. GU's leading scorer this season, Rui Hachimura, finished with nine points on just six shots from the field.
The loss ties GU's largest margin of defeat this season – 13 points in a 103-90 loss at North Carolina – and is its lowest scoring total since a 67-36 win over Pacific on Jan. 10.
Gonzaga shot 37.5 percent from the field and 11.8 percent from deep, while Saint Mary's shot 45.1 percent overall and 28.6 percent from 3-point range.
SMC outrebounded Gonzaga 34-27 and outscored the Zags 32-24 in the paint.
Clarke, Ford and Hunter were named to the all-tournament team. Hunter was also named the MVP
Both teams will learn their NCAA Tournament seeds, locations and matchups at 3 p.m. Sunday (CBS).
Second half
Final – Saint Mary's 60, Gonzaga 47: Stunner in Sin City as Saint Mary's pulls the upset off against top-seeded and No. 1 ranked Gonzaga.
Recap to come shortly
0:50 – Saint Mary's 58, Gonzaga 47: Zags go right into a press after a Brandon Clarke make, but the Gaels are able to break and get a floater off the glass to drop from Tommy Kuhse.
Another missed triple from Zach Norvell Jr., which would have been big foe GU. he's now 1 of 11 from deep. Josh Perkins follows with a missed layup and GU si forced to foul.
3:28 – Saint Mary's 54, Gonzaga 45: GU getting plenty of looks for Josh Perkins (10 points) and Brandon Clarke (14), but Rui Hachimura has been quiet in this one and SMC is keeping the ball out of the Gonzaga star's hands.
The Gaels also doing a better job this half of drawing contact and getting to the free-throw line with 5 of its 7 attempts coming this half.
Zach Norvell Jr. still with four fouls for the Zags, while Jordan Hunter has four for the Gaels.
SMC shooting 45.8 percent overall and 30.7 percent from deep, while GU is shooting 41.5 from the floor and 14.3 from 3-point range.
7:32 – Saint Mary's 48, Gonzaga 41: Finally a little life out of the Zags and the fans in the Orleans Arena as Killian Tillie dials up another make from deep. He's now at five points
Foul trouble sneaking up on GU as Zach Norvell Jr. quickly picks up his third and fourth fouls and is forced to head to the bench.
Gaels follow with a big three point play by Jordan Hunter, who grabs SMC's seventh offensive board of the night and gets the putback to fall while being fouled by Rui Hachimura.
Hunter up to 10 points for the Gaels.
Mark Few forced to call a timeout as a Hachimura turnover turns into a Jordan Ford 3-pointer on the other end of the court.
12:00 – Saint Mary's 40, Gonzaga 36: Josh Perkins starting to get more involved on the offensive end as he's hits a pair of free throws after a strong take to the basket results in a foul. He's up to eight points.
Saint Mary's keeping the pressure on though as Malik Fitts hits his second triple of the night to get to eight points.
Meanwhile, Zach Norvell Jr. still cold from the floor after his third missed 3-pointer. The sophomore guard has two two points on 1 or 7 shooting.
With the offense struggling to get much going, GU again finds Brandon Clarke in the paint for an easy two. he's now at 12 points, but is the only player in double figure for the Zags.
15:27 – Saint Mary's 34, Gonzaga 32: Pace staying pretty slow to start the second half as the scoring continues to come at a premium.
Gaels get back Malik Fitts, who drills a 3-pointer to get to five points.
Great play from Josh Perkins, who takes a steal, crosses over a SCM defender and finishes under pressure to get to six points. He's still at just two assists and four turnovers though.
Brandon Clarke the first GU player into double figures with 10 points. He's also pulled down a team-best six rebounds and has one block.
Halftime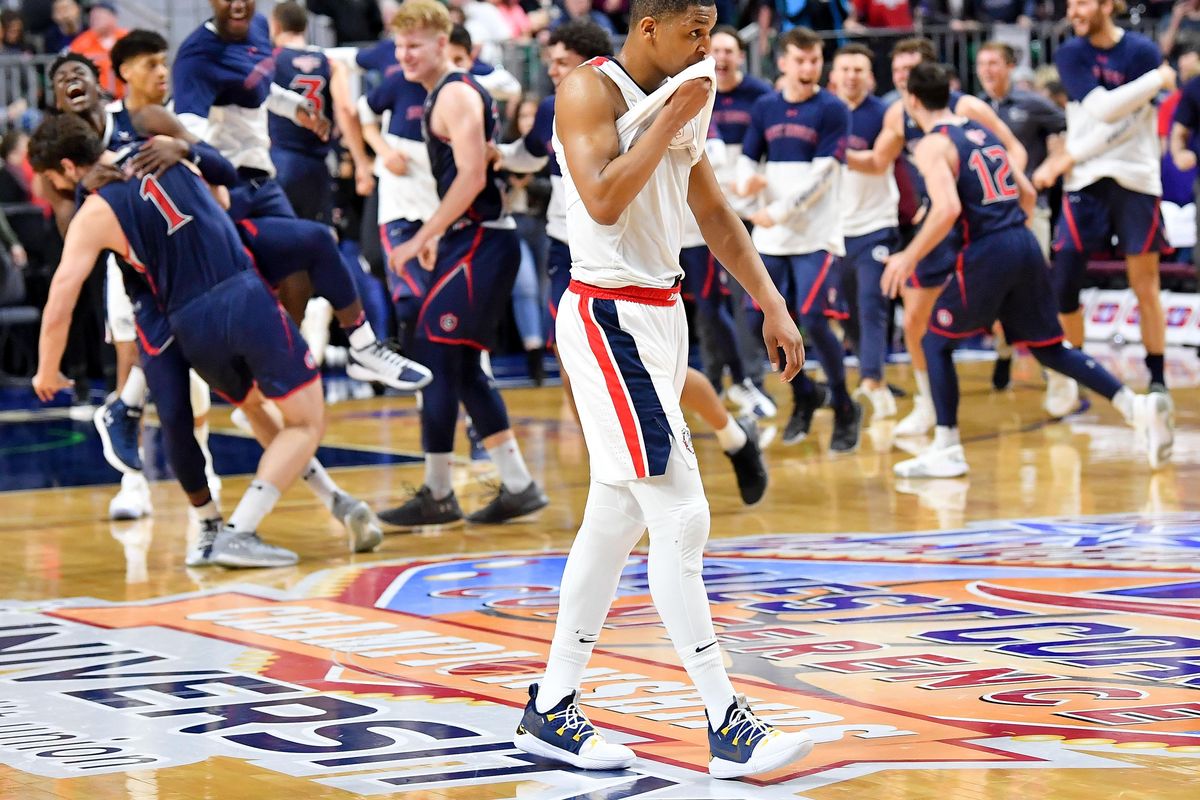 Gonzaga Bulldogs guard Zach Norvell Jr. (23) reacts as the St. Mary's Gaels celebrate defeating Gonzaga during a WCC men's final basketball game on Tuesday, March 12, 2019, at The Orleans Arena in Las Vegas, Nev. Saint Mary's won the game 60-47. (Tyler Tjomsland / The Spokesman-Review)
First half
Halftime – Saint Mary's 27, Gonzaga 24: Saint Mary's has to like the low-scoring nature of this contest. The Gaels are forcing GU into long offensive possessions, and making the Zags work through most of the shot clock on defense.
Zags need to find an answer for Tanner Krebs, who leads SMC with 13 points.
Good half from Brandon Clarke (10 points) and Rui Hachimura (seven), but Gonzaga will need to get some scoring production from its guards in the second half.
Zach Norvell Jr. yet to score and has two fouls, Corey Kispert hasn't taken a shot since his game-opening 3-pointer and Josh Perkins has two points and three turnovers.
Bulldogs shoot 40.9 percent overall and 14.3 percent from deep, while SMC is shooting 42.9 percent from the floor and 25 percent from 3-point range.
SMC outrebounding GU 18-13 and outscoring the Zags 18-12 in the paint.
2:25 – Saint Mary's 25, Gonzaga 22: Lead seems to change hands nearly every possession, as the Gaels use another 6-0 run to get back in front.
Saint Mary's not looking at all like the team GU throttled in the previous two meetings this season. Gonzaga will again look to its depth to pull away in the second half though, much like the last meeting earlier this month in Moraga, California.
Zags don't quite have the same offensive balance they had against Pepperdine as the guard trio of Josh Perkins, Corey Kispert and Zach Norvell Jr. have just five points.
Norvell also sitting on two fouls, but GU coach Mark Few is keeping his sophomore in the game.
7:37 – Gonzaga 19, Saint Mary's 19: Heck of a take from Jordan Ford as the Saint Mary's guard spins around Jeremy Jones and finishes with his off hand to put the Gaels back in the lead.
Once again though, the lead was short lived as Brandon Clarke's layup is followed by a Rui Hachimura steal and slam to put GU back on top. Clarke up to eight points, while Hachimura has six.
Both teams are playing with a ton of aggression on the offensive end, and doing so rather efficiently (50 percent shooting for GU, 52.9 percent from SMC).
One thing the Zags are doing well once again tonight is getting to the free-throw line. GU 4 of 6 from the charity stripe, while Saint Mary's has yet to earn an attempt.
11:32 – Gonzaga 12, Saint Mary's 11: Saint Mary's uses a 9-0 run to take the lead, but the Zags tie it right back up on a Killian Tillie floater in the lane.
The big man the plays some strong interior defense on the other end of the court to miss force a Saint Mary's miss. Good sign for GU that Tillie is playing well for a second straight night.
Speaking of good defense, the first block of the night from Brandon Clarke is a big one as he sends Dan Fotu's shot into the stands.
Clarke leading the way with six points for Gonzaga, which is shooting 55.6 percent from the floor, but has three turnovers.
15:54 – Gonzaga 9, Saint Mary's 7: Big blow 20 seconds into this one for Saint Mary's as the Gaels' second leading scorer, Malik Fitts, picks up a foul and is called straight to the bench.
Bulldogs respond with a Corey Kispert 3-pointer and a pair of Brandon Clarke free throws.
Zags have no trouble scoring early on as Rui Hachimura gets a baseline 15-footer to drop. GU opens the game 3 for 5 from the floor.
Gaels able to get a few buckets to fall, including a Tanner Krebs 3-pointer and a Jordan Ford layup to cut the Zags lead to three.
Gonzaga announces starting 5
Pregame
Game preview
Last game
Gonzaga roster
LEADERS
Saint Mary's roster
LEADERS
Local journalism is essential.
Give directly to The Spokesman-Review's Northwest Passages community forums series -- which helps to offset the costs of several reporter and editor positions at the newspaper -- by using the easy options below. Gifts processed in this system are not tax deductible, but are predominately used to help meet the local financial requirements needed to receive national matching-grant funds.
Follow along with the Zags
Subscribe to our Gonzaga Basketball newsletter to stay up with the latest news.
---