Sports > Gonzaga basketball
TV Take: Run never comes for Gonzaga as Saint Mary's completes the upset in 'Shock City'
March 12, 2019 Updated Tue., March 12, 2019 at 11:16 p.m. The script for this one has been performed before. Twice this season, in fact.
Underdog Saint Mary's stays close to top-ranked Gonzaga for a while. The Gaels slow the pace, hit shots, deny transition and for 20, 30 minutes, force GU to play their way.
And then the Zags explode.
"Gonzaga's a great spurt team," is how ESPN's Dick Vitale put it Tuesday night as the West Coast Conference championship game began.
Except they weren't in this one.
Saint Mary's ended Gonzaga's 21-game winning streak with a 60-47 victory at Las Vegas' Orleans Arena.
"All I can say is, 'Wow,' " Vitale exclaimed as the Gaels (22-11) celebrated after their first win against No. 1 in their history. And earned an NCAA Tournament berth.
What they saw …
• The Zags' first game with Saint Mary's, they spurted out front and just kept going, winning by 48. In Moraga, California, 10 days ago, well, let's allow Sean Farnham, who was working the sidelines again Tuesday night, tell it: "There was a 17-0 spurt in the second half that took what was a two-possession game and put it of control."
Throughout the game, Vitale and Bob Wischusen, doing the play-by-play, wondered when the run would come. It never did.
• This loss was about pace, something the two studio analysts, Jay Williams and Seth Greenberg, focused upon every time they appeared on screen.
When asked at halftime how the Gaels were able to lead 27-24, Williams didn't hesitate.
"Saint Mary's is controlling the tempo and is in control," he said.
"Own the tempo, eliminate second-chance opportunities, (that's) the art of the upset," Greenberg added.
Saint Mary's did those things. And it did them all night. The Zags scored 20 fewer points than any game this season – 67 against Pacific was their previous low. They had just six second-chance points, only four on the fast break.
• In a loss like this one, there are players who failed to produce at their usual level.
Vitale pointed often to Zach Norvell Jr. and his numbers: 1 for 11 from the floor, 0 for 6 from beyond the arc and three turnovers. But he wasn't alone.
Senior point guard Josh Perkins was 4 of 14 from the floor, had more turnovers (five) than assists (four) and way too many poor decisions.
Rui Hachimura did not score in double figures – nine points – for the first time this season, but he also only took six shots. Brandon Clarke had just eight shots but led GU with 16 points.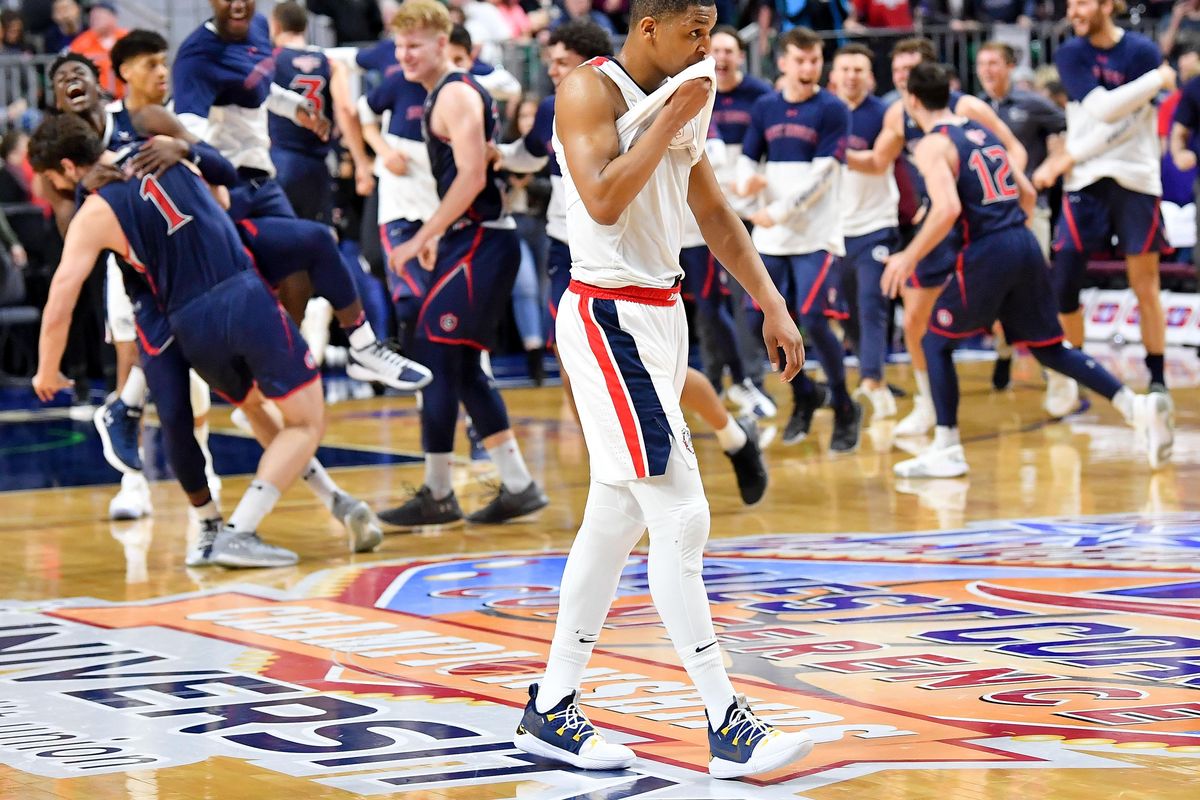 Gonzaga Bulldogs guard Zach Norvell Jr. (23) reacts as the St. Mary's Gaels celebrate defeating Gonzaga during a WCC men's final basketball game on Tuesday, March 12, 2019, at The Orleans Arena in Las Vegas, Nev. Saint Mary's won the game 60-47. (Tyler Tjomsland / The Spokesman-Review)
What we saw …
• Overreaction is such a rare commodity during ESPN broadcasts. Yes, that's sarcasm. With the Zags (30-3) trailing at intermission for the first time against a WCC opponent, and being held to their lowest point total – 24 – in a half all season, the broadcast crew seemed almost giddy over the possibility of an upset.
"Call your buddies up, Gonzaga is behind," Vitale said early in the second half.
"You might be seeing 'Shock City' tonight," he added later.
Turns out the enthusiasm was warranted.
• The Zags were the 10th top seed to enter a postseason tournament this week. Coming in, only two, Wofford and Iona, had won and moved on to the NCAA Tournament.
Second-ranked teams – which Saint Mary's was, like Murray State, Northern Kentucky and Northeastern – had already posted upsets.
Vitale and Wischusen spent some time during the latter part of the game discussing whether a loss would cost Gonzaga a top seed in the upcoming NCAA Tournament. The consensus? It wouldn't.
• For a game that featured only 26 foul calls, the officiating trio of Randy McCall, David Hall and Verne Harris – working the GU game for the second consecutive night – had an impact on the play.
Malik Fitts, one of the Gaels' leading scorers, picked up a foul 11 seconds in. He sat. When he returned 4 minutes later, he played 17 seconds before picking up another touch foul. He didn't return until after halftime. And yet the Gaels persevered, as they did all night.
There was one play midway through the first half that illustrated some of the problem. The Zags had a rare run-out with Norvell, looking to get started, only having to get past Jordan Ford to score.
But, as he crossed over, he collided with Ford's back and went down.
Hall called it an offensive foul on Norvell. No one could believe it.
"That's a foul on Jordan Ford," Wischusen said after viewing the replay.
No, it wasn't.
Local journalism is essential.
Give directly to The Spokesman-Review's Northwest Passages community forums series -- which helps to offset the costs of several reporter and editor positions at the newspaper -- by using the easy options below. Gifts processed in this system are not tax deductible, but are predominately used to help meet the local financial requirements needed to receive national matching-grant funds.
Follow along with the Zags
Subscribe to our Gonzaga Basketball newsletter to stay up with the latest news.
---