A&E
In Walla Walla for the weekend: Highlights include wine, of course, apple pancakes, Ice-Burg and El Sombrero
Tue., Sept. 3, 2019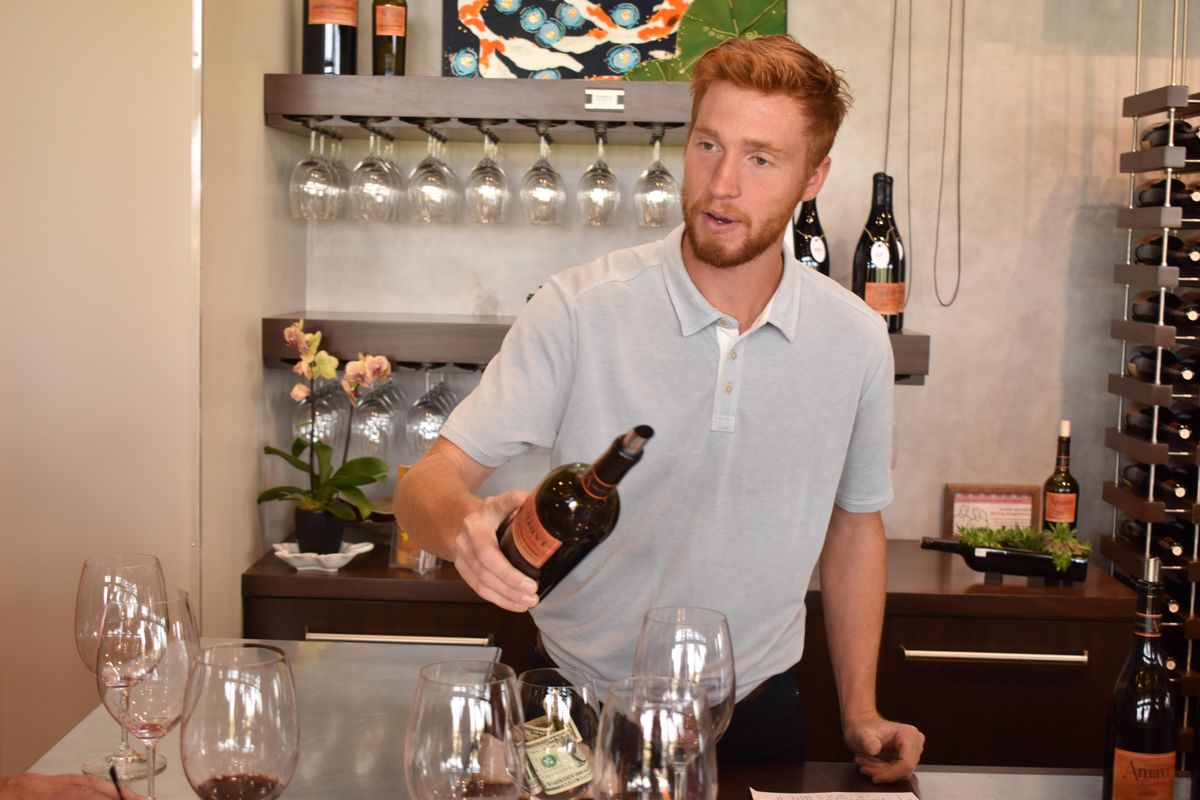 Ragan Schichtel, a tasting room associate, pours a bottle of wine for customers at Amavi Cellars in Walla Walla on Aug. 17. Schichtel was born and raised in the area. (Don Chareunsy / The Spokesman-Review)
Wine tasting in Walla Walla for a weekend has become a rite of passage as a resident of the Inland Northwest. I had been once before a few years ago, but it was an all-too-brief stay, so I jumped at the chance for a more in-depth trip from Aug. 16-18.
After an especially challenging week at work, Walla Walla was just what the doctor ordered. The two-truck caravan included my sister, brother-in-law, niece, 12, and nephew, 8, in one Toyota Tundra (white), and two good friends and yours truly in the second Toyota Tundra (gray).
The three-hour drive on a Friday night included a stop in Ritzville at Zip's Drive-In and one fun fact learned: Of the Tri-Cities, the largest is Kennewick, followed by Pasco and Richland. Also, the Tri-Cities are located in three counties: Benton, Franklin and Walla Walla.
Upon arrival, it was wine time, then bedtime before wine tasting Saturday morning after a hearty breakfast and dropping off the kiddies with family. I classed it up and represented by wearing a black Vegas Golden Knights T-shirt (Marc-Andre Fleury, baby) and beige shorts for the day.
Amavi Cellars (amavicellars.com) was our first stop on this particularly hot Saturday in Walla Walla. The facility is very modern and clean, despite being nearly a decade old. It's a place that California Coastal Italian cuisine queen Giada De Laurentiis would've designed herself.
Ragan Schitchtel, a tasting room associate, asked me about my Golden Knights T-shirt. He told me that he was born and raised in the area and had a stint in New York – where he became a Buffalo Sabres fan – before returning home. Oregon could be seen from the outdoor patio.
Three Rivers Winery (threeriverswinery.com) was the second stop, where hospitality associate Anelecia Hannah immediately noticed the VGK T-shirt and asked if I knew that Three Rivers Winery owner Bill Foley also owned the VGK, then pointed to a shelf of VGK libations.
Stop the presses! I discovered a sauvignon blanc not from New Zealand that I actually liked at Three Rivers Winery, so a bottle was promptly purchased along with a bottle of riesling. It's noteworthy that in the red-and-white wine tasting, the reds are terrific, as well.
The final stop in the valley was Waterbrook Winery (waterbrook.com), the one repeat winery from my first time in Walla Walla. Three-for-three: One of the associates shouted, "Vegas Golden Knights!" I remember the fairly extensive food menu to go with the wine tastings, and the return visit didn't disappoint.
The charcuterie board – with meat, cheese, bread and vegetables – was the perfect afternoon nosh to go with the tasting, and the Deal of the Day was a light and refreshing Waterbrook melange for $10. The bottle take for the afternoon was now at four.
We left the beautiful, vast valley and drove toward downtown Walla Walla, stopping at El Corazon Winery (elcorazonwinery.com) based on the recommendation of a friend who said El Corazon "was really fun," and partly because our dinner reservation was at nearby El Sombrero.
Everyone has different tastes, and if you're one who likes a winery in what feels like a college basement party with libations served from boxes, then El Corazon is for you. It certainly gets an A for being different and, well, funky. Let's leave it at that.
Kontos Cellars (kontoscellars.com) was the final stop of the afternoon, as one of the good friends on this trip is a VIP member who has bottles shipped to his house in Spokane Valley. Kontos has the feel of a tasting room that you'd find in downtown Spokane – refined but still casual and with cool artwork.
There's only so much wine a person can take (in one afternoon), and another highlight of the weekend in Walla Walla was cuisine, from Mexican at El Sombrero and a decadent breakfast at the Maple Counter Café to locals' favorite Ice-Burg Drive-In before departing Sunday night.
I dined at El Sombrero (elsombrero-fajita.com) the last time I was in Walla Walla, and it was an unassuming mom-and-pop downtown. Fast forward a few years, and it's now a beautifully renovated restaurant adorned with colorful artwork and décor. It was busy on this Saturday evening and understandably so with its large and very good menu and friendly and attentive employees.
Like every city in America where I've resided, breakfast/brunch is very popular on Sundays, and it was worth the wait at the Maple Counter Café (maplecountercafe.com) back in downtown Walla Walla on Sunday morning. It's popular apple pancake – oozing with brown sugar, cinnamon, eggs and apples – is divine, as is the side of bacon prepared exactly how I like it: salty and extra-crispy.
Now a two-trip tradition, Ice-Burg Drive-In (it has a Facebook page) was the last meal before leaving for home. Nothing against the big fast-food chains – because I enjoy them on occasion – but there's just something about local drive-thru joints that are an elevated experience in comfort food and calories. Ice-Burg excels with its burgers, malts and shakes and top-notch onion rings.
What a way to end a weekend of escape, indulgence – a few pounds were most definitely packed on – and recharging. Until we meet again, Walla Walla – and hopefully sooner rather than later.
Local journalism is essential.
Give directly to The Spokesman-Review's Northwest Passages community forums series -- which helps to offset the costs of several reporter and editor positions at the newspaper -- by using the easy options below. Gifts processed in this system are not tax deductible, but are predominately used to help meet the local financial requirements needed to receive national matching-grant funds.
Subscribe to the Spokane7 email newsletter
Get the day's top entertainment headlines delivered to your inbox every morning.
---