A&E
Spokane orthopedic care adapts in COVID-19 world
April 1, 2020 Updated Thu., April 2, 2020 at 8:08 a.m. Responding to the COVID-19 pandemic, Northwest Orthopaedic Specialists has changed its practice to allow people with urgent orthopedic needs to bypass emergency rooms and go to its clinics for care.
Its three clinics will schedule same-day express visits during weekdays for sprains, fractures, orthopedic emergencies and first-ever telemedicine options under temporary protocols designed to reduce the strain at hospitals and conserve protective gear.
NWOS surgeons also will do emergency trauma operations at its ambulatory surgery center rather than at the hospital for stabilized patients who can go home overnight and return for next-day procedures, said Quinanna Robins, the group's CEO.
"In response to the coronavirus, we will be temporarily changing our practice to reduce the burden on local hospitals and minimize exposure of healthy patients to COVID-19," Robins said.
"We can take some trauma care and surgeries out of the hospital setting, as appropriate, and have them done at our own ambulatory surgery center."
Meanwhile, Northwest Orthopaedic's elective procedures – such as joint replacements – are postponed likely until May 18 under a proclamation by Gov. Jay Enslee.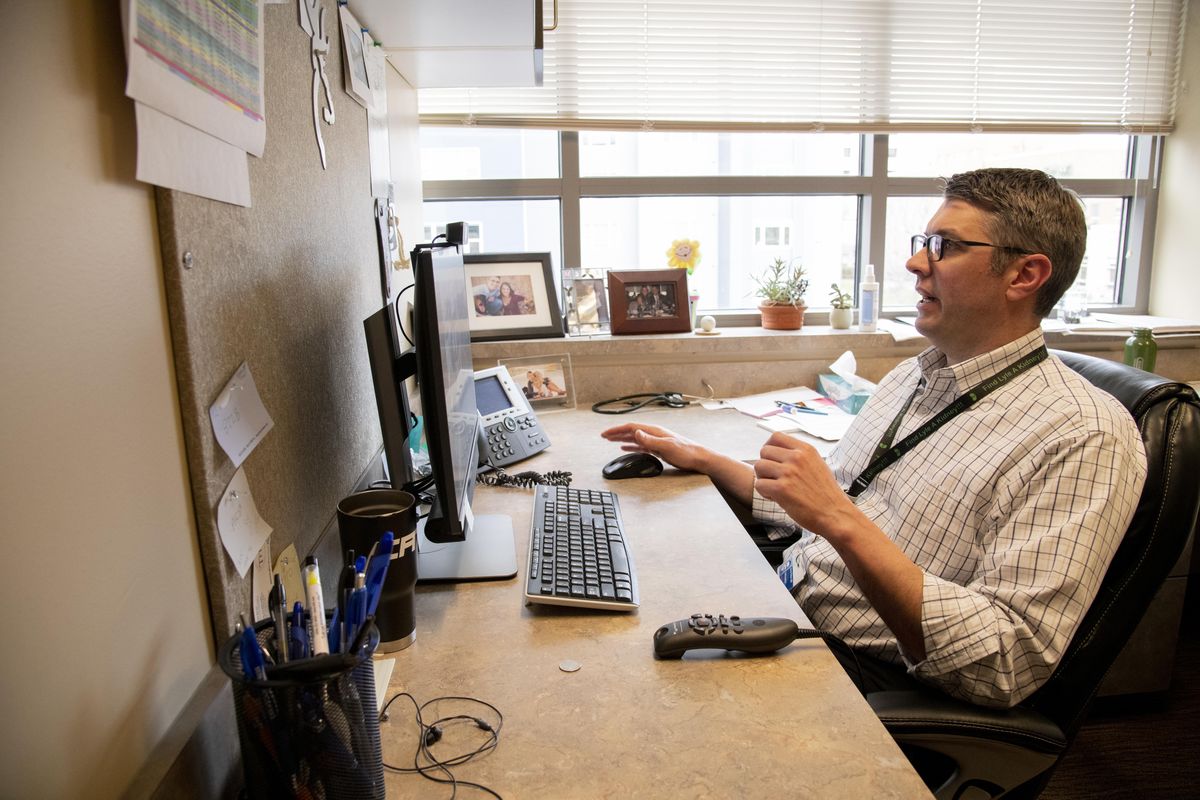 Dr. Soren Olson holds a video appointment with a patient concerning his knee on Monday at Northwest Orthopaedic Specialists in Spokane. At NOS, elective surgeries are postponed, but emergency and urgent surgeries are still performed, and doctors do some follow-up visits in person, although most are via computer. (Jesse Tinsley / The Spokesman-Review)
Under all temporary options, Robins said its clinics will coordinate with patients' insurance companies upfront. Some insurance companies might require a referral, she added, because the group is considered a specialty care provider.
"But we'll try to get that done right then and there when patients call," she said. "We have those relationships in place to take care of the patient as soon as we can."
Separately, two Rockwood clinics in Cheney and Liberty Lake are among Spokane practices that can handle fracture care with imaging services on-site. And Shriners Hospital is continuing to operate its children's fracture clinic in Spokane with COVID-19 screening in place, its website said.
Under normal operations, Northwest Orthopaedics provides surgery coverage for trauma orthopedic care at MultiCare Deaconess Hospital. Its physicians also are on call at Holy Family and Valley hospitals, Robins said.
Typically for trauma patients at emergency rooms, they're often admitted overnight as a convenience and then have hospital surgery the next day, Robins added.
"Now, we are thinking differently," she said. "If they can go home safely, we triage (stabilize) them and let them go home, then they come back the next day to our ambulatory center for surgery.
"That takes the burdens off the hospital so they don't have another patient in the hospital, and it preserves PPE and using their resources. We've already seen some situations where the patients are not going into the hospital now. They are coming to our clinic and then to our surgery center."
However, its downtown facility is an outpatient center. "We aren't able to keep anyone overnight."
In addition to Northwest Orthaepedic's clinic and surgery center near Deaconess Hospital, the group has operations in Spokane Valley and north Spokane that offer clinic-only visits.
People are asked to call clinics ahead, and its providers can see children and adults, she said. It can be as simple as getting a cast if needed or more serious fracture care.
"Some people can skip the urgent care, and they can skip the ER and come straight to us. We can do X-rays, or we can get you over to our MRI services. We can take care of it all in-house.
"We did not have same-day express care before; we've never had telemedicine before. We're trying to get patients' needs met and help them avoid other locations that are visited by people who potentially have COVID-19."
Patients with serious trauma such as from vehicle accidents still need to go to a hospital, as do those with a hip fracture, Robins added, but the clinics can handle such injuries as common leg, wrist and ankle breaks and some other acute common injuries.
"So far, it's been a great response from patients. They seem to appreciate the option to be able to choose, and they can still connect with a physician and determine next steps."
She cited federal loosening of requirements around telemedicine "across the board" to handle follow-up treatment plans and post-operation appointments. "Maybe they needed to wear a brace for two weeks and then determine how their symptoms are," she said.
"With telemedicine follow-up care, we're trying to keep them home and safe. Also, we're using it as pathway to make a determination whether they do need to be seen here."
Contact the writer:
(509) 459-5439
treval@spokesman.com
Local journalism is essential.
Give directly to The Spokesman-Review's Northwest Passages community forums series -- which helps to offset the costs of several reporter and editor positions at the newspaper -- by using the easy options below. Gifts processed in this system are not tax deductible, but are predominately used to help meet the local financial requirements needed to receive national matching-grant funds.
Subscribe to the Spokane7 email newsletter
Get the day's top entertainment headlines delivered to your inbox every morning.
---